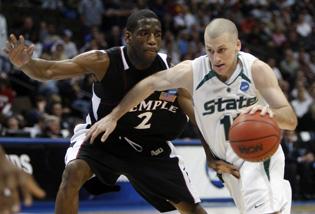 DENVER - No longer a one-man show, Michigan State hopes its deeper bench will lead to a long run in this year's NCAA tournament. | NCAA, NIT, CBI scores, stats
Raymar Morgan led a balanced scoring attack with 15 points and the Spartans beat Temple 72-61 Thursday in the first round of the South Regional despite a sudden shooting slump from spark plug Drew Neitzel.
Last year, Neitzel was the Spartans' only option on offense. Now, he's got scorers swarming all around. Chris Allen scored 12 points and fellow freshmen Kalin Lucas and Durrell Summers each added eight for fifth-seeded Michigan State, which will face fourth-seeded Pittsburgh on Saturday at the Pepsi Center.
"There were nine or 10 guys that were responsible for this win," Spartans coach Tom Izzo said.
Mark Tyndale scored 16 points for Temple (21-13), which was making its first trip to the NCAA tournament since losing to Michigan State in a 2001 regional final. Dionte Christmas, the Owls' leading scorer, was limited to three points, 17 below his average, on 1-of-12 shooting.
The Spartans' defense was so good that Temple eventually ditched its sets and let Tyndale just dart to the basket.
"They took away the 3, took away the drive," Christmas said. "Like Coach said, we couldn't get into no sets. We had to depend on Mark coming down, making a lot plays for us. Tom Izzo, the job he does with that program is great. That's a great defensive team. That's probably the toughest defensive team I played all year, all my career."
The balanced Spartans (26-8) are making their 11th straight trip to the NCAA tournament, but they haven't advanced out of the second round since 2005, when they lost to North Carolina in the national semifinals.
Neitzel was a freshman on that team and acknowledged this week that he thought he'd have cut down a lot more nets by now.
Neitzel, who averages 14.2 points, scored just five points on 2-of-11 shooting. He didn't score until swishing a 3-pointer in the final minute of the first half, which ended with the Spartans ahead 35-26.
He never quit contributing, and when he went to the bench in foul trouble late in the game, the Owls cut a 19-point deficit to 10.
Neitzel never appreciated Michigan State's balanced attack more than Thursday, when he picked up his second foul with less than a second left in the first half and was whistled for his third just 26 seconds into the second half, then went to the bench with his fourth foul with 8:38 left.
It wasn't the fouls but the missed shots that had Izzo concerned.
Neitzel's funk came out of nowhere - he averaged 27 points in the Big 10 tournament last week.
"I'm feeling bad for him because he's been shooting it so good, his confidence at such a high level," Izzo said. "He's been making all those shots."
Still, Izzo said it was good to see everybody else step up.
"It's important for our present and our future," he said. "But don't kid yourself, Drew Neitzel is still very valuable in different ways, how they played him, what they did. We are going to need him if we're going to get anywhere in this tournament."
Owls coach Fran Dunphy bristled at the suggestion Neitzel was a non-factor: "While he only scored five points, I think he changed offensive possessions a number of times to help them score."
The Spartans used a 15-2 run in the first half to take a 30-17 lead. Seven different players scored points during the spurt, which was capped by a bucket from defensive specialist Idong Ibok - who averages less than a point.
Keying the run was the Spartans' stingy defense, which flooded the paint with arms and legs and hips and denied Christmas many open looks with fantastic help defense on the perimeter.
The Spartans haven't displayed such wire-to-wire defense on this big stage since they used to routinely reach the Final Four.
"It was Christmas," Izzo said. "We knew if we didn't guard Christmas, we were going home is what it was. We knew one way they can beat you for sure is with the three. We had to do a better job up top."
Morgan guarded Christmas most of the time, switching off with Travis Walton, the Spartans' best perimeter defender, and Michigan State did a wonderful job denying him the ball.
"That was one of the most physical teams I played against," Christmas said. "Ever."
Christmas didn't score until the 13-minute mark of the second half, pulling the Owls to 44-30. Things got so bad for him that even when he found himself open under the basket in the waning minutes, his teammates didn't find him.
Dunphy, who took Penn to nine NCAA tournaments before taking the challenge of resurrecting Temple, used the recruits he inherited from John Chaney two years ago, but the Owls looked nothing like the teams that the Hall of Fame coach used to bring to the tournament.
He ditched the half-court offense for an uptempo style and threw away the old matchup zone that Chaney used to baffle opponents, and replaced it with a tough man to man.
It wasn't enough to match Michigan State's deep bench.
Be the first to know
Get local news delivered to your inbox!