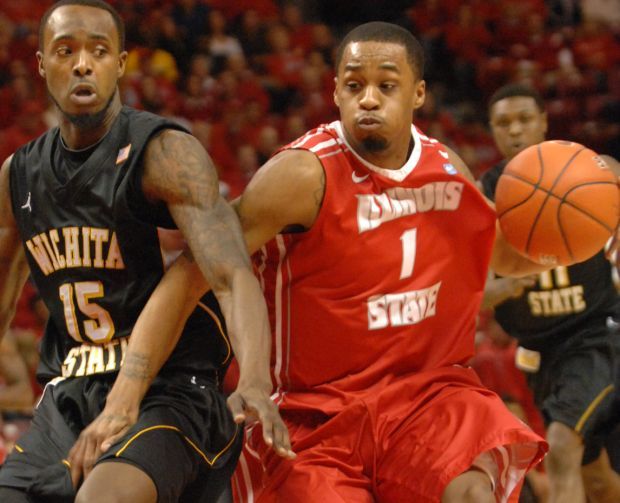 NORMAL – A flagrant personal foul against Illinois State in the final minute gave Wichita State life Sunday night – and the Shockers took full advantage of it.
Jackie Carmichael was given the flagrant foul for kicking Wichita State's Tekele Cotton above the shoulders on a defensive rebound. That helped the Shockers score eight points in the final 41 seconds, capped by Cleanthony Early's 3-pointer with 5.2 seconds left that gave Missouri Valley Conference-leading Wichita State a stunning 68-67 victory over ISU.
Carmichael was given the flagrant foul after teammate Johnny Hill was fouled. Officials went to the monitor and determined Carmichael intentionally kicked Cotton at the previous end of the court before the whistle stopped play.
After Hill made two free throws to put ISU ahead, 67-60, Early sank a pair of free throws on Carmichael's foul.
ISU coach Dan Muller was asked if he ever saw a flagrant foul called for kicking on a rebound.
"Never in my entire life, and I would be surprised if I see another one," said Muller. "They said he kicked him above the neck and he intentionally did it. How Jackie was getting a rebound and intentionally was kicking a moving target, I haven't seen it, but that was the explanation to me."
Demetric Williams followed with a 3-pointer before Hill fumbled the ball and turned it over in the backcourt. Wichita State then called timeout. Early, a 6-foot-8 junior, got free off a screen and drained a 3-pointer from the top of the key over the 6-foot Bryant Allen.
After a timeout, ISU got the ball to Carmichael at midcourt.
Carmichael dribbled inside the free throw line, but misfired on a 14-footer as the Redbirds' four-game winning streak came to an end and left the Redbird Arena crowd of 8,668 wondering what happened.
"I would not say disbelief. I felt we should have won," said Tyler Brown, who paced ISU with 17 points. "We broke down on some things and they took advantage of some things. We did not take care of what we were supposed to do and this is the outcome."
ISU's four-game winning streak ended as the Redbirds dropped to 16-11 overall and 7-8 in the Valley, tied for fifth place with Evansville and Bradley. ISU has to bounce back quickly with a Wednesday game at Evansville.
Brown isn't worried about this loss hanging with the Redbirds for a while.
"The only lingering effect it's going to have on me is hoping we see them again sometime this year in St. Louis (for the Valley tournament)," he said. "I want that game back, and that's the only way I can get it back is in St. Louis."
Muller said ISU's locker room was "really down."
"I told them those last few minutes do not define us as a team and don't define the night," he said. "We can't change it. I told them we did a lot of things wrong at end, not to blame them, but in order for us to lose that had to happen."
Hill finished with 14 points, while Carmichael and Allen added 12 points each.
"We fought the whole game," said Allen. "What it came down to is we made a couple mistakes that cost us the game. We have to learn from it."
Senior guard Malcom Armstead, a transfer from Oregon, paced Wichita State (22-5, 11-4) with 18 points. Carl Hall added 13 points, while Early finished with 12 as the Shockers maintained a one-game lead over Creighton with three league games left.
Wichita State coach Gregg Marshall requested the officials go to the monitor to see if Cotton was kicked above the shoulders.
"Paul (Janssen) said he didn't do it at first, but then he would look at it," said Marshall. "I didn't know what it was, but I knew it was a kick. It could have been unintentional; it could have been intentional. I don't know his intent. He's coming out of the air, and Cotton is there and the foot goes to the face area."
Wichita State scored the first three points after intermission, cutting ISU's once 14-point lead to 27-23.
The Redbirds, who were 6 of 28 from the field, then hit two straight shots. Brown sank a 15-foot pull-up jumper in transition and then Jon Ekey, who had made one of his last nine outside the arc, swished a 3-pointer for a 32-23 lead.
Brown brought the crowd to its feet a short time later. He saved a possession by diving for a loose ball, then caught his breath and sank a 17-footer. After Ekey's steal, Allen lobbed to Brown for a dunk on a two-on-one break, giving the Redbirds a 38-27 lead with 13:22 left.
Armstead kept the Shockers close. He scored two baskets, one a 3-pointer, to key a 9-2 run to close the gap to 40-36.
Hill's three-point play got ISU some breathing room again. ISU started taking the ball at the basket and scoring with Brown, Hill and Bryant Allen leading the way.
The Redbirds maintained a two-possession lead until Early's 3-pointer brought the Shockers within 63-60 with 2:08 left. After a Wichita State stop, Anthony misfired on another 3 which would have tied the game. Brown made two free throws with 1:07 left before the wild final minute.
"We played a great game most of the game. We made mistakes down the stretch," said Muller. "I probably should have switched defenses up a little bit after (Williams) hit the 3 against the zone. Johnny feels bad, but he played a heck of a game and shouldn't think the loss is on him."
ISU put on a defensive clinic for much of the first half in taking a 27-20 lead at the intermission.
The Shockers missed 10 straight shots in a 7½-minute stretch as the Redbirds went on a 17-0 run to take a 19-5 lead. Wichita State finished the half shooting 30.8 percent from the field (8 of 26).