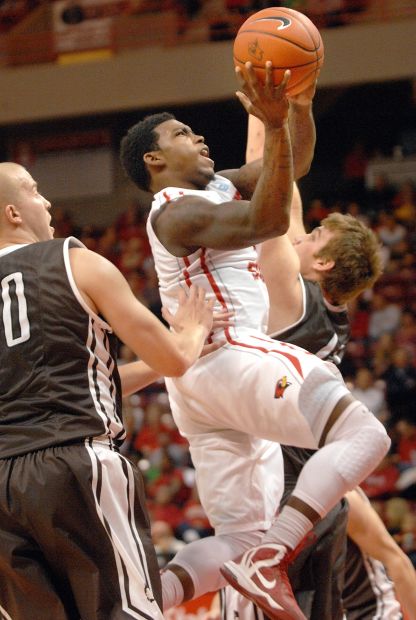 NORMAL — Gone are leading scorers Jackie Carmichael and Tyler Brown. Four other players transferred in the spring. Another returning starter was dismissed in the summer for violation of team rules.
Put it all together and most prognosticators aren't expecting much from Illinois State's basketball team this season.
That's just fine with the Redbirds.
ISU, which opens the season Friday at No. 14-ranked Virginia Commonwealth, was picked to finish seventh in the 10-team Missouri Valley Conference in the preseason poll of league coaches, media and sports information directors.
You have free articles remaining.
Other publications have the Redbirds, who return only two players from last season's 18-15 squad, anywhere from No. 6 to 10.
"That doesn't bother us at all. It just motivates us to work hard every day and get better as a team," said Bobby Hunter, one of five junior college transfers who need to contribute immediately. "We don't worry about standings. If we do what we need to do we should have no problem in the league."
Dan Muller starts his second season as head coach of his alma mater seemingly at least a year away from competing for a spot in the NCAA Tournament. A year from now everyone will have a year of Division I basketball experience and two highly skilled players become eligible.
Yet Muller, who brought in the No. 29 recruiting class in the nation according to Basketball Times, refuses to put a number on how many victories would constitute a successful 2013-14 season.
"I can tell you every year we compete for a championship. That's the standard we want to have here," said Muller. "Coach (Kevin) Stallings used to tell me the best coaches get their team as close to their potential as possible, and I honestly don't know what our potential is.
"We have to earn a lot of things before I can say how good we're going to be."
Junior guard Daishon Knight, who was indefinitely suspended from games after being arrested in downtown Bloomington for an incident in late August, was supposed to have a status hearing in McLean County Circuit Court rescheduled from Friday to Tuesday. It was delayed until Thursday, leaving when Knight might be available in question.