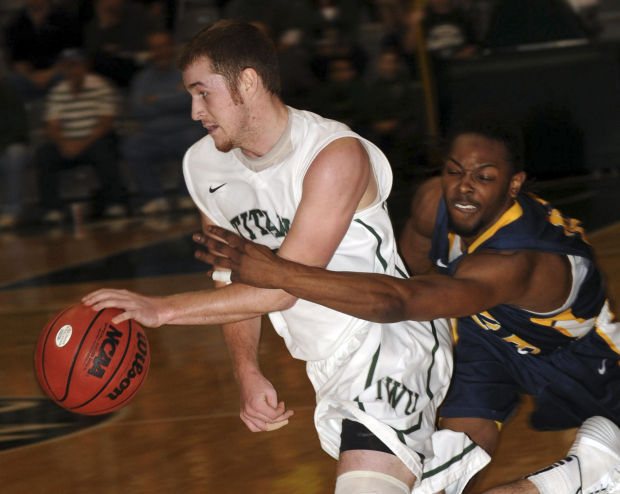 BLOOMINGTON — Jordan Nelson missed his first shot Wednesday, making the Illinois Wesleyan junior one for his last 11 from 3-point range.
But sporting a true shooter's mentality, Nelson figured a hot streak was only one attempt away.
Nelson located that heat in a hurry with five straight 3-pointers as the No. 5-ranked Titans produced a 13-point halftime lead and didn't let up in an 84-69 College Conference of Illinois and Wisconsin victory over No. 23 Augustana before a Shirk Center crowd of 1,225.
"All I need is one," Nelson said. "After I see that first one go in whether it's a layup, free throw, something, it gets me going. It gets me ready to play defense, get a couple steals, a few layups."
Nelson finished with a career-high 25 points as Wesleyan hiked its record to 17-3 overall and 7-2 in the CCIW, one-half game behind first-place Wheaton at 8-2.
"He sure makes good offense," IWU coach Ron Rose said of Nelson. "He played with a lot of confidence. Our guys rallied behind that and did a great job finding him."
A Nelson fast break layup, two Mike Marietti free throws and a Victor Davis rebound basket handed the Titans a 14-5 lead. Three Nelson 3-pointers and a 16-footer over a span of 2:43 boosted the Wesleyan edge to 28-15.
Augustana (15-6, 5-5) pulled within 30-25 on a Hunter Hill 3-pointer. But two more Nelson bombs and one from Mike Mayberger sent the Titans into halftime with a 44-31 cushion.
"We played with great energy. Slowly building that lead was really big," said Rose. "The first half the ball really moved. We had five guys on the floor, all of them aggressive and unselfish."
The Vikings, who dropped their fourth straight game, shot 35.7 percent from the field in the opening half and were outrebounded, 25-16.
"They've got tremendous firepower from so many spots. That's part of what makes them so good," Augustana coach Grey Giovanine said. "We defended much better at our place (an 81-73 Vikings' win). We defended much better up until about four games ago.
"We're not competing with the same kind of effort defensively we did when we really had things rolling. To me that's the crux of our struggles and this game."
IWU's advantage did not slip below 13 the entire second half. Nelson's sixth 3-pointer handed the Titans a 63-41 bulge, and Wesleyan led by as much as 78-53 at the 6:10 mark.
"I loved it. We all know Jordan is a great scorer," said Davis. "He's been having great games, but not an extraordinary game like this."
Entering the game as a 25.6 percent 3-point shooter, Davis was given the perimeter shot early. He nailed three (in four tries) of Wesleyan's 13 from beyond the arc and matched Mayberger with 13 points.
"The first time I got the ball my guy was deep in the lane," Davis said. "I felt kind of disrespected. I had to concentrate a little more."
Wesleyan closed at 49 percent from the field and connected on half of 26 from long range. IWU held a 40-37 rebounding edge behind eight from Mayberger and six from Davis.
Hunter Hill, who torched the Titans for 28 points in Rock Island, topped Augustana with 13. Tayvian Johnson and Brandon Motzel chipped in 11 each.