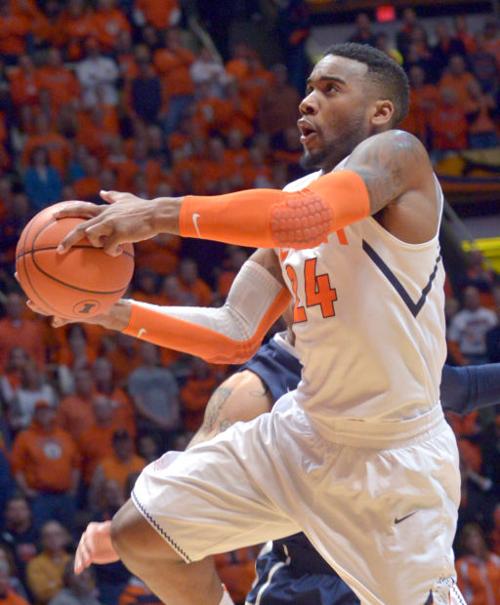 CHAMPAIGN — A University of Illinois basketball team that struggles mightily to score is about to get a close-up view of a team that makes scoring look easy.
No. 15 Iowa, which leads the Big Ten Conference by scoring 84.5 points per game, comes to the State Farm Center at 6:30 tonight hoping to add toughness to its repertoire.
That's all the Hawkeyes could talk about Tuesday night after losing to Michigan State 71-69 in front of a packed Carver-Hawkeye Arena.
It was an electric atmosphere for the biggest Iowa home game in years. But despite being without two starters, Michigan State grabbed the game in the final minutes.
Afterward, Iowa coach Fran McCaffery said, "We weren't tough at all."
Said Iowa forward Aaron White, "You've got to be the tougher team and we weren't tonight."
Since that loss, Iowa (16-5, 5-3) has focused on adding toughness to its greatest skill – scoring efficiently with a roster that runs 10-deep. Iowa's five losses have come against teams ranked in the top 25 and by a combined total of 14 points.
On Friday, Illinois coach John Groce said he knows what his struggling team is up against as the Illini (13-8, 2-6) try to snap a six-game losing streak.
"The bye came at a good time for us," Groce said. "We were able to get rest for some guys who have played a lot of minutes for us.
"Iowa is a really good team, a veteran team. They don't play any freshmen at all. They have guys who have gotten older and stronger. They are great on the backboard. You can tell they have played together for a while."
Groce said senior Roy Devyn Marble, who leads the Hawkeyes at 16.3 points per game, is among the top players in the Big Ten.
Iowa's depth is impressive, Groce said, pointing out that the Hawkeyes have 10 players averaging at least 5.7 points per game and 11 logging at least 12 minutes of playing time.
Groce said Illini point guard Tracy Abrams should be good to go after having his playing time limited to 13 minutes last Sunday by back spasms.
"He's been dealing with it all year," Groce said. "Sunday was the first time it has acted up on game day. But he has looked good this week and we'll cross our fingers that he looks good (Friday) and (today)."
Regarding the Illini offense, which ranks 11th in the Big Ten in field goal percentage and 3-point percentage and 12th in assists, Groce said he needs more veteran players performing well at the same time.
"We're fully aware that our offense needs to get better," he said. "We've worked on a lot of things and I think we've seen some strides this week for sure.
"We ask an awful lot of Ray (Rayvonte Rice) and we need some other guys to alleviate some of the pressure on him. Our freshmen are coming along, but we need to bat about 80 percent with our (five) veterans. We can't have just two doing it. That ratio won't work in this league."