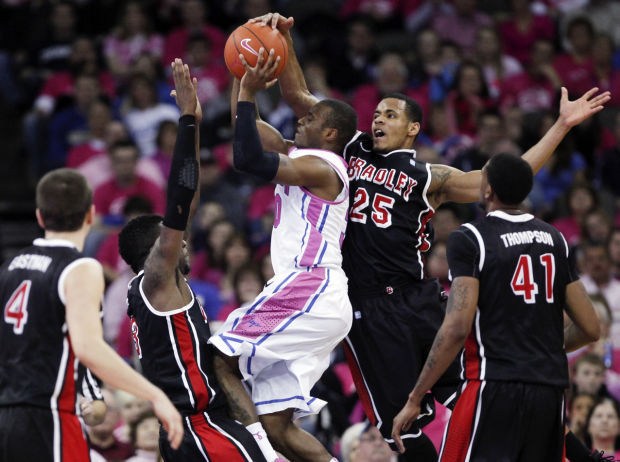 NORMAL — Those who like watching free throws should really enjoy college basketball games this season, especially in November and December.
NCAA rule changes designed to increase scoring have seen early exhibition games turn into a parade to the line. Bradley's Walt Lemon Jr. attempted 26 free throws — which would have tied a school record if it was an official game — earlier this week in an exhibition contest against Upper Iowa.
Basically, defenders are no longer allowed to use their hands on an opponent to impede progress with or without the ball. Also, the block/charge has been changed so a secondary defender can't slide over and draw a charging foul on the offensive player.
Illinois State basketball fans get their first chance to see the new rules in effect during exhibition games Sunday at Redbird Arena. The women face Northwest Missouri State at 1 p.m., followed by the men against Quincy at 4:30.
"I hope fans are going to be patient," said ISU men's coach Dan Muller. "I'm personally in favor of the rules. Are they (officials) going to go overboard? Probably. The referees have been told specifically you better call them. They have to do their jobs.
"I'm sure I'm going to be unhappy some games, but we need to increase scoring. We need to adjust as coaches."
Most coaches at the Missouri Valley Conference Media Day earlier this week in Chicago agreed with Muller that something needs to be done, although they worry about early-season games taking 2½ hours or more to play with the clock stopped to shoot free throws.
Indiana State coach Greg Lansing said Eddie Jackson, the MVC coordinator of officials, told him the NBA did something similar 10 years ago. Those change worked to decrease the excessive contact and increase scoring.
"I hate that it's going to be pretty ugly for a while," said Lansing. "I don't like that at all, but if it helps our game let's do it … we probably need to clean it up a little bit."
Missouri State coach Paul Lusk already has seen the dramatic result of the new rules. The Bears have played two exhibition games with 100 fouls called that resulted in 127 free throws.
You have free articles remaining.
"At some point you're going to have to zone. We haven't yet in exhibitions," said Lusk. "And you're going have to make free throws. It's been an adjustment."
Northern Iowa coach Ben Jacobson was planning to go with more full-court pressure this season with the addition of jet-quick guard Wes Washpun, a transfer from Tennessee.
Those plans quickly changed when Jacobson brought in some officials to call a practice and Washpun had "12 or 15 fouls," said the UNI coach.
However, Jacobson sees the block/charge change as having a bigger effect on his team and perhaps the game overall.
"For two years we've practiced pretty hard to come over and getting set to take a charge," said UNI junior forward Seth Tuttle. "It's just going to be an adjustment we have to make."
Southern Illinois coach Barry Hinson believes officials "are taking it way too far and trying to prove a point" in the early exhibitions and closed scrimmages.
However, Hinson said Kansas coach Bill Self told him to not expect to see the new rules relaxed during the season because it's a rules change and not a point of emphasis, as has been the case with other rules in the past.
"I don't have a problem with more scoring," said Hinson. "I have a problem with everyone playing zone defense or playing European basketball. Let us guard a little bit.
"We play Missouri on Nov. 12, and I'm scared to death we're going to be in the last three minutes of the game and we're going to have three walk-ons on the floor because my best players are sitting on the bench (fouled out). Even in the NBA they don't do that."
Lemon and Bradley teammate Dyricus Simms-Edwards combined for 161 steals last season. Many came from being up on ball handlers and getting physical with their hands. Lemon said he will have to adjust to that rule change.
But on the other end, Lemon believes he will benefit as one of the quickest players in the Valley.
"It feels good to know guys are not going to be able to hold me like they have in the past or arm bar me on a drive to the hole, or going up for a layup they are not running under me to take a charge," he said. "It's a good feeling to know I can be free and do whatever I want to do on the offensive end."