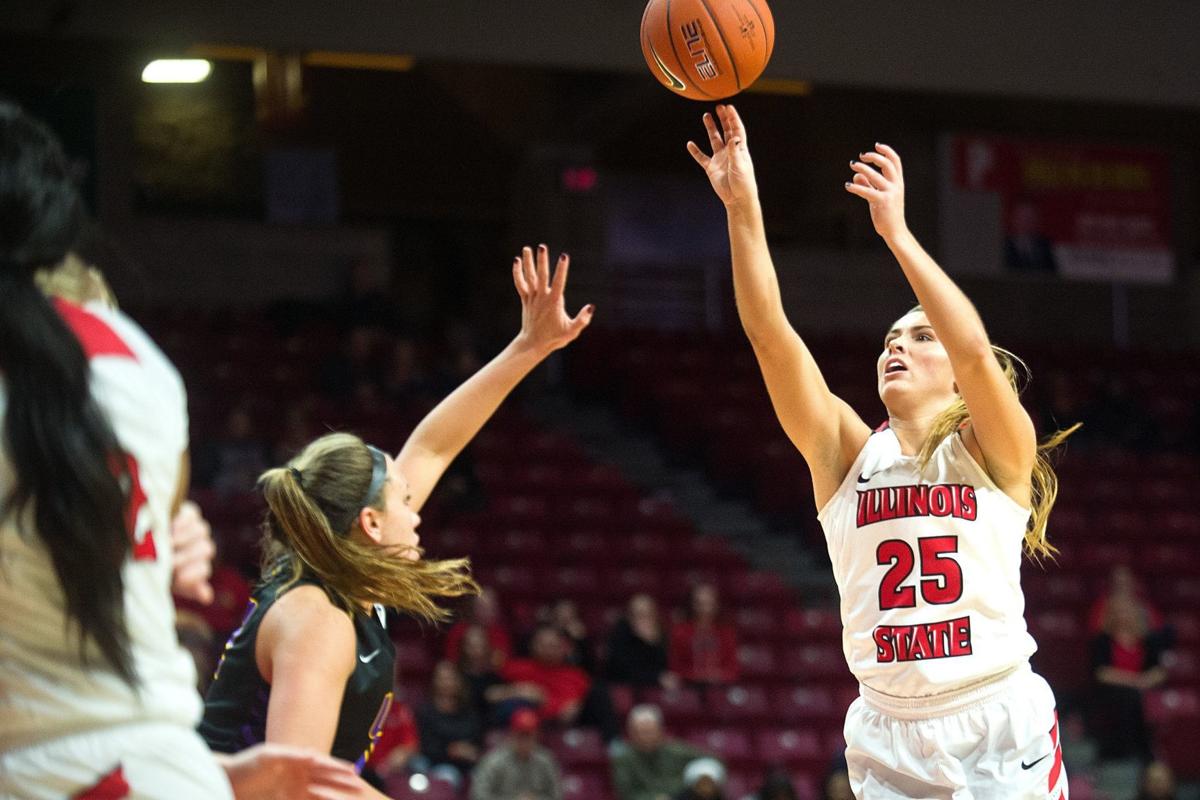 NORMAL — The ball is different and so are the skills required to effectively direct it.
She summoned younger brother, Doug, to join her in an activity she had not participated in for four years.
"I didn't even tell the coaches. Literally the night before I knew I was going to have a skills workout with the (basketball) coaches, we both went to Shirk and shot around a little bit so I touched the basketball before I went," Lexi said. "I would have been a lot more nervous for the workout."
As a sophomore on the Illinois Wesleyan basketball team, Doug Wallen's homecourt is Shirk Center.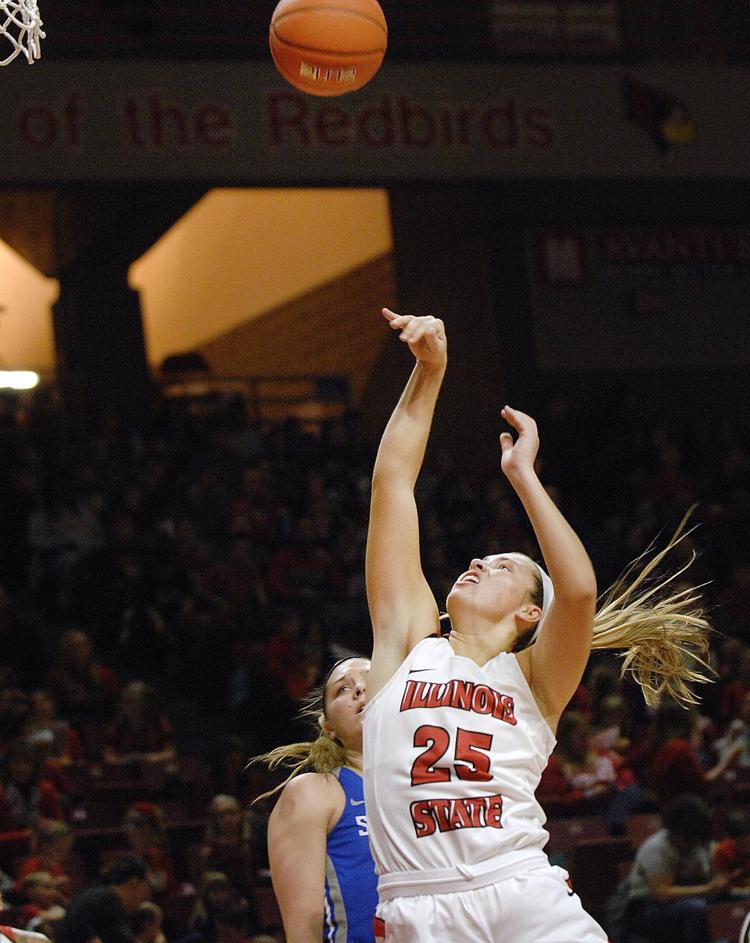 "She hadn't shot a ball in four years," said Doug. "We did some situational stuff, free throws, 3-pointers, stuff like that. Her talent was still all there from what I remembered in high school. That was pretty impressive."
Impressive, too, is the impact both Wallens have had on their respective teams.
Lexi helped the Redbird volleyball team to a 25-8 record and NCAA Tournament appearance before deciding to take a shot at college basketball.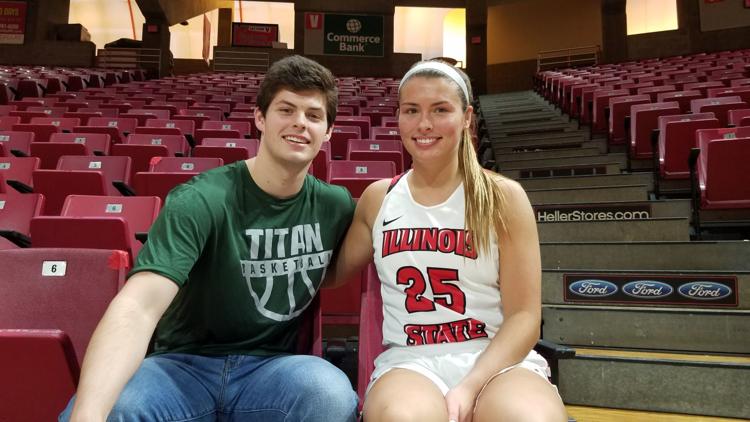 "It was an amazing decision. I'm having so much fun with the girls," Lexi said. "I'm definitely settling in and feeling more comfortable with everyone."
The 6-foot Lexi joined Coach Kristen Gillespie's basketball team in early December and scored 14 points and grabbed eight rebounds in just her fifth game, a key win over Northern Iowa.
She has scored in double figures four times and is averaging 5.5 points and 3.8 rebounds in 17 games.
"We have to keep reminding ourselves she has not played organized basketball in four years," Gillespie said. "She missed all our preseason stuff, all our defensive stuff. For her to even be able to contribute is a credit to her."
Gillespie eagerly welcomed onto her roster the experience of excelling at the college level that Lexi possesses.
"She plays so incredibly hard," said the second-year Redbird coach. "We talked about the leadership part coming from the volleyball program fresh off an NCAA Tournament berth. She's been there, done that. What a great role model for our younger players."
Lexi didn't just play high school basketball. She scored more than 2,000 points, is the Champaign area's all-time scoring leader and helped St. Thomas More to the Class 2A state championship in 2014.
And, besides being a two-time, all-state player in volleyball, Wallen recorded a school-record 37 shutouts as a soccer goalkeeper.
"Her being (two years) older, she was a good leader and example for me," said her brother, who averages 7.6 points and 4.4 rebounds for the Titans. "I wanted to carry some of the things into when I played."
Doug Wallen spent his first three years at St. Thomas More before finishing at Champaign Central. He set the Champaign-Urbana boys scoring record (that has since been broken) with nearly 2,000 points.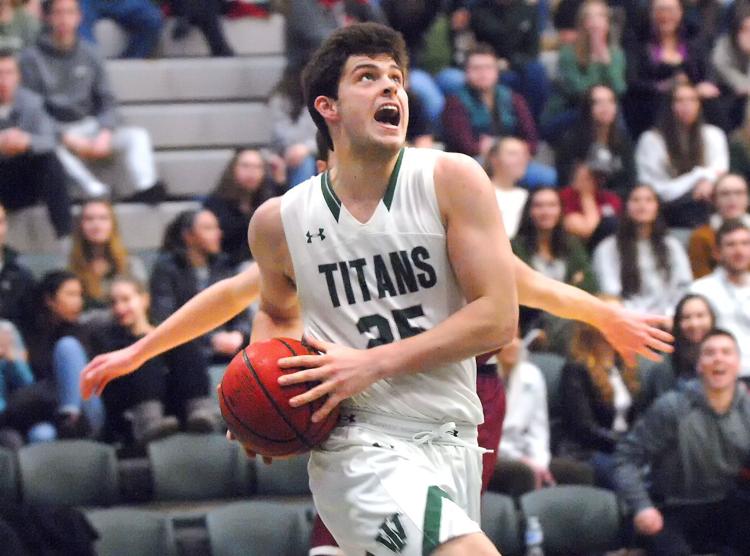 The 6-foot 5-inch forward has had to adjust to playing more on the perimeter in college.
"At St. Thomas More, I was typically the biggest guy on both teams. When I went to Central, I was still more of a post," he recalled. "When I got to college, it was kind of a shock at first. People were going to catch up to my size. It was an adjustment. I'm still adjusting."
IWU basketball coach Ron Rose expects his Wallen family member to get there.
"We really believe he has the ability to do that. Doug is a natural scorer," said Rose. "My job as a coach is to get him playing with confidence and being more aggressive because that's when he's at his best."
The schedule has been kind to the Wallens.
ISU women's home games are typically on Fridays and Sundays, while Wesleyan men take the court on Wednesdays and Saturdays. That allows the siblings to occasionally watch the other play.
"We're really supportive of each other," Lexi said. "We know what it takes to be a college athlete. It takes a lot of support."
"It's really cool," said Doug. "We're all just trying to soak it up and enjoy the last couple months in the same town together."
That includes parents Douglas and Tammy, who must constantly be checking their gas gauge for yet another trip up Interstate 74 from Champaign.
"It's been really cool," Lexi said. "They are always back and forth."
Contact Randy Reinhardt at (309) 820-3403. Follow him on Twitter: @Pg_Reinhardt
Be the first to know
Get local news delivered to your inbox!