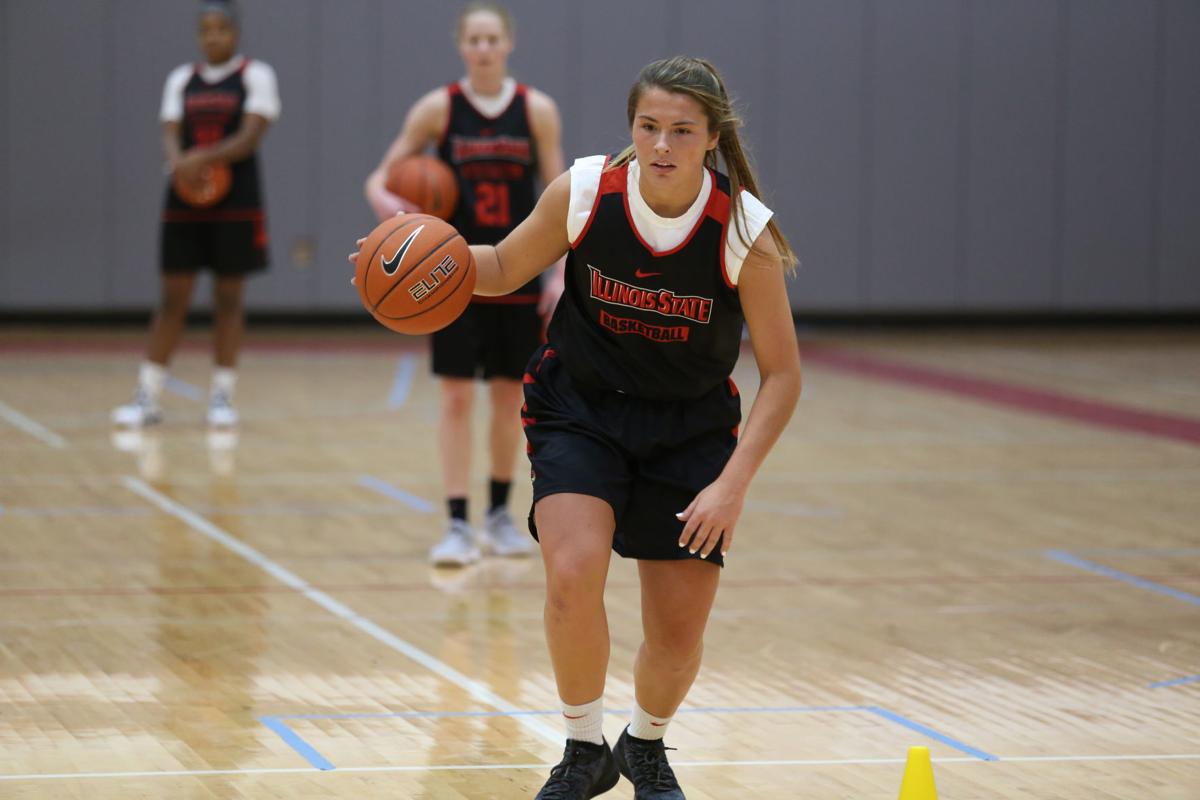 NORMAL — Illinois State women's basketball coach Kristen Gillespie has temporarily taken her recruiting efforts off the road to on campus.
With four of her 12 scholarship players out with various injuries, Gillespie has added Redbird volleyball player Lexi Wallen to her roster.
"She definitely gives us some depth, especially in practice," said Gillespie, whose team meets Northern Kentucky on Friday at 6 p.m. in Highland Heights, Ky. "I think once she gets back in the flow of things, she could definitely help us."
Wallen was a four-year volleyball letterwinner who totaled 387 kills and 553 digs. She helped the Redbirds to the NCAA Tournament in a season that ended Nov. 30.
"It's definitely been an overwhelming last few days, but I couldn't be more excited," Wallen said. "The coaches made me feel really welcome, and the girls have been great."
Wallen is not just another great athlete dipping her toe into another sport. The 6-footer from Champaign scored over 2,200 points and was a three-time all-state selection at Champaign St. Thomas More.
The older sister of Illinois Wesleyan basketball player Doug Wallen wasn't sure if she would pursue basketball or volleyball in college until her junior year when she concentrated on club volleyball.
"I haven't played competitively in four years. It's fun to get back into it," said Wallen, whose first ISU basketball practice was Wednesday. "It's definitely going to be challenging, especially learning all the plays when the team has already played seven games. I'll work hard and try to catch up the best I can."
Gillespie said Redbird volleyball coach Leah Johnson mentioned several months ago Wallen might be a good addition to the basketball roster after volleyball concluded, but "we were at full strength so I didn't really give it much thought."
After volleyball season ended and with her team ailing, Gillespie gave the subject a lot more thought and Wallen agreed.
"Some of the things she does naturally really surprised our staff," Gillespie said. "You can't teach how to explode up for a rebound the way she does. She's got a great first step, a great feel for the game and a really high basketball IQ.
"She's coming off a team that went to the NCAA Tournament. That's what we're aspiring to do. She will only help our culture."
After Friday's game, ISU has a week off before a Dec. 16 home game against Maryville. Gillespie sees that game as a perfect opportunity to get Wallen court time.
"We will look to acclimate her as soon as possible," Gillespie said. "We don't expect her to know every one of our sets, but we will have a package ready for her offensively."
Johnson gave her former outside hitter a ringing endorsement.
"The Redbird basketball program is getting an athlete with a great work ethic and high character," said Johnson. "It is a true testament to Lexi Wallen the athlete that she can compete at the Division I level in two sports. There is no doubt Lexi will be of value in this team's success this season."
Wallen wore No. 14 on the volleyball court, but will don No. 25 to play basketball.
"I picked No. 25 because he's No. 25," Wallen said of her brother.
The 3-4 Redbirds will be looking to even their record in Friday's nonconference game. A member of the Horizon League, Northern Kentucky is 1-4.
The Norse lost to Austin Peay, 52-48, on Nov. 26. ISU topped the Governors, 61-49, on Tuesday.
Contact Randy Reinhardt at (309) 820-3403. Follow him on Twitter: @Pg_Reinhardt
Be the first to know
Get local news delivered to your inbox!