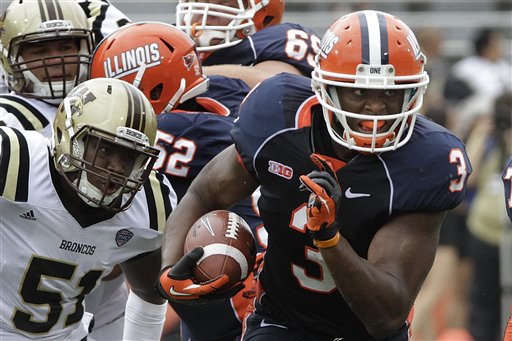 CHAMPAIGN – While the University of Illinois offense will spend this week trying to sort out its shortcoming and deal with an injury to starting quarterback Nathan Scheelhaase, the defense hit the ground running Saturday.
No, the defense hit the ground sprinting. Forcing four turnovers and holding Western Michigan to minus-6 yards rushing, Illinois handed new head coach Tim Beckman the game ball following its 24-7 season-opening victory at Memorial Stadium.
"They gave me the game ball, but it's a team ball," Beckman said. "We're going to get it framed."
Game balls could have been handed out to every player on a defense that harassed and confused Western Michigan quarterback Alex Carder and was pitching a shutout until late in the third quarter.
At that time, after Carder's eight-yard pass to Jaime Wilson resulted in the Broncos only touchdown, Illinois' lead was trimmed to 17-7. And with the offense in the midst of a stall — and Scheelhaase out of the game with a left ankle injury — Illinois needed a big play to flip the momentum.
It came with nine minutes left in the fourth quarter when Ashante Williams, a fifth-year defender playing Beckman's "Star" position (a hybrid safety/linebacker), jumped a Carder pass and sped 60 yards for a touchdown.
"The key to it was a lot of film study," said Williams. "I watched about 10 hours of film this week and I knew those routes were coming. I kind of baited (Carder) into throwing the ball and right before they hiked it I slid into position."
Williams' interception was Illinois' third of the day. Earlier, defensive end Michael Buchanan tipped a ball and grabbed it for his first career interception. And safety Earnest Thomas also had a pick.
Add in a fumble recovery by linebacker Jonathan Brown and the four turnovers is the most by the Illini defense since 2010.
It was a sparkling debut for Illinois defensive coordinator Tim Banks, who was replacing popular defensive coordinator Vic Koenning.
"We just tried to mix them up," he said. "We think Western Michigan is one of the more talented teams in terms of throwing the football.
"We wanted to give them a lot of different looks. If you are predictable, those types of quarterbacks will eat you alive."
While the defense was swarming and effective, the offense was not, especially in the second half.
Illinois scored on its fourth play of the day when Scheelhaase connected with Ryan Lankford on a 64-yard touchdown pass. And with Nick Immekus' 43-yard field goal and Scheelhaase's four-yard touchdown run, the Illini lead was 17-0 at halftime.
But the offense was blanked in the second half and managed 61 total yards after halftime.
Scheelhaase left in the third quarter with a left ankle injury and was worked on by medical personnel on the team bench.
Sophomore Reilly O'Toole entered and before long Scheelhaase's ankle was wrapped in ice and he was carted to the locker room.
Beckman, who said before the season that he is purposely vague discussing injuries, was true to his word.
"It's an ankle and we'll continue to evaluate it," Beckman said. "You know Nathan Scheelhaase and he will do whatever he can to make sure he's available next week."
Illinois plays its first road game Saturday night at Arizona State, a team that opened its season Thursday with a 63-6 win over Northern Arizona.
O'Toole didn't get the offense rolling in the two series he played and third-stringer Miles Osei ran the offense for the final couple possessions.
After threatening reports of possible rain and wind, the weather turned out to be a non-factor.