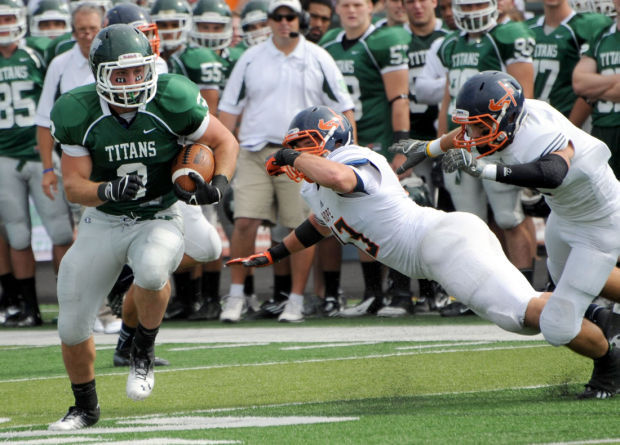 BLOOMINGTON — Leave it to Tim Hollowed, who is called "Hollywood" by his teammates, to play a starring role and take away the last hope for Hope (Mich.).
Illinois Wesleyan's senior safety intercepted Michael Atwell's pass at the Titans' 6-yard line with less than two minutes left to preserve IWU's hard-fought 14-7 nonconference victory over the Flying Dutchmen on Saturday before a Tucci Stadium estimated crowd of 2,600.
"We were in man coverage," said Hollowed, who also made 11 tackles. "We had them scouted pretty well and had a good game plan coming in. I knew what route was coming and jumped all over it."
T.J. Stinde rushed for 129 yards as IWU (3-0) earned its 20th straight victory in September while winning its home opener for the sixth straight year.
Hope (3-1) took a 7-0 lead in the first quarter on Shawn Jackson's 24-yard run. IWU tied the game on Rob Gallik's 8-yard touchdown pass to Artie Checchin late in the first quarter and went ahead, 14-7, on Gallik's 5-yard TD strike to tight end Taylor Dee with 10:36 left in the first half.
However, IWU had a Stinde touchdown on a screen pass from Gallik called back because of a holding penalty late in the half. Michael Kelley also missed two field goal attempts, hitting the crossbar on a 43-yarder as time expired.
Both teams' defense stiffened in the second half. After an IWU punt, Hope took over at its 37 with 2:42 left and faced third-and-one at the Titans' 25 when Atwell tried to squeeze a pass in double coverage that Hollowed picked off.
"Hope is a very good football team," said IWU coach Norm Eash. "They're a junior team and building for the future, but I think it's because of our veteran team and the seniors we have out there we just played a little bit harder there towards the end and refused to let it get away from us."
Gallik completed 22 of 38 attempts for 227 yards with one interception. The Titans got down to Hope's 25 on the first series of the second half before running out of downs, but never seriously threatened the rest of the game.
"It was a grind, basically. That clock wouldn't run fast enough at the end," said Gallik. "The defense played great and kept us in it the whole time. We're going to face adversity. It's nice to be up when you face adversity. We were on our heels a little bit, but we'll take it."
IWU got a pregame speech from Titan basketball legend Jack Sikma. Stinde, a senior from Lexington, came off the bench and gave IWU another spark in the first half. He gained 98 yards on six carries, including a 49-yard scamper that got the Titans out of a hole from their 2.
But the Titans couldn't get their running game going in the second half and played without senior wide receiver Tate Musselman, who suffered an injury when he landed on his hip and left the field on crutches.
IWU outgained Hope, 379-322, in total yardage. Atwell completed 21 of 46 attempts for 252 yards, with Tyrell Bolden also picking him off in the second half. Jackson was the Flying Dutchmen's leading runner with 87 yards on 21 carries.
The Titans were able to put a lot of pressure on Atwell. John Worley had three sacks, while Joe Schneider added a pair. Linebacker Connor Klein paced IWU with 12 tackles. However, the Titans allowed Hope to convert nine of 20 third downs into firsts, most longer than 10 yards.
"This game will help us. Hope is a good football team," said Eash. "It really prepares us for the conference run we have to start against Millikin next weekend."
IWU opens College Conference of Illinois and Wisconsin action against its archrival at 1 p.m. next Saturday in Decatur.