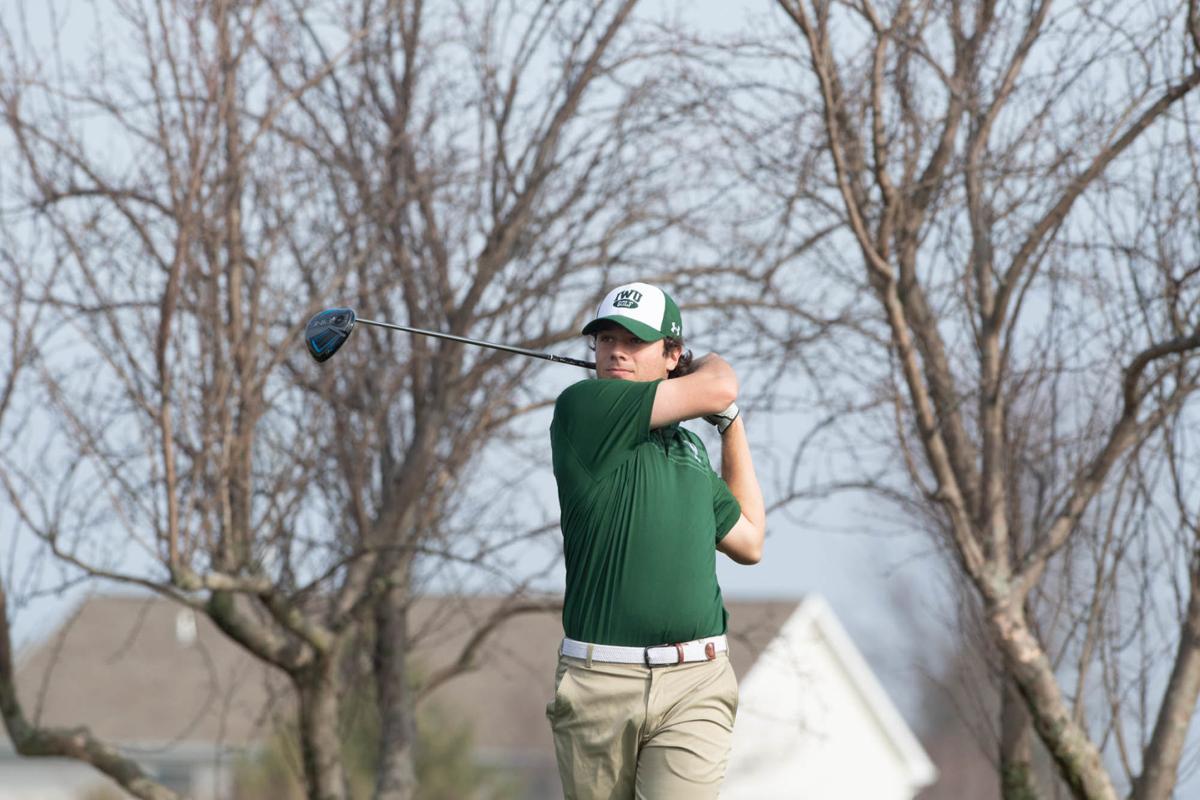 BLOOMINGTON — The season officially ended at PGA National Golf Club in Palm Beach Gardens, Fla. Skylar Le Vine and his Illinois Wesleyan golf teammates always envisioned it would happen that way.
Yet how it went down wasn't what anyone could have imagined.
IWU ventured to PGA National in mid-March while on spring break after finishing second in the Orlando Invitational. The defending NCAA Division III national champion Titans beat all but one Division I team, Wright State, at Orlando. 
Getting another chance to play the course where IWU expected to have a golden opportunity to become the school's first repeat national champions in a couple months was something that couldn't be passed up.
"We really were in a good spot," said Le Vine, a senior. "Everyone was playing well and really in a good mindset."
Illinois Wesleyan's Skylar Le Vine sinks this clutch par to finish at 2-over for the final round and and keeps IWU ahead of Huntingdon for 1st place by two strokes on the team leaderboard with four pairs to go pic.twitter.com/VQ9QmPTycr

— Transy Sports (@TransySports) May 17, 2019
Midway through the round, IWU coach Jim Ott said one of his players checked his phone and let everyone know what was happening in the real world:
The Titans' dream season was over. 
Because of the COVID-19 pandemic that was just starting to gripe the nation, the NCAA announced it had canceled all spring sports national championships.  
Ott said his initial reaction was "what do we do now?"
"In a way it was good we were all there together and you could talk to guys and help everyone get through it, especially our seniors," said Ott. "At first, you could not believe it."
IWU won four of five tournaments in the fall. The only one they didn't came in the Division III National Preview at PGA National when Emory overtook the Titans in the final round and won the 54-hole event by seven strokes.
"It probably would have been harder if we had not won last year because some seniors on other teams who finished second and third last year have good teams this year," said IWU's No. 1 player, junior Rob Wuethrich. "They're thinking we didn't get it last year and don't get a chance this year.
"It's definitely better to have that national championship last year. But it would have been kind of nice to be the first team from Wesleyan to repeat their title and get another one for coach and the seniors, too."
Le Vine also would have liked that. The Titans should be practicing at home this week before heading to Florida to begin nationals on May 12.
Yet Le Vine remains grateful for what he's got.
"We proved we could win one and perform when we needed to," he said. "Another national championship would be more icing on top of the cake. But it was satisfying to get that last year."
Wuethrich and sophomore Jimmy Morton were named Division III PING first-team All-Americans. Wuethrich, an All-American for the third straight year, posted the No. 1 scoring average in the country at 70.2 strokes for 15 rounds. The Normal Community High School graduate was medalist in three tournaments and tied for first in another.
Morton, who didn't make the national tourney lineup last year, had four top 10-finishes, including two thirds. His scoring average was 72.3.
Junior Andrew Abel was a second-team All-American thinks to a 72.7 average and three top-10s. Le Vine was named honorable mention All-American after his 73.7 average and two top-five finishes.
Wuethrich said the Titans already will have "a chip on their shoulder" coming into next season. Technically, IWU still will be the defending champion.
"Losing Skylar is big and the experience of the other seniors, but we have guys who will step up and incoming freshmen that can play well and people who can improve over the summer," said Wuethrich. "This was our goal this year — to go back and repeat. So let's take the same mindset we had this year and play the best we can in each tournament.
"It worked well for us this year. Hopefully it will work well next season."
Le Vine will be keeping close tabs on his teammates. He's already accepted a job as a commercial bank analyst in development for a Chicago-area bank and starts June 15.
Perhaps Le Vine can keep not getting another chance for a national title in better perspective than anyone. His father and biggest fan, Steven, passed away before his junior season with the Titans.
"He would have been over the moon for our national championship," said Le Vine. "He was a very positive-minded person. I think with this cancellation he knew that stuff happens, and there's worse things that can happen in life. He would have had a positive attitude toward this and been very encouraging."
Ott has built the Titans into a powerhouse. He often brings two teams to tournaments and watches both roll over most of the field.
While IWU figures to be in a similar position next spring, that doesn't make this year's sting easier to take.
"I don't know if it will ever go away," said Ott. "They say time is the best healer, but it will be a long time for this one to heal."
Contact Jim Benson at (309) 820-3404. Follow him on Twitter: @pg_benson