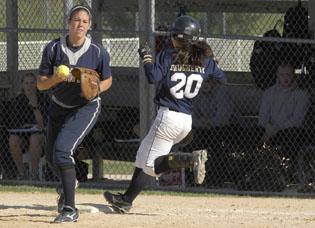 Dow's home run in the second inning lifted the fourth-seeded Hawks to a 1-0 victory over No. 5 Iowa Central in a National Junior College Athletic Association Division II National Championship winner's bracket game at Champion Fields.
Earlier Thursday, Dow survived a rough first inning in the pitching circle as Heartland beat Mercyhurst (Pa.) Northeast, 5-2, in an opening-round game. The Hawks (47-8) are among four undefeated teams left in the double-elimination tourney and face their biggest challenge at noon today when they meet five-team defending champion Phoenix College (54-9).
"We want to play Phoenix," said Dow, who got her wish as the Bears beat Johnson County (Kan.), 9-6.
Second-seeded Lansing, Mich. (53-3) and No. 6 Kankakee (45-9) are the other undefeated teams heading into today's action. Heartland finished third in last year's tourney during its inaugural season and seems confident it can improve on that.
"There are a lot of great teams here," said Heartland assistant coach Daryn Miller. "I tell the kids there's no one better than us if we take it a game at a time, play our game and do what we can."
Dow drilled a 0-1 pitch from Christina Bradley over the fence in left-center field. That -and a couple stellar defensive plays - was all Hawk freshman Hannah Huebbe needed.
Huebbe (16-3) allowed four hits, all singles, while walking one and striking out four.
"I was pretty nervous, but I knew the defense would back me up if something happened," said Huebbe.
Heartland center fielder Lizzie Andrews probably saved a run with a diving catch going to her left to end the third inning. Catcher Kate Singler picked off Steph Graziani, who led off the sixth with a single, at first base.
"You can't expect her (Huebbe) to keep everyone off the bags," said Miller. "The defense has to step up and make a play when they need to. We had that a couple times in big situations."
Huebbe said she relied on her curveball to keep Iowa Central (60-7), which thumped Illinois Central College earlier, 13-1, off balance.
"I knew they were a good hitting team, so I knew I would have to come out hard and get them right off the bat," she said.
McKenzie Phillips had two of Heartland's five hits.
Mercyhurst jumped out to a 2-0 lead in the top of the first against Dow (19-4). Nikki Woodard's two-run double put Mercyhurst ahead, but Dow settled down after that and allowed just three more hits.
Heartland scored two runs in the bottom of the first and added three runs in the second with Singler provided a two-run double. Dow struck out seven and walked three.
"It's not a team we've seen before. New teams and new players you're not sure how they're going to hit," said Dow. "Those runs helped quite a bit. It helped on the mound, relaxing and just throwing the ball rather than trying to place it. After the first few innings I felt good."