It was 55 years ago that I was pacing back and forth in my parents' suburban Minneapolis kitchen listening to what was coming out of a large, plastic-cased radio sitting on top of our refrigerator. I was hanging on every syllable of Les Keiter's description of the February 1964 heavyweight championship fight between the champion, Sonny Liston, and a brash young underdog contender named Cassius Clay.
A few rounds into the bout a question popped into my 14-year-old brain: "How would it feel to have someone listening as intently to me as I am right now to Mr. Keiter?" My instinctive response was that nothing could possibly feel better.
I had discovered what I wanted to do with my life. Of course, many of us make such discoveries at tender ages. But few of us wind up doing what we believed we want to do when we were so young. When I reflect on the fact my youthful dream became my life, I get a little weepy.
Saturday evening, for the 1,000th time, I will broadcast an Illinois State University men's basketball game. In addition to 999 of those, I have verbally documented 321 Illinois State football games and countless other athletic events involving Redbird women's basketball and volleyball, Illinois Wesleyan, McLean County's high schools and a few other organizations.
One of those other organizations was the Bloomington Hearts. Shortly after being hired at WJBC Radio in 1981, I teamed up with McLean County's most prominent radio personality, Don Munson, for the station's play-by-play coverage of our community's fast-pitch softball team. The Hearts were nationally competitive and inspired many fans to come to O'Neil Park to watch them play.
Among those fans was a boy named Eddie Regan. Eddie was around the age I was when I was listening to that Clay-Liston fight. He was a fan of one of the Hearts' main rivals, Aurora Home Savings. He and his dad (Jim) attended every matchup between the Hearts and Home Savings, whether in Bloomington or Aurora. We also would see them at national tournaments.
There was one distinct difference between Eddie and every other fan at those games. He was blind.
Although his other senses told him much more about what was happening on the field than those of us with fully functioning eyes can imagine, Eddie would sit at the top of the stands right below our broadcast booth so he could supplement what he assimilated on his own with what he heard from us.
The more I got to know Eddie, the more I directed my description of the game specifically to him. And the more I directed it to him, the better it became. After all, Eddie was no different than our other listeners. Everyone else who tuned in Hearts softball on WJBC saw no more of the action than Eddie did, and were therefore even more dependent than Eddie on our description of the game.
This experience showed me my job was to paint a picture, not with a brush but with a voice. I was an artist! This realization was surreal. It altered my self-image. I had always admired the artistic fraternity. Believing I was a member was transformational.
Eddie, whom I lost track of after the Hearts dissolved, taught me that focusing on the creation of visual images specifically for one sightless listener produced my best work. And so that's what I try to remember to do before each broadcast.
I think of someone who I know is listening and who is significantly invested in the outcome of the game. When it's a road game it might be the head coach's wife or a player's mom or dad. When I can't think of anyone else, I think of Eddie, who would be in his mid-to-late 40s today. Then I activate my instrument of art, my voice, and begin to paint the picture that will best serve the imagination of my listener.
Eddie, my time with you was valuable. Thinking back on what I learned from you, and about you, during those glorious years of WJBC's coverage of Hearts softball convinces me you have had a strong influence on many lives. But I want you to be aware of how you have impacted mine, and so I hope this document finds its way to you. Thank you, Eddie!
There are countless individuals who have influenced my sports broadcasting career. Because you're taking the time to read this, you are likely one of them.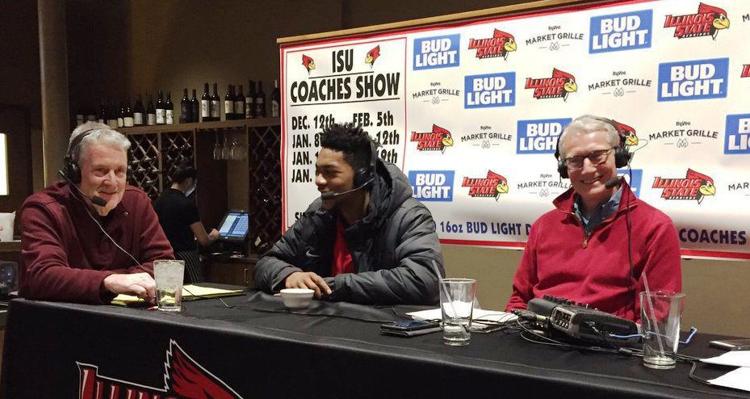 When I moved to Bloomington-Normal nearly 38 years ago, I was struck by the rabid interest here in competitive athletics, particularly basketball. That interest is what prompted WJBC Radio to hire someone whose primary function was to inform the sports fans of this community about their teams. Without that level of interest, I would not have lived out the dream that I initially envisioned during the radio broadcast of that fight featuring the 22-year-old from Louisville who was beginning to fulfill his own dream.
Eight years after I was hired by WJBC, my dream had evolved into being the radio voice of a team in the National Basketball Association. The NBA had awarded an expansion franchise to the community in which I grew up. It seemed the perfect time to attempt to make a move.
I enlisted the help of two men who played their college basketball here, Doug Collins and Jack Sikma, both of whom had, and still have, deep connections within the NBA. My uncle, a Minnesota boxing Hall-of-Famer, did what he could to sell the Minnesota Timberwolves on my abilities.
Nonetheless, the T-Wolves hired Kevin Harlan, who is now among the most prominent television play-by-play announcers in America. I was flooded with disappointment. But 30 years later, I'm thankful Kevin's talent level was properly recognized. I have learned enough about the big-time broadcast environment to understand it is not one in which I would have flourished.
I feel like I have flourished in this community. And in the process of doing that, my Bloomington-Normal roots have grown to the degree that extraction seems unfeasible.
But let me go back again to that evening when I was glued to my parents' outsized radio. I was fascinated by the anomalous young man who had energetically shouted his promise that he would take down Sonny Liston. Trash talking was not in vogue then. Cassius Clay's bravado was part of the reason the boxing fraternity was so sure the powerful and fearsome Liston would silence the "Louisville Lip."
As the early rounds of the bout failed to support that assessment, the intensity with which I listened to Les Keiter's words grew. I became devoted to the idea that this man, who was soon to be known as Muhammad Ali, was actually going to keep his outlandish promise.
It's your devotion to the success of the Illinois State men's basketball program that has fueled your interest in my words. When I allow myself to reflect on the possibility that your passion for the Redbirds sometimes causes you to listen as intently to me as I did 55 years ago to Les Keiter, the tears begin to well up in my ducts.
I hope I've helped you understand why I am so grateful for your allegiance to the Illinois State Redbirds. The best thing about this milestone moment is that it provides me with the opportunity to publicly communicate to you. I've used well over 1,000 words in an effort to do that, but here's one more: Thanks!