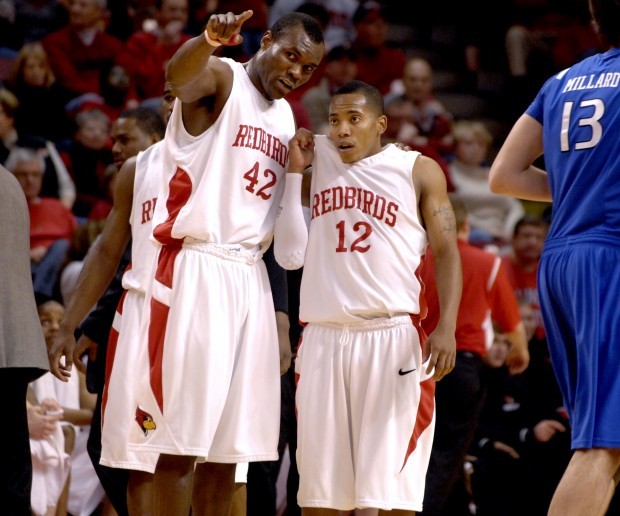 NORMAL -- Dayton might be one of the best teams in the National Invitation Tournament. Lloyd Phillips knows that.
But the way he sees it, Illinois State's basketball team should be a lot more relaxed against the Flyers.
The Redbirds' senior point guard doesn't think his team will be as uptight in a NIT first-round game at Dayton on Wednesday then they were in St. Louis for the Missouri Valley Conference Tournament.
"We pressed too hard we wanted it so bad. The pressure is kind of off," said Phillips on Monday. "Guys are more relaxed in practice. Hopefully we'll get back to that kind of basketball that helped us win six in a row (near the end of the regular season)."
ISU squeaked past Indiana State in a Valley tourney quarterfinal game before losing to Wichita State, 65-61, in the semifinals. That ended the Redbirds' hopes of playing in the NCAA Tournament.
After sweating out a week wondering if it would be in the NIT for the third straight year, ISU (22-10) earned a No. 6 seed. The Redbirds face third-seeded Dayton (20-12) at 6 p.m. Wednesday at UD Arena. The game will not be televised.
"In St. Louis we played a little faster than we usually play," said ISU senior guard Osiris Eldridge. "We started to play our best basketball at the end of the regular season. If we play like we did then now we can come out on top."
As he said the last two years, ISU coach Tim Jankovich wants his players to be proud of being in the NIT.
Only eight schools from outside the six major (BCS) conferences earned one of the 34 at-large bids to the NCAA tourney, while nine were invited among 24 at-large teams selected for the NIT.
"It's a great honor when you analyze it and really look at how difficult it is to be selected and look at the company you're with -- North Carolina, Mississippi State, Connecticut, Memphis, Virginia Tech and on and on," said Jankovich. "It's a tremendous field."
ISU didn't have any problem getting up for last year's NIT after a bitter overtime loss to Northern Iowa in the Valley Tournament championship game. The Redbirds might have played their best game of the season, but couldn't put it away at the end and suffered an 83-79 overtime loss to Kansas State.
Kansas State returned much of that squad this season and earned a No. 2 seed in the NCAA tourney.
"When you play in the NIT and come from the Valley, playing a team in the Big 12 or Atlantic-10 you feel you have something to prove and show all the hype they get they're not too much better than you," said Phillips. "Last year at Kansas State that's exactly what we had.
"We wanted to show we could play with anybody. In the NIT you get a chance to play teams you see on TV all the time."
ISU will be playing its first game in 11 days. That has helped many players heal up after a long season. Eldridge said his right wrist, which he badly sprained at the Valley tourney, is starting to feel better.
The Redbirds took four days off before resuming practice last Thursday.
"The guys feel so much better. The tradeoff is you feel better, but you're very rusty," said Jankovich. "One concern is to get back into game rhythm and confidence. No matter how hard you try you can't get that in practice."
Eldridge going to Portsmouth: Eldridge confirmed that he has been invited to participate in the Portsmouth Invitational Tournament on April 7-10 at Portsmouth, Va. The event is for 64 of the top seniors in the country to showcase their pro potential in a four-day, 12-tournament game format.