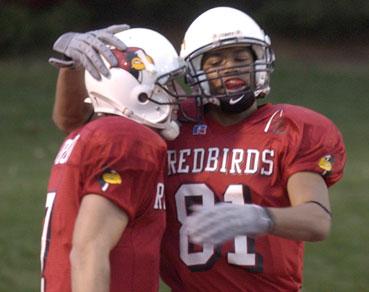 ST. LOUIS - When Terry Allen left the Gateway Football Conference after the 1996 season, Northern Iowa was on top. Allen returned to the Gateway on Tuesday at the league's Media Day festivities, and Northern Iowa is back on top. This time, however, Allen and the rest of the conference are trying to knock the Panthers from their perch.
As the new coach at Missouri State, Allen has the No. 7 team in the Gateway's preseason poll. Northern Iowa, which Allen led to seven consecutive conference championships from 1990 to '96, gained the top spot.
"It's great to be back in the Gateway," said Allen, who was the head coach at Kansas for five seasons and an associate head coach at Iowa State for four years after leaving Northern Iowa. "There are a lot of familiar faces."
One of those is Northern Iowa coach Mark Farley, a former Panthers' standout linebacker who served as an assistant coach under Allen in Cedar Falls.
Farley's Panthers advanced to the Division I-AA national championship game (losing to Appalachian State), and received 22 of a possible 32 votes for first in balloting of league coaches, media and sports information directors.
"It's a great place to be," Farley said. "But it's paperwork."
After Northern Iowa's 239 points, Youngstown State was second with 208 points and seven first-place votes. Illinois State, in its highest preseason ranking since being forecast for first in 2000, was third with 190 points and two votes for first.
Southern Illinois is fourth at 160 points with Western Kentucky fifth (141), Western Illinois sixth (103), Missouri State seventh (79) and Indiana State last (32).
Northern Iowa was 4-3 last season after a 38-3 pounding at Illinois State. The Panthers won their final three regular-season games and three more in the playoffs before dropping the national title game, 21-16.
"It was a tremendous experience for our program," Farley said. "I'm very proud how it all transpired."
Eric Sanders set a Gateway record by completing 68.3 percent of his passes last season. The junior passed for 2,929 yards, 23 touchdowns and just five interceptions.
"It's a good thing to have high expectations. It shows a lot of people respect us," said Sanders. "But at the same time, it's not going to mean anything if you can't hold on to it and be No. 1 at the end of the season."
Youngstown State is still smarting from being left out of the playoffs last fall despite an 8-3 regular season and sharing the Gateway title with Northern Iowa and Southern Illinois at 5-2.
"It was a frustrating ending, and the kids have carried that on," Penguins' coach Jon Heacock said. "The kids earned the right to be ranked that high. It's nice to be ranked second."
Youngstown State has four members of the Gateway's preseason defense in lineman Mychal Savage, linebacker James Terry and backs Codera Jackson and Jason Perry.
ISU was picked seventh in the 2005 preseason poll and finished fourth.
"We've garnered some respect from our opponents around the conference," Redbirds' coach Denver Johnson said. "Hopefully, we can live up to that."
ISU has two members of the Gateway preseason team in wide receiver Laurent Robinson and linebacker Cameron Siskowic.
Southern Illinois must replace four-year starting quarterback Joel Sambursky. But the Salukis have standout running back Arkee Whitlock and an experienced offensive line that includes Bloomington's Andrew Kernes.
"It's a little different structured team," said Southern coach Jerry Kill. "We still have very good players, and I think we have a very good team."
Western Kentucky was ranked No. 1 nationally before dropping its final four games of 2005.
The Hilltoppers return the talented duo of quarterback Justin Haddix and tailback Lerron Moore.
"We did not finish anywhere near our expectations," Western Kentucky coach David Elson said. "The players are bonding together to make sure that doesn't happen again."
Western Illinois finished a 5-6 season with three straight victories a year ago.
"The Gateway is a meat grinder," Leathernecks' coach Don Patterson said. "It's entirely possible 5-2 could share it (the championship) again."
Missouri State has an open competition at quarterback and needs to significantly improve a defense that gave up 31.2 points per game.
A unanimous pick for the cellar, Indiana State was 0-11 last season, its first under Coach Lou West.
"Last year reinforced that the Gateway is the best I-AA conference in the country," West said. "I knew it would be tough. But frankly, I didn't know it would be that tough."
The preseason rankings of the Gateway Conference, with first-place votes in parentheses
1. Northern Iowa (22) 239
2. Youngstown State (7) 208
3. Illinois State (2) 190