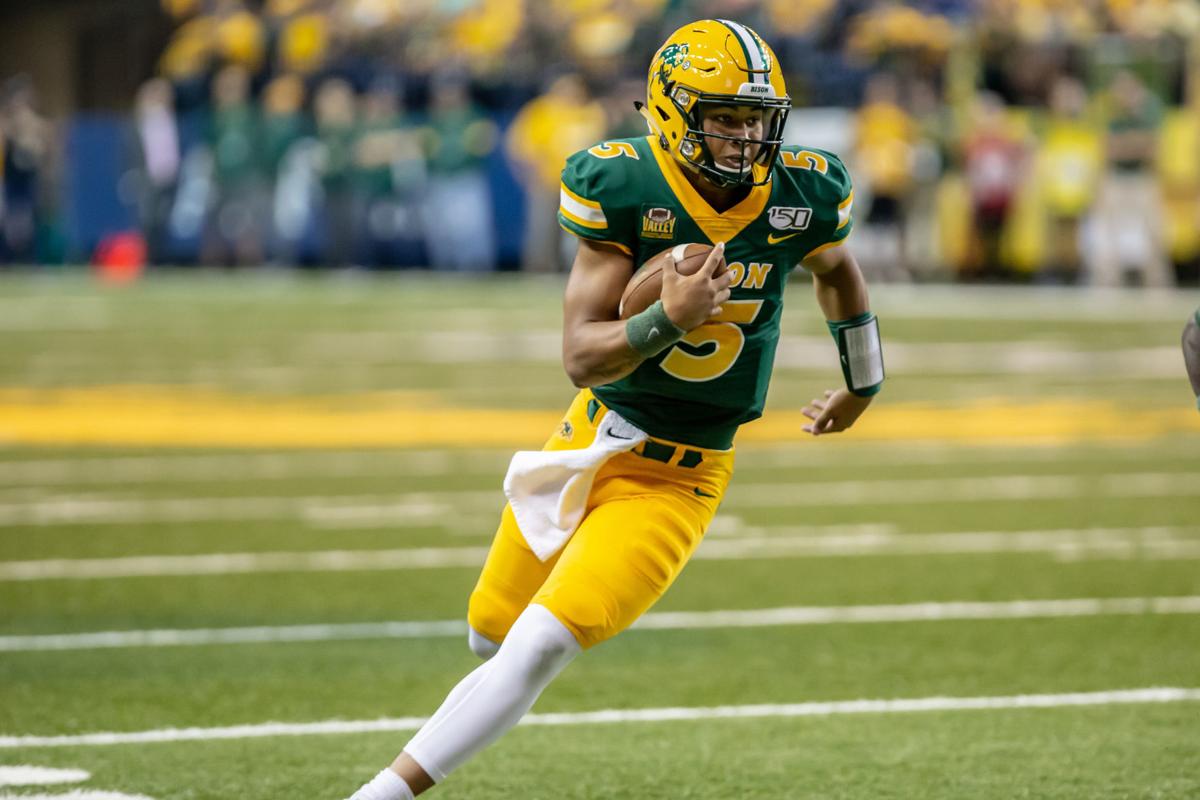 North Dakota State claimed its first FCS national championship in 2011 with Brock Jensen at quarterback and Craig Bohl calling the shots as head coach.
Since then, the Bison have won six more national titles. Chris Klieman was head coach for four of those titles after Bohl won three. Carson Wentz and then Easton Stick followed Jensen as championship-winning quarterbacks.
Wentz and NDSU defeated Illinois State, 29-27, in the 2014 national championship game. 
With Matt Entz taking over as head coach and a redshirt freshman in Trey Lance at quarterback, the rest of FCS harbored hopes the Bison might be a bit vulnerable this season.
No such luck. Entz has yet to lose and Lance has yet to throw an interception.
That's the powerhouse program ISU will butt heads with on Saturday at the Fargodome. No. 1 NDSU and No. 13 ISU square off at 11 a.m. in an FCS quarterfinal game that will be broadcast nationally by ESPN.
Lance won the Jerry Rice Award on Wednesday as the Freshman of the Year. He also is among four finalists for the Walter Payton Award, which is presented to the top player in FCS.
"Credit to not only him but the players around him," Entz said. "He's a different quarterback than he was early. We tried to keep things relatively simple. Now we can give him the full gamut of the playbook."
"Isn't that amazing? That's hard to believe," ISU coach Brock Spack said. "I've never seen that before, and I've been around a really accurate passer in Drew Brees (at Purdue)."
You have free articles remaining.
Honored as the Missouri Valley Football Conference Freshman of the Year, Newcomer of the Year and Offensive Player of the Year, Lance also has 829 yards and 11 TDs on the ground.
"Credit to the offensive line. He's had time to make decisions, throw the ball away if needed," said Entz. who finished second in Coach of the Year voting. "He has yet to get rattled.
"There have been bad decisions and misreads, but there hasn't been a series of them. He has a great moxie and great composure to him."
The Bison are 13-0, including a 37-3 win over Illinois State on Oct. 5 at Hancock Stadium, and have won an FCS-record 34 straight games. That broke the record of 33 already held by NDSU from 2012-14.
NDSU is making its 10th consecutive quarterfinal appearance. James Madison in 2016 is the only other FCS national champion over the past eight seasons.
"That's the goal every year," said free safety James Hendricks. "It's a testament to where we've come as a program and where we are."
The Bison have committed just five turnovers all season with the last one (an interception on a halfback pass) coming in October.
Nicholls State trailed NDSU just 14-13 midway through the third quarter of last week's second-round game. The Bison scored the final 23 points for a 37-13 victory.
"It's a good thing we had that adversity," tight end Ben Ellefson said. "Keeping our cool is the biggest thing. Things are going to happen in a football game. Staying calm, cool and collected as an offense is important."
Ellefson and Bison defensive end Derrek Tuszka, the Valley Defensive Player of the Year, have been selected to play in the East-West Shrine Bowl.
ISU tailback James Robinson and safety Luther Kirk also will participate in that all-star game. 
Randy Reinhardt's favorite stories of 2019
Here are a few of the stories I really enjoyed bringing to our readers in 2019.
Contact Randy Reinhardt at (309) 820-3403. Follow him on Twitter: pg_reinhardt