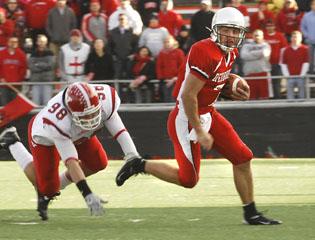 CEDAR FALLS, Iowa — Division I-AA playoff pairings will be announced Sunday at noon on ESPNEWS.
Although the Illinois State football team has obvious interest, the Redbirds will have no trouble keeping themselves occupied until then.
ISU concludes its regular season today in a 4:35 p.m. Gateway Conference game against Northern Iowa at the UNI-Dome. A win would give the Redbirds a share of their first Gateway championship since 1999. The game will be broadcast live in Central Illinois on WYZZ, Fox 43.
"We're playing for the Gateway Conference championship right now. We'll worry about the postseason when the (regular) season is over with," ISU coach Denver Johnson said. "A share of the conference championship is at stake. That's all we can ask for. It would be huge. That's what you play for."
Ranked sixth nationally, the Redbirds (8-2, 5-1 in the Gateway) are probably in the 16-team I-AA playoffs even with a loss. Youngstown State has completed its regular season at 6-1 in the Gateway and has clinched the league's automatic playoff berth.
No. 20 Northern Iowa (6-4, 4-2) must win to keep slim at-large playoff hopes alive.
"This is an exciting time, an exciting game," said Johnson. "We said way back in August if we could get to this game and it has conference and/or playoff implications, it would be a wonderful set of circumstances. Getting this win and a share of the conference would be great affirmation in the kids' minds we are in fact headed where we want to be."
Claiming a share of the Gateway crown is important to Redbird senior wide receiver Laurent Robinson and senior linebacker Cameron Siskowic.
"It means a lot to the program. We've got a lot at stake," Robinson said. "It's been my goal ever since I came here to win a conference championship. I'm excited we have an opportunity to do that. We're going to try everything we can do to win it so we can be remembered by it."
"It's huge. We're hyped and ready to go," said Siskowic. "This is the first chance anyone around here has had a chance to win a conference championship. We'll work hard all week to make sure we're prepared on Saturday. We want to walk around the rest of our lives with a big, fat (championship) ring on our finger. It would really mean a lot to us."
After enduring windy and sometimes rainy conditions the last three weeks, the ISU offense should enjoy the controlled conditions of the UNI-Dome. Playing inside, however, provides other challenges.
"Northern Iowa is an outstanding team, and they are always tough in the dome," Johnson said. "The dome is a tremendous home field advantage."
ISU's Gateway-leading pass offense features quarterback Luke Drone and receivers Robinson, Pierre Jackson and Jason Horton. Drone has thrown for 2,337 yards, 18 touchdowns and just three interceptions.
"Illinois State is as good as they've ever been. Coach Johnson has done a great job," said Northern Iowa coach Mark Farley. "They are pretty potent when you put Laurent in with the rest of the guys they're playing with. Luke is the catalyst for it all. You have to stop a unit, not one or two guys."
Northern Iowa's conference-best rush defense will be tested by Redbird tailback Pierre Rembert, who has rushed for 1,297 yards and 13 touchdowns.
The Panthers have Payton Award candidate Eric Sanders at quarterback. Sanders, who missed last season's 38-3 loss to ISU with an injury, has completed nearly 68 percent of his passes for 1,836 yards, 13 TDs and seven interceptions.
Northern Iowa cornerback Dre Dokes paces the Gateway with six interceptions, while defensive end Mark Huygens is the league leader with 6½ sacks.
---
Illinois State vs. Northern Iowa
Site: UNI-Dome, Cedar Falls, Iowa
Records: Illinois State 7-2, 5-1 in Gateway Conference; Northern Iowa 6-4, 4-2 in Gateway
Coaches: Illinois State's Denver Johnson has a 40-37 record in his seventh season and a 61-49 record in 10 seasons as a head coach. Northern Iowa coach Mark Farley is 50-24 in his sixth season with the Panthers.
Illinois State leaders: Rushing: Pierre Rembert (1,297 yards, 13 touchdowns); Passing: Luke Drone (152-260, 2,337 yards, 18 touchdowns); Receiving: Pierre Jackson (41 catches, 735 yards, 6 touchdowns); Scoring: Pierre Rembert (13 TDs, 78 points); Tackles: Cameron Siskowic (125)
Northern Iowa leaders: Rushing: Corey Lewis (781 yards, 9 touchdowns); Passing: Eric Sanders (163-240, 1,836 yards, 13 touchdowns); Receiving: Johnny Gray (39 catches, 548 yards, 4 touchdowns); Scoring: Brian Wingert (16 field goals, 33 XPs, 81 points); Tackles: Chris Parsons (62)
Illinois State injuries: Offensive tackles Barry Hartman (back) and Jonathan Lyon (knee) and safety Nick Passarelli (shoulder) are out for the season. Second string quarterback Kevin Brockway (shoulder) is doubtful.
Northern Iowa injuries:Linebacker Araf Evans-Sykes (broken arm) and free safety Ryan Manahl (shoulder) are out for the season.
What to watch for
Motivation will be crucial. It is Senior Day for Northern Iowa but the Panthers have slim playoff chances even with a victory.
ISU's playoff bid is probably already secure but a victory could make the difference in landing a first-round home game and would give the Redbirds a share of the Gateway championship with Youngstown State.
ISU coach Denver Johnson is concerned how his team will adjust from practicing in wet, chilly weather this week to playing in the 70-degree controlled climate of the UNI-Dome.
Points of interest
Kansas State upset No. 4-ranked Texas, 45-42, last Saturday. ISU's loss to Kansas State on Sept. 2 was by a 24-23 margin.
Northern Iowa advanced to the I-AA national championship game last season, losing to Appalachian State.
ISU, which is shooting for its sixth straight conference road win, is ranked sixth by the Sports Network. Northern Iowa is No. 20.
The Redbirds have not committed a turnover in nearly six full games, a remarkable span of 354 minutes, 49 seconds.
Talking the talk
"Northern Iowa has outstanding players and a well established and thriving program. I think our kids our leaning forward and anxious to play the game." – ISU coach Denver Johnson
"We haven't played a whole four quarters as a team yet. It's discouraging, but it's also exciting if we can put it together one time." – ISU linebacker Cameron Siskowic
"They have such a balanced football team. Their offense is very dominating. Our offense has to perform. The defenses will be put to task." – Northern Iowa coach Mark Farley