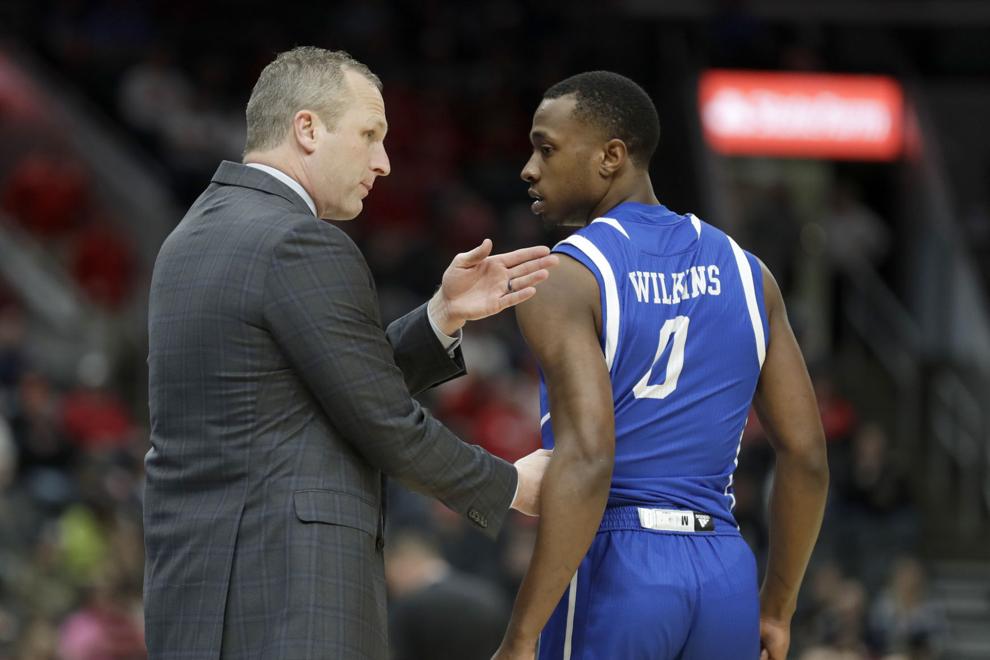 NORMAL — Darian DeVries should get an award as college basketball's eternal optimist.
"We felt we were playing well. The good part is we're still playing well," said Drake's head coach, slightly laughing. "We haven't lost."
Off to a school-record 13-0 start, Drake was earning some national attention and began receiving votes in the Associated Press Top 25 poll. Then the season came to a sudden stop for the Bulldogs.
That resulted in five games being postponed. When the Bulldogs return — hopefully — next Tuesday at Missouri State, it will be 22 days since their last game.
"The mindset we played on both sides of the ball is what got us to that point," said DeVries on Tuesday's MVC coaches Zoom conference. "We need to make sure we're working our way back into that and getting into that right frame of mind before we start playing again next week."
Drake still doesn't have enough players cleared to play a game yet. DeVries is hoping to have a "big chunk" of players back by the weekend so the Bulldogs can hastily prepare for a huge two-game series at Missouri State (9-1, 5-1).
"It is what it is. We're doing everything we can to take a positive approach to it and looked at it like we had a mini-vacation," said DeVries, whose team is No. 11 in the NCAA NET Rankings. "We've worked our way back and got a very good Missouri State team we've got to get ready for which should help us get through this week and focused for that game."
Southern Illinois (7-3, 1-3) is in a similar predicament as Drake. The Salukis will have endured a 21-day break when they resume Monday at Indiana State (5-7, 3-5) after their COVID-19 delay.
SIU head coach Brian Mullins said his team had six players on the practice court Monday and hopes to have at least eight ready to face the Sycamores.
"There are things you can't control about this year. Every team at some point has gone through it," said Mullins. "For us it's our second go-around going through taking a little pause ... we'll continue getting guys in shape and continue working on their skills and get guys as prepared as we possibly can for next week."
Another Valley team might soon be on pause.
About noon Tuesday, the MVC postponed Evansville's game at Indiana State on Wednesday because of positive COVID-19 test results among Evansville's Tier I personnel. The Purple Aces' next scheduled game is Jan. 31 at home against Valparaiso.
Hall not 'benched'
Loyola head coach Porter Moser took exception to a reporter asking about his decision to "bench" senior wing Tate Hall last weekend against Northern Iowa.
Hall responded with a season-high 24 points in the first game and then 13 in the second as the Ramblers (10-3, 5-1) completed a sweep of the Panthers. The 6-foot-6 senior, who shot 72.2% from the field including 5 of 8 outside the arc against UNI, was named MVC Player of the Week on Tuesday.
"The word bench is nothing we did with Tate Hall," said Moser.
Moser said he has seven starters among the top players in his rotation. With Hall struggling with his shooting, Moser decided to put Keith Clemons up with the starting unit and use Hall as a sixth man much like the Ramblers did with Aundre Jackson when they advanced to The Final Four in 2018.
"I want you to play loose, free and know you're in the rotation," said Moser of his message to Hall. "The NBA does that. They know who's in the rotation. But I said I'm going to tinker with the lineup. I brought up Aundre Jackson. He started the first couple games, and I said we have this freshman and we're going to start Krut (Cameron Krutwig) and you're going to be a weapon off the bench."
While Moser didn't see it, an assistant coach told him Hall came to the sideline after hitting a 3-pointer against UNI and said, "I'm back."
"You love how he responded. His confidence level was sky high," said Moser. "Conversely, Keith Clemons had a bounce to his step because he was starting."
Going forward, Moser said the only players sure to be starting are seniors Krutwig and Lucas Williamson. Sophomore guard Marquis Kennedy is the lone player in the Ramblers' top seven who has not started yet this season.
Experience counts
There is no substitute for experience. That's been an adage for coaches in all sports for years.
Thus far, the MVC is proving that is true.
Drake (22.55) and Loyola (22.09) lead the league in average age of its top seven players based on minutes played this season, while Bradley is fourth (21.46) and Missouri State ranks sixth (21.17). Those are considered the league's top four teams.
The teams who currently are in the league's last four spots, which would be relegated to the MVC Tournament play-in round, are the four youngest — UNI (20.64), SIU (20.62), ISU (21.01) and Valparaiso (21.03).
"Our confidence right now is not the best," said ISU head coach Dan Muller after two weekend losses to Indiana State. "I feel good about our group from the way they responded yesterday in practice, but when the ball tips up Wednesday night (against Bradley) can you play a good 40 minutes? We've played 20-25 minutes here and there. We've got to get closer to 35 minutes and have to start games better."