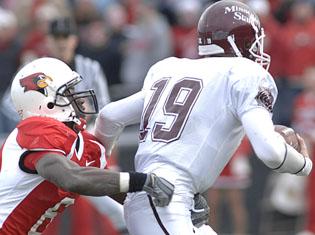 NORMAL - A 38-14 victory over Missouri State last Saturday helped the Illinois State football team move up one spot in this week's Sports Network Division I-AA national rankings.
Eighth last week, ISU is No. 7 in rankings announced Monday. The Redbirds have 1,926 poll points. ISU is 7-2 overall and still part of the Gateway Conference championship picture at 4-1.
Starting the season at No. 9 in the Sports Network preseason poll, the Redbirds have been in the top 10 all season.
Appalachian State (9-1) is the No. 1 team in the nation for the fourth straight week. The Mountaineers received 94 of 104 first-place votes and 2,585 poll points.
The rest of the top five also remained the same with Montana (8-1) second, Masschusetts (8-1) third, James Madison (8-1) fourth and North Dakota State (8-1) fifth.
Youngstown State (8-2) rose one spot to sixth. Northern Iowa in 12th and Southern Illinois at 14th gives the Gateway Conference four teams in the top 15.
Siskowic leads nation
Not only did ISU senior linebacker Cameron Siskowic earn Gateway Defensive Player of the Week honors with 16 tackles and a forced fumble in the win over Missouri State, Siskowic also vaulted to the top of the national I-AA tackle list.