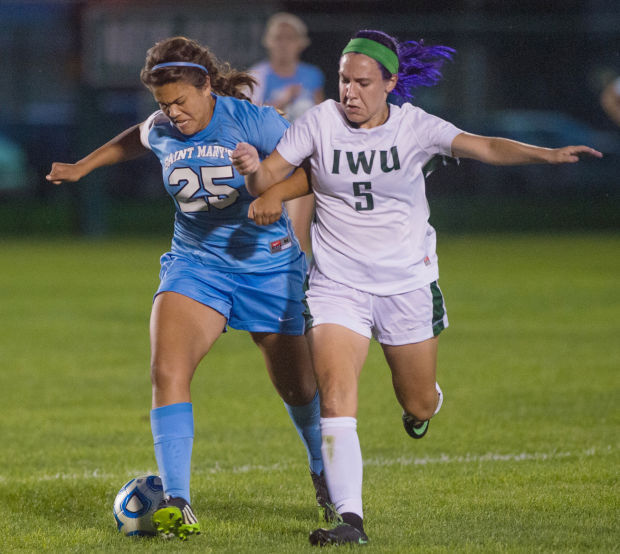 BLOOMINGTON — When the Illinois Wesleyan women's soccer team steps onto the field Friday to face No. 1 nationally ranked Lynchburg College, it will be like blazing a new trail and then finding a familiar obstacle at the destination.
On the one hand, there's the excitement of a first-ever appearance in the NCAA Division III women's soccer Final Four. On the other is the prospect of facing an undefeated and top-ranked foe.
"We've been battle tested," said IWU coach David Barrett, whose 18-6-1 Titans face the Hornets (25-0-1) in a 5 p.m. national semifinal at Swope Soccer Village in Kansas City, Mo.
"Wheaton College is often No. 1 when we play them. We played Washington University who was No. 1 when we played them. So playing the number one team is not necessarily new to us."
Barrett hopes that experience will pay dividends against Lynchburg, a team noted for playing outstanding defense. The Hornets lead the nation with a 0.15 goals against average and have scored 18 consecutive shutouts.
Offensively, Lynchburg is paced by the 27 goals and 13 assists of Old Dominion Athletic Conference Player of the Year Angela Bosco.
Barrett wants the Titans to be in attack mode to counter both.
"We're going to have to defend well, but we're also going to have to put pressure on them," he said. "The best defense is a good offense and we certainly want to keep the ball and put it into their end and make them defend (against) us."
Barrett says maintaining possession has been an IWU strength throughout the season en route to the 18 wins, the most in school history.
"One of the things that's been effective for us this year is being able to win contested balls and keep them in the attacking zone," Barrett said. "Our whole team, in general, has done a really nice job of pressuring and being able to get loose balls, helping to keep possession."
Moving senior Julie Govedarica into the midfield has contributed mightily to the ball-possession cause. At first a bit reluctant to move from a defensive spot in the backfield where she earned first-team all-CCIW honors in 2013, Govedarica quickly adapted to her new role.
More a part of the offensive mix this season, the co-captain tallied a career-high four goals and seven assists and once more earned all-conference accolades.
Skyler Tomko (13 goals, three assists) and Sydney Fox (12 goals, four assists) lead a balanced Titan offense that has seen 15 different players score at least one goal.
"We sort of platoon, as to who's playing the best or the sharpest," Barrett said. "We've had a variety of people rise to the occasion in different games."
Senior Tess Bottorff (five goals, six assists) joined Govedarica on the all-conference first team. Senior co-captain Brie Siebert also had five goals and six assists. Amanda Kaiser has a team-leading 10 assists.
Junior Mary Kate Schmidt, also a first-team all-CCIW pick, anchors a Titan defense that has allowed only six first-half goals. Sophomore goalkeeper Dana Jourdan has a 0.75 goals against average with 59 saves and six shutouts.
Williams College (20-1-1) will face Johns Hopkins (19-3-2) in Friday's other semifinal. Saturday's title game is at 5:30 p.m.
Be the first to know
Get local news delivered to your inbox!