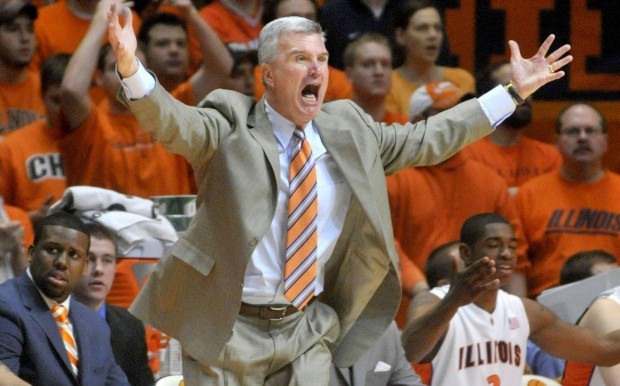 NORMAL — University of Illinois basketball coach Bruce Weber has seen his Fighting Illini listed as high as ninth nationally in preseason rankings. Weber isn't shying away from the high expectations.
"I'm excited. I don't know if I've been this excited for a while," said Weber, who threw out a ceremonial first pitch at the Normal CornBelters' game Thursday at the Corn Crib. "I think we have a chance to be very, very good."
Illinois finished 21-15 last season and return four double digit scorers in seniors Demetri McCamey, Mike Tisdale and Mike Davis and sophomore D.J. Richardson.
"Our guys had a good summer. I think they're very hungry," Weber said. "If it all goes together, we could be very good. And if things really go together and we win some close games, maybe you have a special season."
The Illini coach expects McCamey, who averaged 15.1 points and 7.1 assists last season, to be "one of the top 10 players in the country. But will he do it every day? That's a big key."
The 7-foot-1 Tisdale has added at least 30 pounds since the end of last season, according to Weber.
"Tisdale had the chance to play against NBA guys for two weeks this summer. He should be a strong force for us," Weber said. "Mike Davis is wearing cut-off shirts now. He's actually got some muscle mass on his arms. They really took the weights seriously."
Weber has received glowing reports on 6-8 freshman Jereme Richmond.
"Some former players who watched our guys this summer think Jereme may be as good as anybody in the mix," said Weber. "It will be interesting how we piece it together."
The Illini released their schedule Thursday. Among the nonconference highlights are a Coaches vs. Cancer matchup in New York against Texas on Nov. 18, a Nov. 30 home game against North Carolina, a trip to Seattle to meet Gonzaga on Dec. 4 and the annual rivalry game with Missouri on Dec. 22 in St. Louis.
"If you want to have a chance to win the Big Ten and you want to make some noise in March and maybe into April, you've got to play tough teams. That's what we did," Weber said. "The second half of the Big Ten schedule is a little top heavy with the favorites, but we had that last year. Hopefully, we'll do a better job of dealing with that."
The Illini open their season on Nov. 8 against California-Irvine at the Assembly Hall.
Oct. 24 – Orange & Blue Scrimmage, 4 p.m.
Oct. 29 – Lewis (exhibition), 7 p.m. (BTN)
Nov. 2 – Southern Indiana (exhibition), 7 p.m. (BTN)
Nov. 8 – UC Irvine (2K Sports Classic), 7 p.m.
Nov. 10 – Toledo (2K Sports Classic), 7 p.m.
Nov. 13 – Southern Illinois, 7 p.m. (BTN)
Nov. 18 – Texas at New York (2K Sports Classic), 8 p.m. (ESPN2)
Nov. 19 – Pittsburgh or Maryland (2K Sports Classic), 4 or 6 p.m. (ESPN2)
Nov. 23 – Yale, 8:45 p.m. (ESPNU)
Nov. 27 – At Western Michigan, 1 p.m.
Nov. 30 – North Carolina (ACC/Big Ten Challenge), 8:30 p.m. (ESPN)
You have free articles remaining.
Dec. 4 – Gonzaga at Seattle, 4 p.m. (ESPN)
Dec. 8 – Oakland, 7 p.m. (BTN)
Dec. 12 – Northern Colorado, 5 p.m. (BTN)
Dec. 18 – UIC at United Center, 1 p.m. (BTN)
Dec. 22 – Missouri at St. Louis, 8 p.m. (ESPN2)
Dec. 29 – At Iowa^, 8 p.m. (BTN)
Jan. 2 – Wisconsin^, 5 p.m. (BTN)
Jan. 6 – Northwestern^, 8 p.m. (ESPN2)
Jan. 11 – At Penn State^, 8 p.m. (BTN)
Jan. 15 – At Wisconsin^, 2 p.m. (BTN)
Jan. 18 – Michigan State^, 6 p.m. (ESPN)
Jan. 22 – Ohio State^, 11 a.m. (CBS)
Jan. 27 – At Indiana^, 8 p.m. (BTN)
Feb. 1 – Penn State^, 8 p.m. (BTN)
Feb. 5 – At Northwestern^, noon (CBS)
Feb. 10 – At Minnesota^, 8 p.m. (ESPN or ESPN2)
Feb. 13 – Purdue^, noon (CBS)
Feb. 16 – Michigan^, 7:30 p.m. (BTN)
Feb. 19 – At Michigan State^, 8 p.m. (ESPN)
Feb. 22 – At Ohio State^, 6 p.m. (ESPN)
Feb. 26 or 27 – Iowa^, TBA (TBA)
March 1 – At Purdue^, 6 p.m. (ESPN)
March 5 or 6 – Indiana^, TBA (TBA)
March 10-13 – Big Ten Conference Tournament at Indianapolis
(^) – Big Ten Conference game