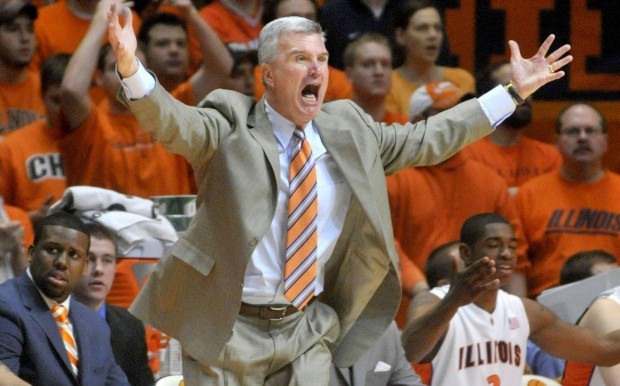 Throughout this up-and-down Illini basketball season, it was difficult to know from game to game whether the team would be mentally sharp or emotionally flat.
When inspired, this was an Illini team that beat Wisconsin twice, knocked off NCAA Tournament teams like Michigan State, Clemson and Vanderbilt and took the nation's fifth-ranked team, Ohio State, to double overtime just four days ago.
When they seemed sluggish and disinterested, this was an Illini team that lost to Utah, Bradley, Georgia and dropped three games at home. This was an Illini team that blew leads and, ultimately, a chance to play in the NCAA Tournament.
As Illinois prepares to take on Stony Brook Wednesday in a first-round game of the National Invitation Tournament, coach Bruce Weber has acknowledged that getting the team mentally right will be a key.
But Weber said he's looking beyond Wednesday's game. He'd like the same, dialed-in attitude Illinois showed while playing so well in two recent Big Ten Tournament games to be the start of a more consistent, predictable mindset that continues into next year.
"For us, this is a challenge to really get going into next season," Weber said. "We have an opportunity to play for a championship, to get five extra games and to continue what we did in the Big Ten Tournament and hopefully that would lead to greater success next season.
"We have the majority of our guys coming back so this is almost like a pre-season tournament for next season."
Weber's dream of playing five games in the NIT could fall apart instantly if Illinois is not ready for what figures to be an inspired Stony Brook team that is playing its first-ever postseason game since moving from Division III to Division I in 1999.
It's a team that will push the pace offensively and has the depth to survive if the game turns physical.
Stony Brook led the America East Conference in scoring and has the league's player of the year, Muhammad El-Amin.
"We'll be very undersized," Stony Brook coach Steve Pikiell said. "We play good defense and we're tough. We've had eight different (leading) scorers out of an 11-man roster. We get up and down and press a little bit."
El-Amin, a 6-5 senior guard, averages 16.7 points per game.
"He's going to wheel and deal," Weber said. "I don't want to say he reminds me of (Ohio State's) Evan Turner, but he's a swing man who can get to the basket, who will spin on you, who handles the ball well enough and yet he also shoots the '3.'"
Weber said he sees a Stony Brook team that plays with emotion and should be particularly inspired Wednesday.
"It's going to be a challenge, I'm telling you," Weber said. "This is not a team that will go down easy. It's going to be a hard-fought game, I can promise you that. They don't have great size, but they are stronger kids and they're really going to get after us."
Illinois is the No. 1 seed in this quadrant of the 32-team NIT bracket. Stony Brook is the No. 8 seed in the quadrant.