How do you honor a legacy? For years, the likes of Steve Newman, John Sullivan, Chuck Feeney, Dave Ashworth, Steve Hassel, Doug Rosenbaum, Don Willard and others have honored Wayne Meece by listening to his words, drawing from his actions, chasing his high standard as an official and a man.
It's been like scaling a mountain with a snow-covered peak. You know it's unlikely you'll get there, but you are driven to try.
Now, the Bloomington Normal Officials Association is honoring Meece in a more tangible, permanent way. Its Hall of Fame has been named the Wayne Meece BNOA Hall of Fame. And its home will be Redbird Arena, the signature venue of Meece's alma mater, Illinois State.
Installation is scheduled this week by Fastsigns of Bloomington, which produced the display.
"That (Redbird Arena) is where we wanted it," said Sullivan, who Newman praised for doing 'the bulk of the legwork" to make it happen. "We weren't sure we were going to get her done, but it helped that Wayne was a graduate (of ISU), a Stretch Miller Award winner, a big backer of the Redbirds and an observer of officials there. He did everything there."
Meece also was a star quarterback for the Redbirds and is a member of the Percy Family Athletic Hall of Fame. His death at age 82 in 2016 left a void in the ISU, Bloomington-Normal and officiating communities.
Meece was a longtime high school basketball official, working three state finals, but was best known for his 20 years as a Big Ten Conference football official. He worked five bowl games, including two Rose Bowls.
He served as an example and created a path for the high school football crew of Newman, Sullivan, Ashworth, Feeney and Hassel. All went on to become Division I college football officials.
Each worked in the Gateway and/or Missouri Valley conferences, with Newman and Hassel ascending to the Big Ten.
"He was the neatest, kindest man," Sullivan said of Meece. "He was willing to help out anybody at any time. A lot of what I picked up from Wayne was how to handle coaches. He worked the sidelines in the Big Ten with Bo Schembechler and Woody Hayes and those guys. To be able to do that, you have to be an extra special guy.
"When we would have our rules meetings, we would just listen to him expound on some of his experiences with those coaches. I took that all in. When you went over (to talk to a coach) you knew, 'We're going to stick to the subject matter, give them their say and then walk away.' If you didn't have that background from Wayne, you may want to stand there and go toe to toe with them and argue."
It was those lessons and others that inspired Sullivan, Newman and Feeney to push for naming the BNOA Hall of Fame after Meece and creating a permanent home.
Sullivan estimated they began working toward that goal "three years ago at least," saying ISU and Deputy Director of Athletics Leanna Bordner have been "super" throughout the process.
"It just takes time, but it's worth it," Sullivan said.
A retired Unit 5 principal, Sullivan was busy as a high school official en route to working college games. He officiated Class A state basketball finals in 1982, 1983 and 1985 and also worked the Class 6A state football championship game in 1987.
He channeled Meece during much of that time, saying, "You'd get it from him and pass it forward (to younger officials)."
Feeney agreed, calling Meece "a driving force for all of us." He steered them with his knowledge, demeanor and straight talk.
"Things were different back then. The older guys would take you under their wing, but they didn't sugarcoat things," Feeney said. "John (Sullivan) also was that way with a lot of younger officials. He was the kind of mentor everybody would want.
"He knew when you needed encouragement, and when you'd done something well, he wanted to be sure you knew about it. He would take the approach of not saying you did something wrong or bad, but say, 'Here's something you might want to work on.'"
It was the kind of advice Meece offered freely. He was not on the high school crew with Newman, Sullivan, Feeney, Ashworth and Hassel, but they knew he was in their corner.
He encouraged their pursuit of college opportunities … with words to them and about them.
"He was the one who spoke up for us when people asked for recommendations and really helped us move," Newman said. "The highlight of my officiating career was not getting to the Big Ten. It was all five of us getting to Division I and we were close together in making that all happen.
"Wayne kind of set the bar for all of us to reach. It was a high bar and he was willing to help us get there."
Ashworth and Newman were the first to make the jump to Division I, with Feeney, Sullivan and Hassel not far behind. It charted a course for Rosenbaum and Willard to climb the college ranks and become National Football League officials.
The bond between Ashworth and Sullivan was strengthened by working many high school and small college basketball games together.
"John and I are like brothers, really," said Ashworth, now retired in southern Illinois. "We had a good time, I'll tell you that. We have a lot of stories we could tell."
"Uh … a couple of them," Ashworth said.
Sullivan cherishes those memories as well. He said he and others owe a great deal to Meece. Sullivan quickly learned how many others.
He sent fundraising letters to BNOA Hall of Famers, coaches and administrators who had known or worked with Meece. The money would go to creating the Hall of Fame display.
"We went into it hoping for $5,000," Sullivan said. "We're over $15,000. That's how much respect and adoration coaches and officials had for Wayne."
How do you honor a legacy? The best way you know how.
Few are better than this.
---
Photos: 17 ISU football photos from the archives
Angie Vallejo is pulled down by unidentified Illinois State tackler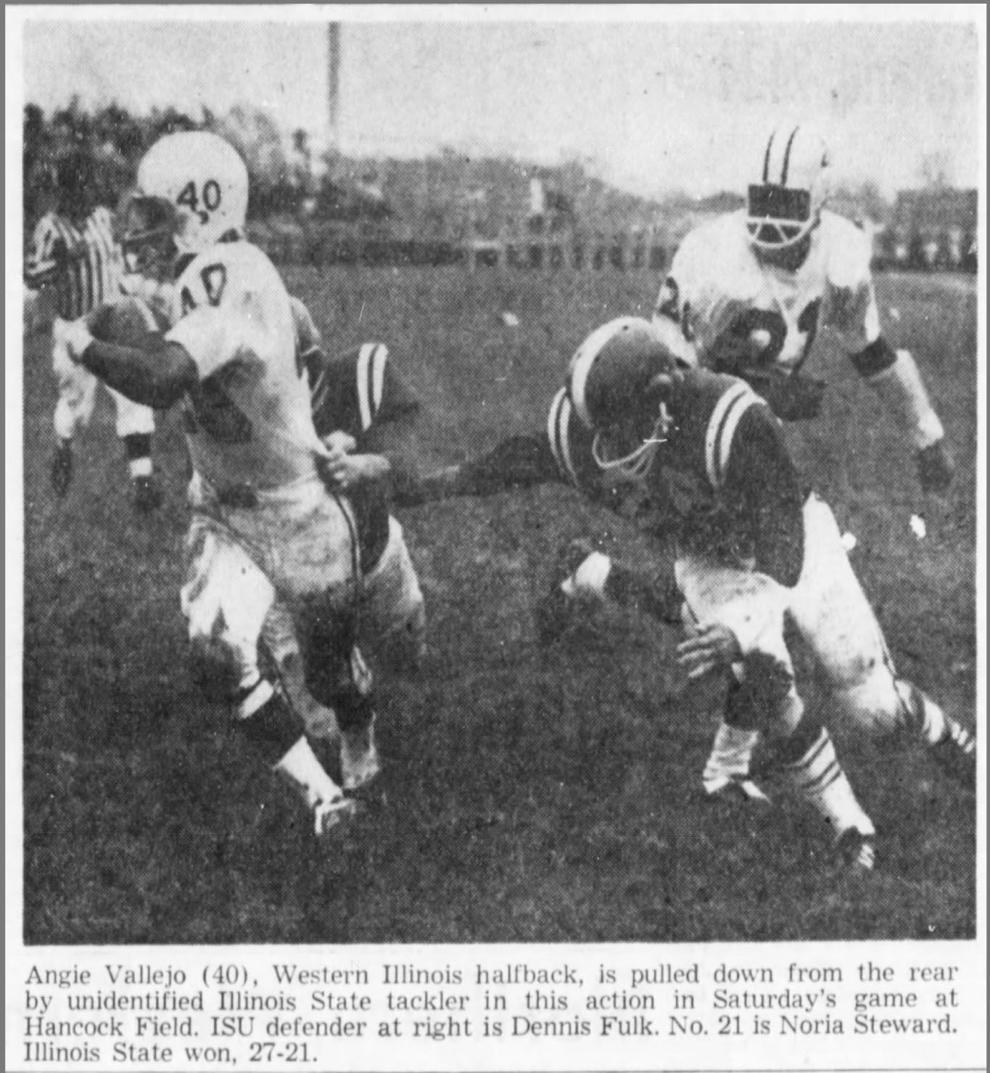 Ask a Pro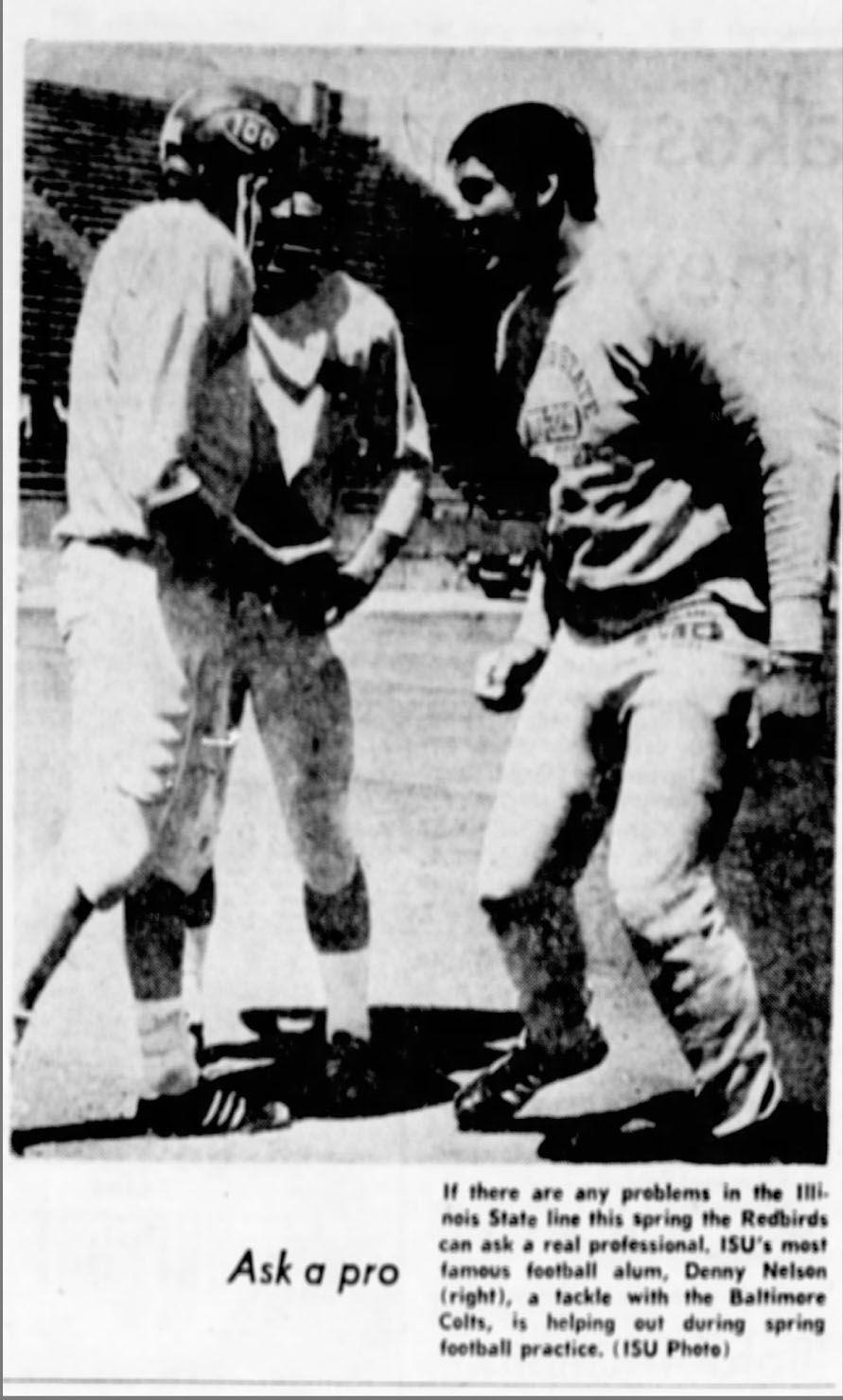 Bates Hooked for Tackle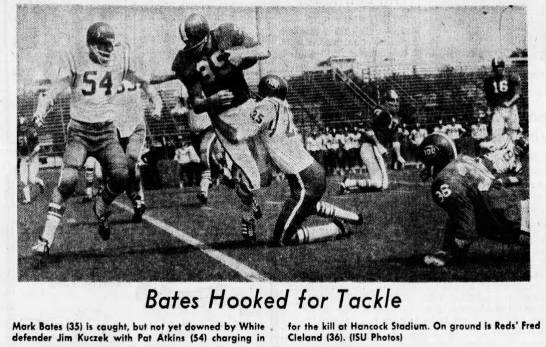 Captured Redbird
College bound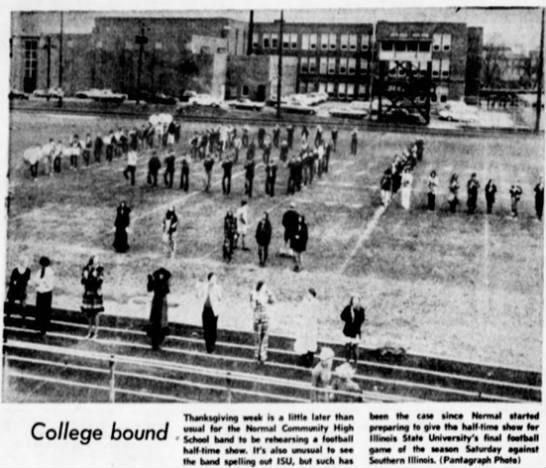 Coming through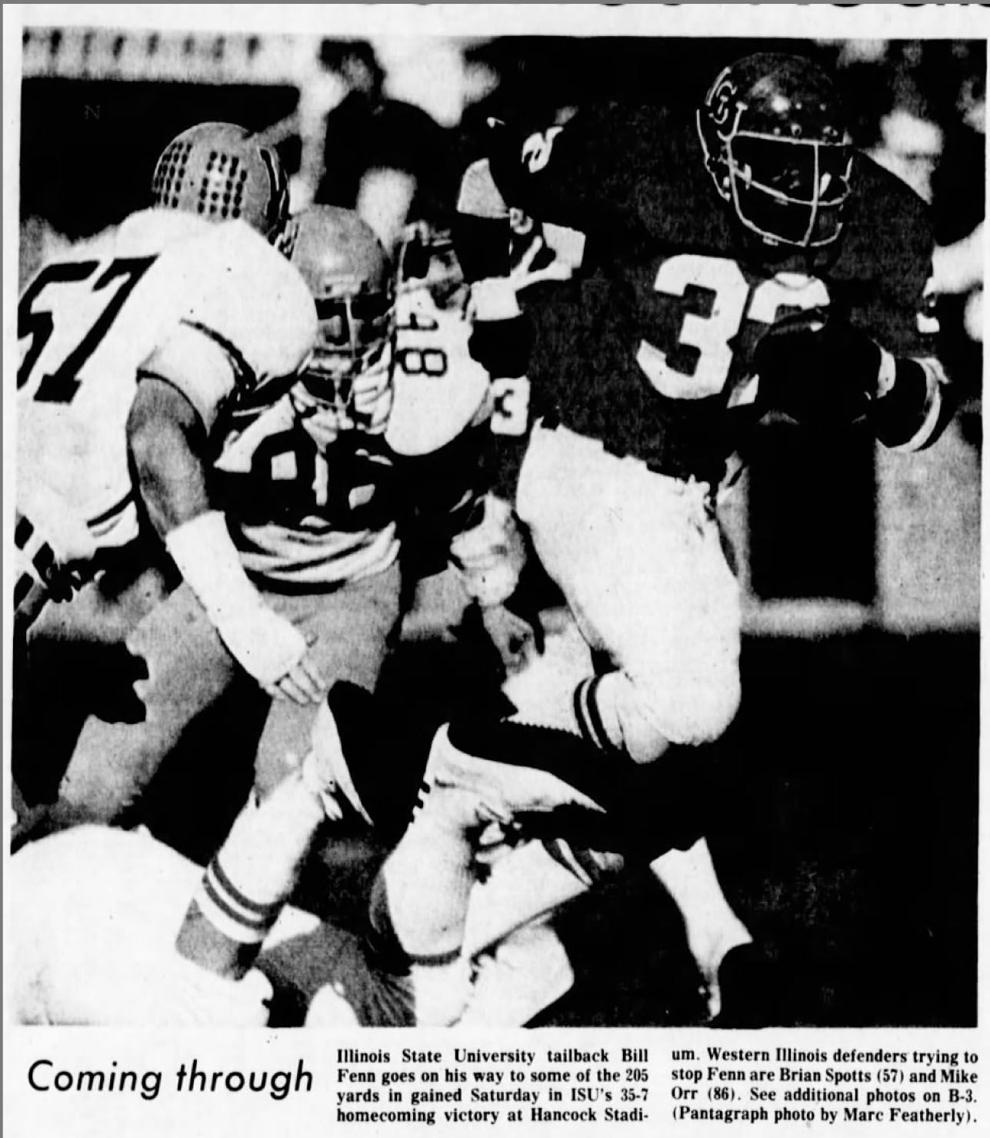 Forcing mistakes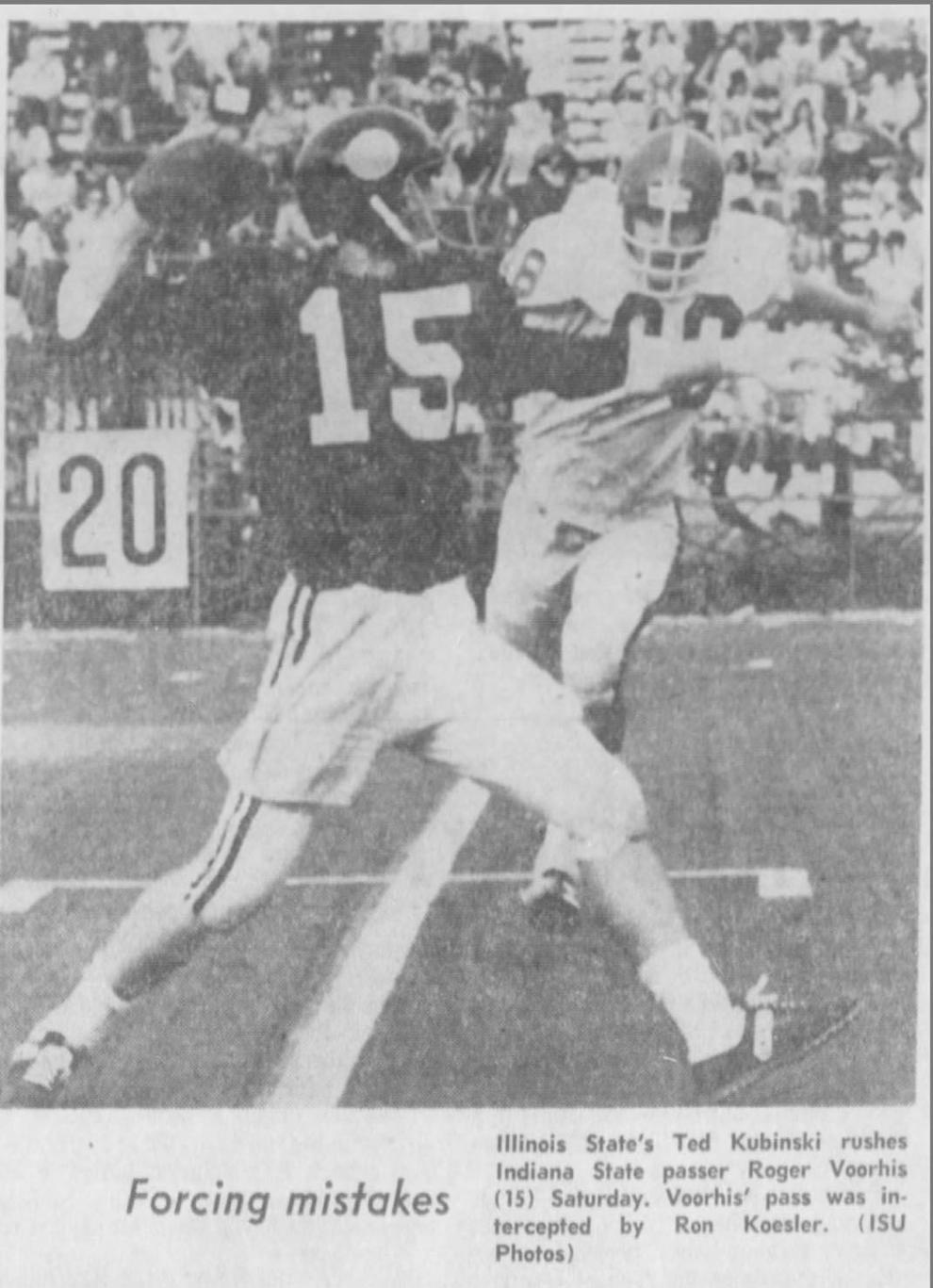 Illinois State University's John Rahn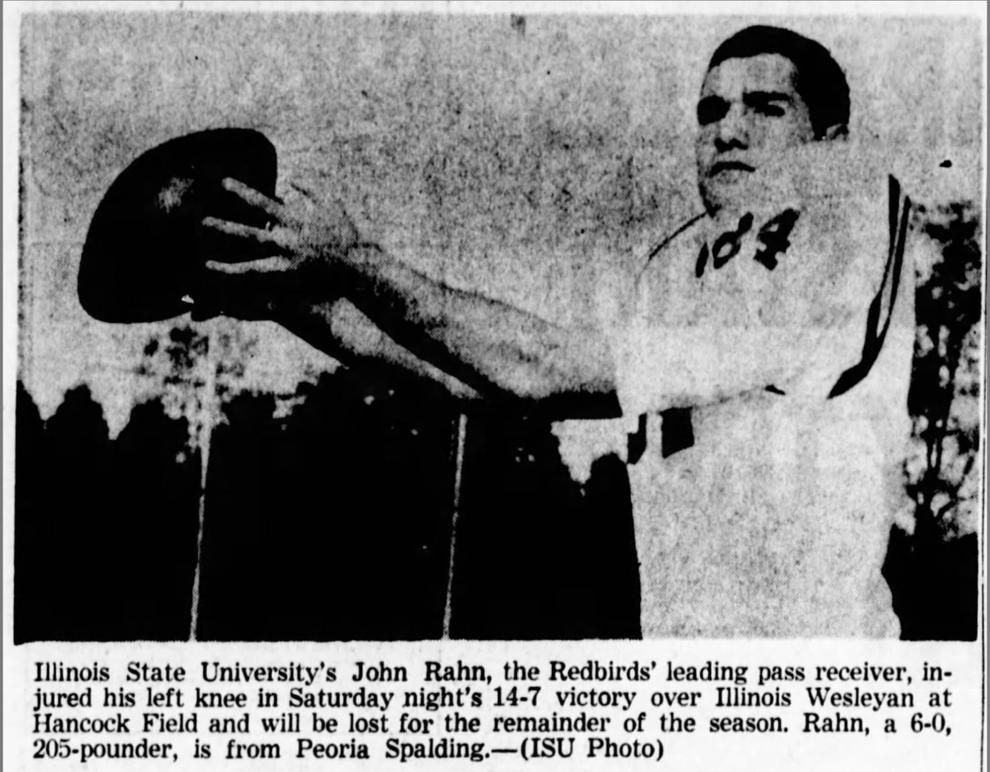 Making a point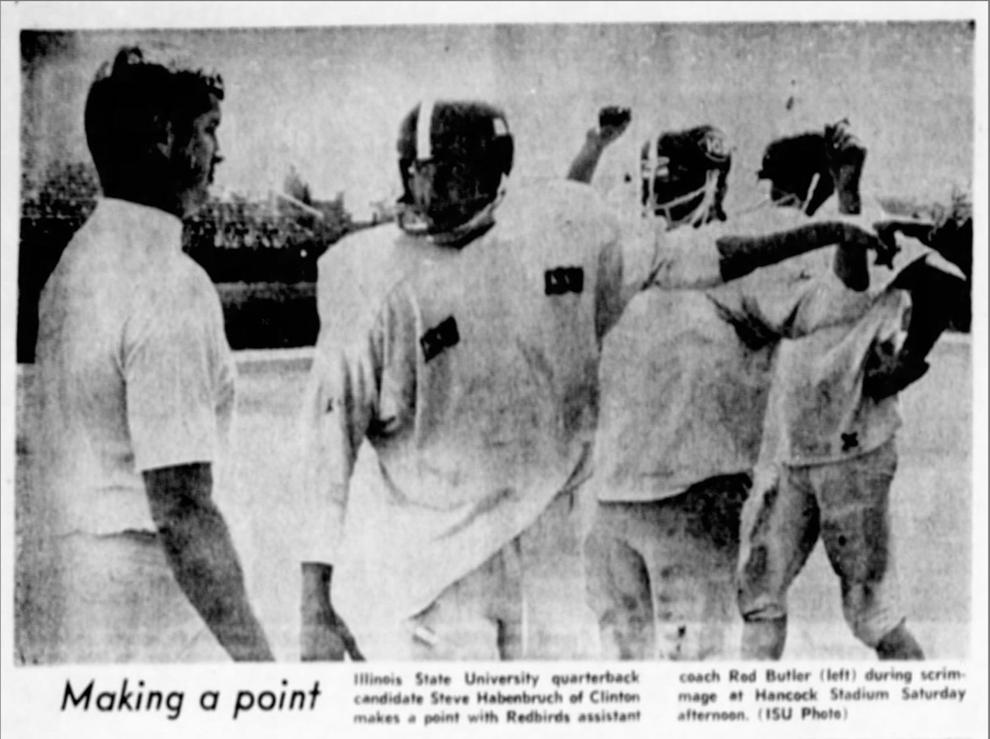 Optimism for future teams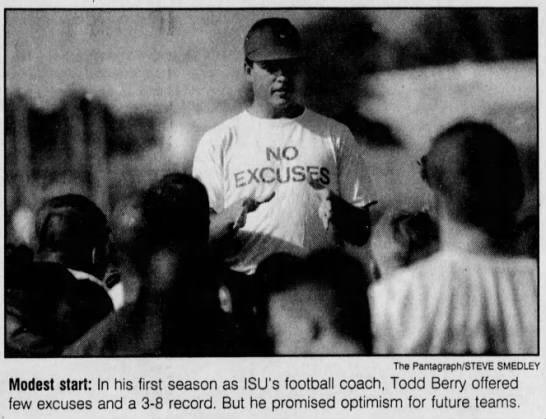 Redbird Stopped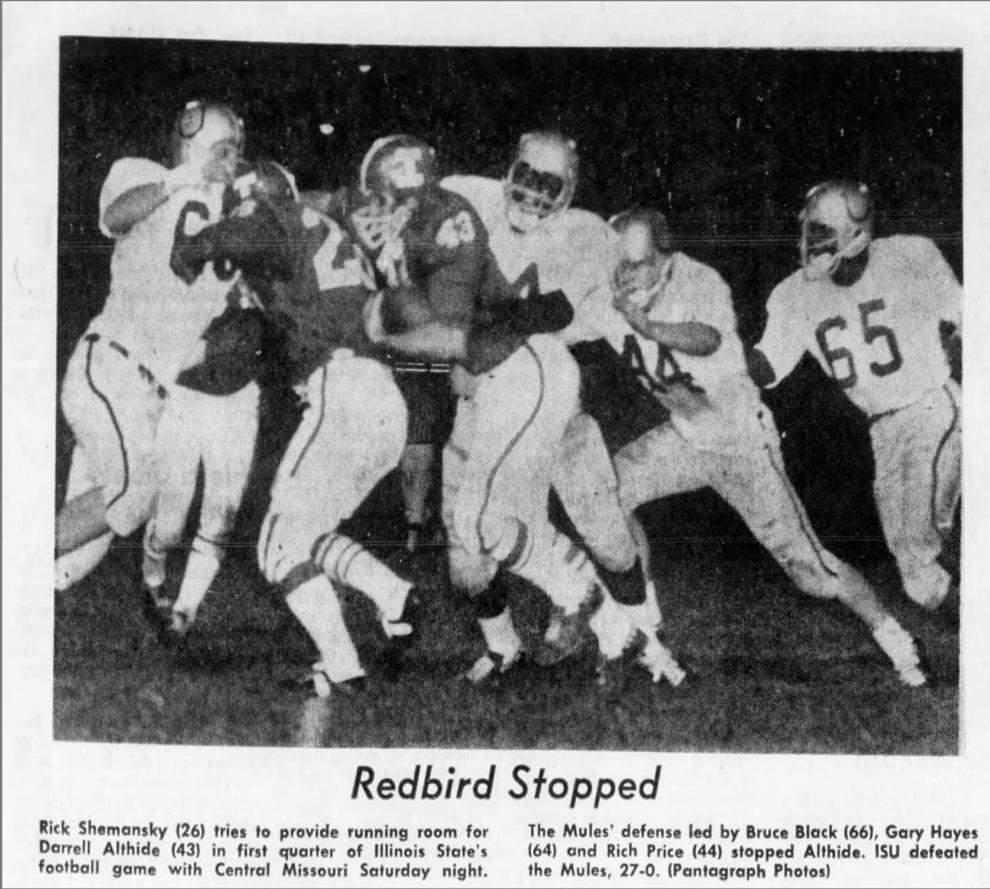 Redbirds' Deep Defenders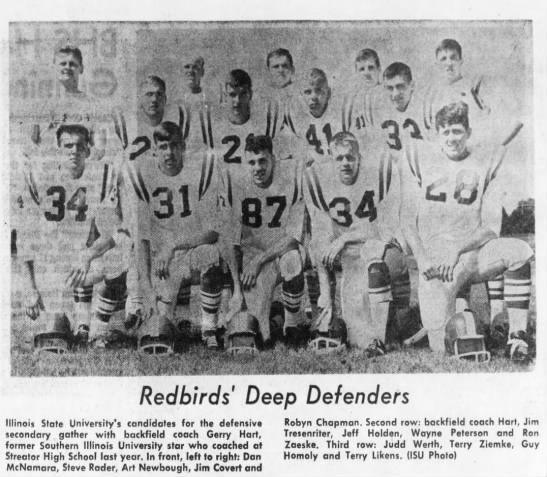 Redbirds, Get Their Kicks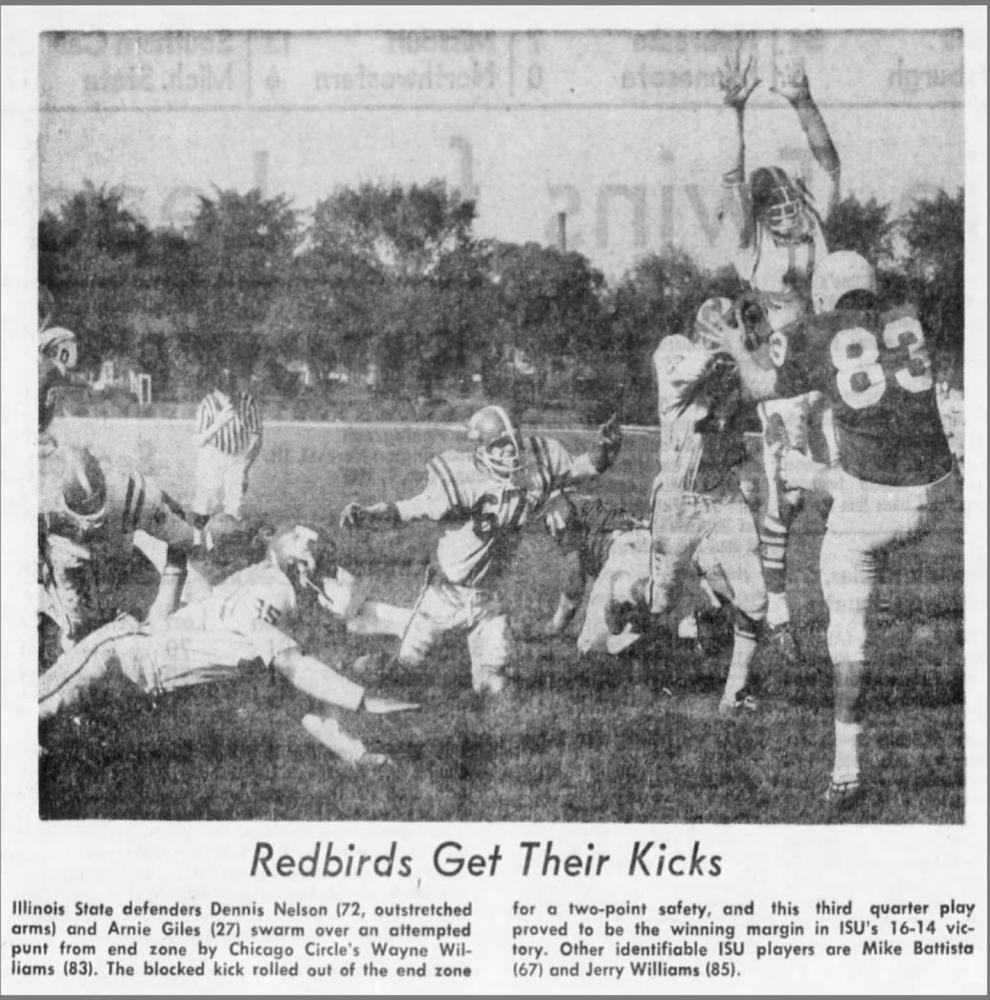 Spectator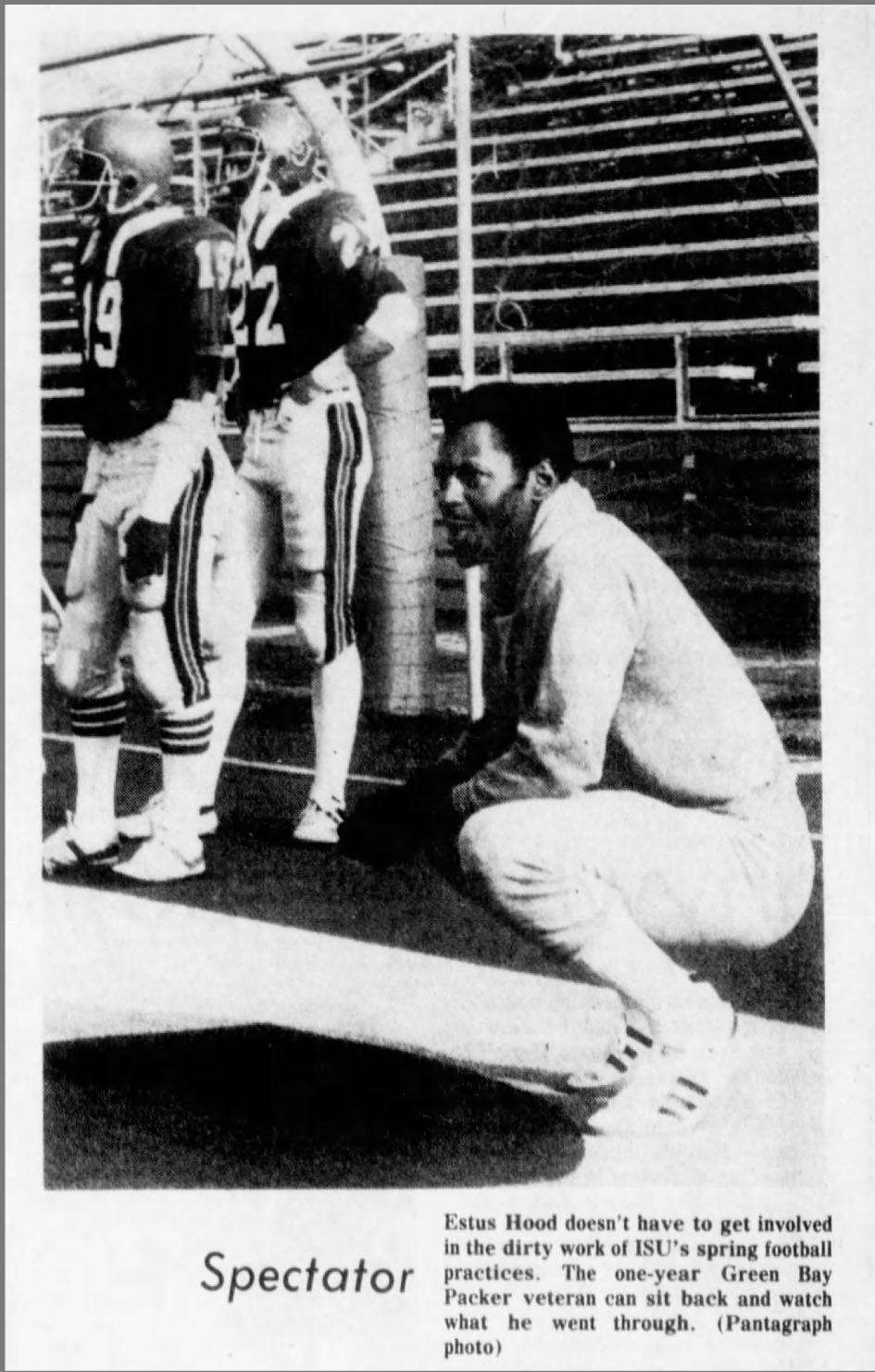 These coaches will guide ISU football team this season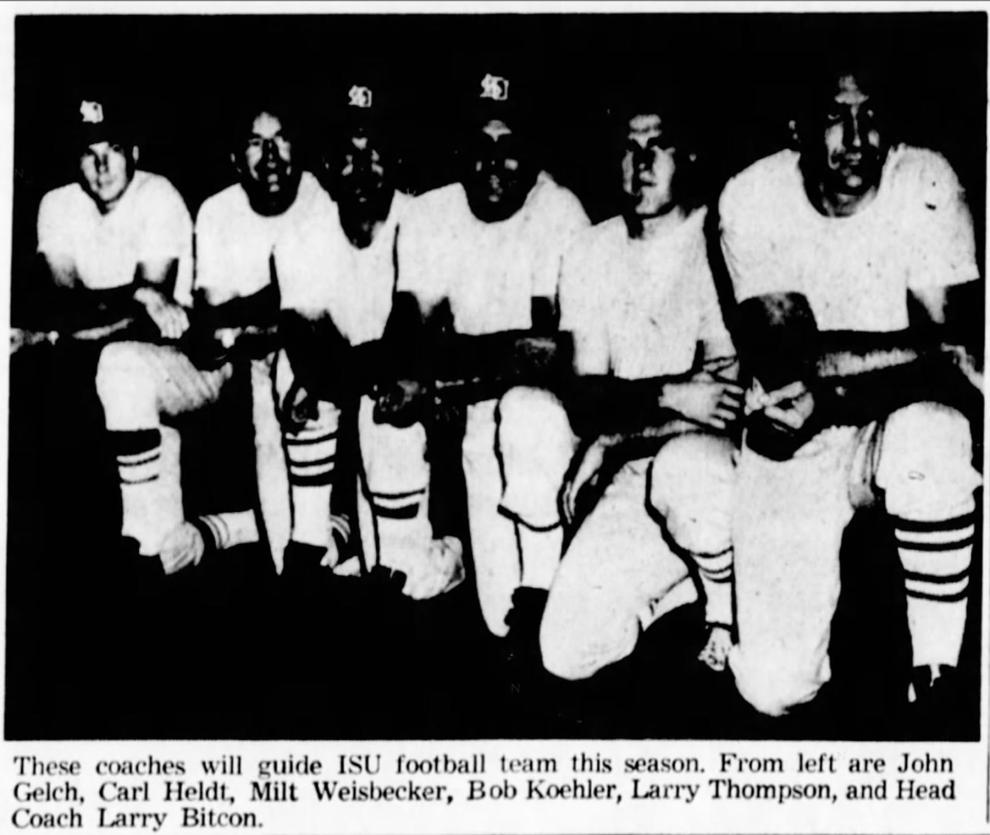 These Redbirds will pump you up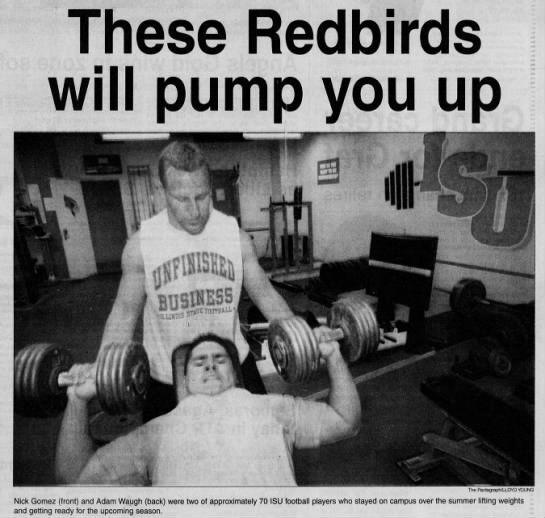 You'll Hear it Today on WJBC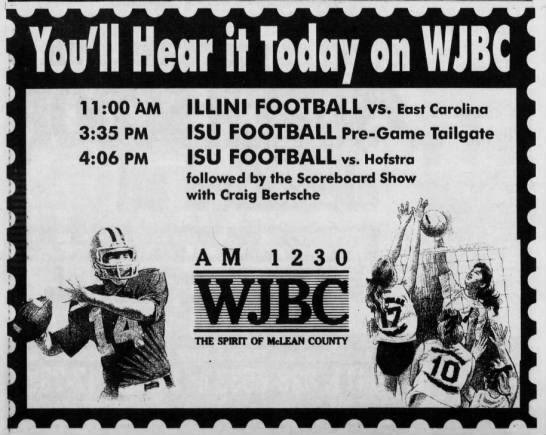 Follow Randy Kindred on Twitter: pg_kindred