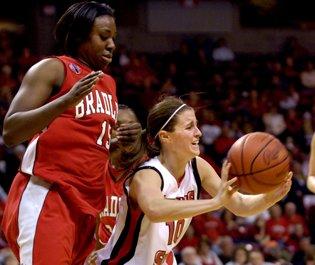 NORMAL - Here are some things everyone should know about Illinois State senior point guard Kristi Cirone: She's a sure-fire all-American, a lock to earn her third straight Missouri Valley Conference Player of the Year award, a probable WNBA draft choice and one of ISU's all-time greats in any sport. | MVC women's scores, stats | What they're saying about Cirone
Then there are the other sides to the dynamo from Chicago who doesn't know the meaning of the word quit.
"If you knew her off the court you would be very surprised to see how she plays," said teammate Ashleen Bracey. "She's a complete opposite. She's really laid back and kind of goes with the flow."
Another teammate, Nicolle Lewis, has a somewhat different take on Cirone, but the underlying theme remains the same.
"The kind of player you see on the court is the kind of person Kristi is off the court," Lewis said. "When I've been injured or sick or going through tough times, she's always been the first one to offer to lend a hand. And she's always the first one to say 'good job.'
"She has helped me so much in becoming the player that I am. Honor doesn't even describe what it's been like to play with Kristi."
Cirone, a starter from day one and the centerpiece of a rebuilding project under ISU coach Robin Pingeton that has put Redbird women's basketball back on the national map, could do without all the attention and fuss.
That's the shy side of Cirone.
"I'm not that exciting of a person," Cirone said. "I know being in the position I'm in is a great position to be in. My freshman year when I was talking to the media, I was so nervous I was shaking. I've gotten used to it.
"It was really tough as a freshman trying to be a leader, but my teammates throughout the years have helped so much making it an easy transition. Now I feel like I've been doing it forever. I'm so comfortable out there now."
If it seems like Cirone has been playing at ISU forever, that's not much of a stretch.
"We put a lot on her shoulders before she even suited up in a Redbird uniform with the expectations we had of her and knowing we needed her leadership," Pingeton said. "We had a lot of talks when she was in high school about what our program was about and what our vision was.
"She's really embraced that (leadership) role and she takes a lot of pride in it. She has truly been about this program from day one."
Cirone certainly wouldn't argue that point.
"The team is so important," she said. "I love playing with this team. It makes it that much more enjoyable when you're playing for people you care about and who care about you.
"We've always said we're a big family. I don't think a lot of teams are like that. I have a lot of respect for everyone on the team and the coaching staff."
Speaking of family, Cirone credits much of her success to her parents (Frank and Eileen) and her late grandfather (Peter Casey).
"They've missed maybe one or two home games in my career," Cirone said. "It's great to have them there and supporting me. They're so loud I can hear them sometimes. Knowing I have a huge support system makes it that much better to play.
"They've always told me to work as hard as you can to get better and that you've got to put in the time if you want to succeed. My grandpa was a huge influence in my life. He was always there for me to talk to and praying for me. He's been an inspiration for me this season."
Cirone is usually the one providing the inspiration, and it won't be any different Sunday when ISU faces Northern Iowa in the home finale at Redbird Arena.
The Redbirds can lock up the outright MVC title with a win, and Cirone likely will pass Cathy Boswell as ISU's all-time leading scorer. Cirone and fellow seniors Ashley Sandstead and Brea Banks also will be honored in what promises to be an emotional postgame ceremony.
"It's going to be hard," Cirone said. "Playing in Redbird Arena has been great and the fans have been great. I've loved every minute of it. I try not to think about it being my last year or anything.
"I know we still have a lot of basketball to play and it's another important game on our schedule. I'm just really enjoying the journey."
We've enjoyed going along for the ride as well.
---
Cirone by the numbers
Here's how Illinois State senior point guard Kristi Cirone ranks among the leading statistical categories in school history:
---
Cirone by the numbers
Illinois State senior point guard Kristi Cirone needs 14 points to pass Cathy Boswell's career record of 2,005. Cirone also ranks first in several other major statistical categories. Her current totals: