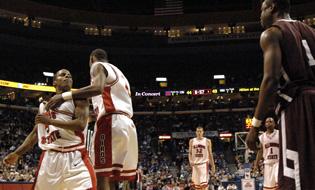 For 30 minutes and change Friday night, Missouri State had all the fire, enough to melt the Scottrade Center ice rink. The Bears were playing with passion, playing for their beleaguered coach, playing to win.
The favored Redbirds were playing, and not much more than that.
Maybe it was first-game jitters. Or maybe it was history. ISU had not won a Missouri Valley Conference Tournament game since 2004.
Whatever the reason, second-seeded ISU was on its heels, off its game and, clearly, playing not to lose.
Trailing 49-42, and the clock just under 10 minutes remaining, Redbird sophomore Osiris Eldridge drove into the lane and had his shot swatted back in his face. The deficit was on the brink of reaching double digits.
Yet, as the ball reached midcourt, a scrum ensued and the smallest man on the court, 5-foot-8 ISU senior Boo Richardson, came roaring out of the mayhem with possession. He raced toward the basket and put in a layup, as if to say, "It's time to go!"
Just that quickly, ISU's demeanor did an about-face.
Eldridge, who had struggled all night, before and after chipping a tooth early in the second half, began driving to the hoop, getting to the foul line. The rebounds, if only for a while, started belonging to the guys in white uniforms. The defense began to clamp down.
Tension and tentativeness were exorcised, replaced by assertion and aggression.
The deficit at 51-47, Richardson rises up and nails a long 3-pointer with the shot clock running out. The next possession, freshman Alex Rubin, who played six minutes all night, catches a pass on the left wing and confidently swishes a 3, putting his team ahead to stay.
Good things happen when you play to win, and suddenly - finally - ISU was attacking on its way to a 63-58 victory.
It all started with Richardson's mad dash to the basket.
"That right there … he's like the heart and soul of our team," junior guard Emmanuel Holloway said. "That energized us."
With energy came confidence, even for a guy who sat on the bench the entire first half.
Rubin was still near the end of the Redbird bench with nine minutes left, but got the call from ISU coach Tim Jankovich. That he drilled his only shot of the night, with 5:40 to go and his team down by a point, was as sure a sign as any all hesitation was gone.
"He looked adversity in the face and stood up to it," Holloway said. "I thought he had a chance to shoot one like two possessions earlier, and he wasn't ready to shoot it. When he got the chance the next time, he knocked it down, and I'm proud of him."
For Rubin, the biggest shot of his young ISU career came the way every player hopes for … in the flow, in rhythm and, well, in a blink.
"I really didn't have any time to get nervous or anything," Rubin said. "They passed me the ball in good shooting position and coach has said, 'If you're open, let it fly.' I let it fly, and luckily it went in."
Perhaps that should be the Redbirds' mantra. It was the only way to survive a game in which Missouri State was desperately trying to save Coach Barry Hinson's job. It is the only way they can win the tournament, and take the guesswork out of a first NCAA Tournament berth since 1998.
That may have been the most important thing to come out of this ugly, anxious and hard-earned win … the realization that even in the award-happy Missouri Valley, they don't give trophies for "not losing."
"It's been a long time since we played in front of a big crowd like that and everything that goes into the game (in the tournament)," Eldridge said. "I guess it took time for us to get used to it. Once we did, we started to come along."
And now, they move on to play another day.
Randy Kindred is a Pantagraph columnist. To leave him a voice mail, call 820-3402. By e-mail: rkindred@pantagraph.com.
Be the first to know
Get local news delivered to your inbox!