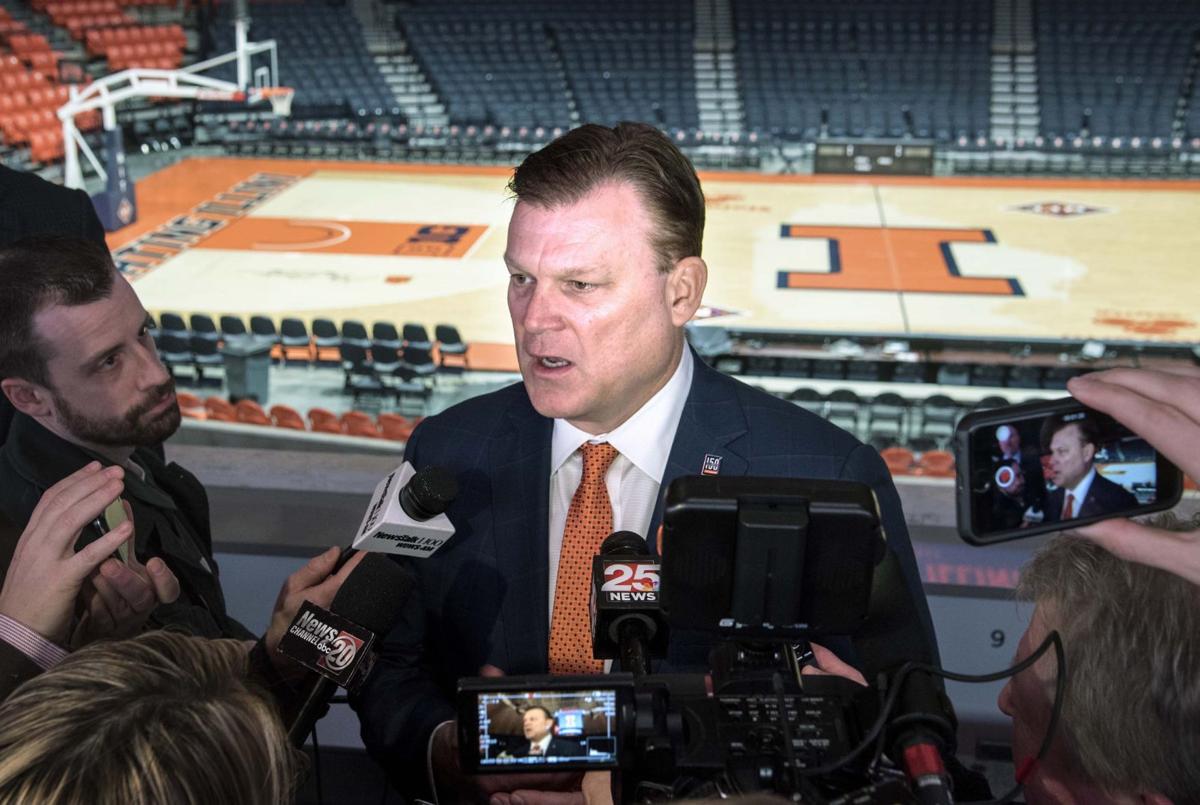 CHAMPAIGN — It would be less frightening if this story did not have a Champaign dateline.
The story doesn't originate in Central Illinois and it may never touch down here. But in what might be college sports' most dangerous high-stakes game of connect-the-dots, the University of Illinois popped up on the radar this week because of one man's name — Lamont Evans.
The college basketball bribery/fraud scandal that the FBI unveiled Tuesday announced the arrest of 10 individuals including four current assistant men's basketball coaches. Evans was one of them and since he worked for Illini coach Brad Underwood at Oklahoma State last season, and since their relationship goes back to Underwood's days at Kansas State starting in 2008, those dots already connect.
Knowing Evans and working with him is one thing. Knowing of his willingness to accept bribes so he would steer players to a financial adviser is something altogether different. And that's where it gets murky.
The unnerving fact of this sting operation is that this is not the typical Keystone Cops effort by the NCAA. This is the FBI.
As someone said, when the NCAA catches you, they slap your wrist. When the FBI catches you, they slap handcuffs on your wrists.
The ability to use wiretaps, video surveillance, undercover agents, subpoena power and their intimidating ability to get cheaters to rat out other cheaters gives the FBI a full tool chest with which to conduct an investigation it began in 2015.
Those of us who cover college basketball would not be surprised to hear about a shoe rep or an AAU coach or sports agent weaseling his way closer to the payday an elite athlete will one day generate. There's big, big money involved and everyone wants a piece of the money.
The assumption has always been that the NCAA knows these shenanigans go on but has decided to tolerate lesser levels of the behavior as part of the game's landscape. Then once in a while it raises a stink just to look like it's still in charge.
But when the FBI gets involved and starts throwing around arrest warrants, threats of long jail sentences and taunts — "We've got your playbook!" — wow. All of a sudden the ground shakes. Hall of Fame coach Rick Pitino gets fired in a heartbeat. Heads roll.
The University of Illinois has responded by issuing two statements.
The Department of Intercollegiate Athletics, run by AD Josh Whitman, said, "We watched with the rest of the country as news unfolded regarding alleged corruption in corners of major college basketball. We have continued to monitor the situation…and are not aware of any information to suggest involvement in (these) allegations by any member of our men's basketball staff. We will support any and all efforts to ensure the integrity of our great game."
That tells me Whitman sat down with Underwood and told him, "If there's something I need to know, I need to know it now." And it tells me Underwood said he had no knowledge of what Evans was up to.
Then Underwood issued this statement:
"Like many in our industry, I was surprised by (Tuesday's) events. From our first conversation in March, Athletic Director Josh Whitman and I have shared a mutual commitment to Illinois Men's Basketball upholding the highest standards of integrity. I appreciate his ongoing encouragement and support. I stand ready to assist as needed to protect the game of basketball, and those who play it, on our campus and elsewhere."
The question many are asking is this: Could Evans have been working an illegal side hustle without Underwood's knowledge?
The answer is yes, it's possible. According to some of the documents that detail the FBI's investigation, Evans was paid at least $22,000 to steer players to Munish Sood, a financial advisor from Princeton, N.J., and Christian Dawkins, who had been a sports agent for ASM Sports. It was a relationship that began when Evans was working for Frank Martin at South Carolina.
The idea was for an assistant coach to use his influence with pro-bound players, convincing them they could trust certain financial advisers once the pro checks came rolling in.
They even told these assistants they were purposely not involving head coaches, who make too much money and have too much at stake to buy into this kind of scheme.
Saturday, prior to the start of Illinois' first team practice, Underwood declined to elaborate on the arrest of Evans. He said he'd let his previous statement stand.
But asked how this might end up changing college basketball, Underwood said this:
"I think your guess is probably as good as mine. I think some of the things that happened, happened and surprised people, but I don't know. There are some things that have come to light that maybe surprised everybody.
"I think we have the greatest sport in college basketball. I think we're a part of one the greatest events in all of sports in the NCAA Tournament. I think there are problems, or perceived problems, in a lot of different sports.
"But I still think we have the greatest sport going. Maybe there's a speed bump along the way and some changes need to occur and this is one of those moments. But basketball is strong and athletes are showing up, not just at our university but at every university, and they're working their tails off to have a great season. That's what the focus is in this gym and we'll see where the rest of it goes."
Where it goes from here is part of the great unknown. The FBI implied it's just getting started. I don't care what they say, sports agents, AAU coaches, the shoe companies that target elite up-and-coming young players, college coaches — they're all nervous about what the FBI may know and what it may be about to find out.
Be the first to know
Get local news delivered to your inbox!