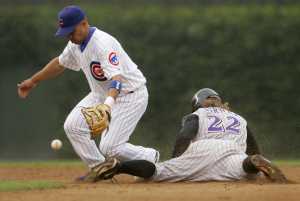 CHICAGO - Matt Murton used the entire field to get into the major league record book.
Murton tied a league record with four doubles and also drove in five runs to help the Chicago Cubs beat the Arizona Diamondbacks 7-3 and split a doubleheader Thursday.
?He hit all kind of doubles,? Cubs manager Dusty Baker said. ?He hit one down the line, a sun ball, one down the other line, one into right center. If you can spread it out like that, they really don?t know how to play you.?
The Diamondbacks won the first game 10-2 behind Stephen Drew?s four RBIs. Arizona split the four-game series and could have moved into first place in the NL West. San Diego defeated Houston 5-2 to stay a half-game up in the division.
?We had a real good chance to come in here and sweep this doubleheader today,? Arizona catcher Johnny Estrada said.
Murton?s four doubles tied a club record, which has been accomplished four times, the most recent being Hall of Famer Billy Williams on April 9, 1969.
His four hits and five RBIs are a career high. Murton drove in one run in 23 games during June, and just four in May. But the 24-year-old outfielder has driven in 15 runs in the last 16 games, bringing his RBI total to 37 in 93 games.
?I think I?m starting to learn that more so than anything, when you get in those opportunities, it?s important to not try and do too much,? Murton said. ?I?m just trying to have a consistent at-bat time and time again.?
Murton?s first three doubles drove in runs, helping rookie starter Juan Mateo to an early lead.
?They scored seven runs, he knocked in five of them,? Diamondbacks manager Bob Melvin said. ?Obviously he was a pain.?
Mateo (1-0) gave up two earned runs in five innings to get his first major league victory. The 23-year-old has pitched in the Cubs farm system for five years, but never above Double-A. He became the third Cub this season to start in his major league debut, and the only one to win it.
?The main thing was that he threw strikes,? said Baker, who had never seen Mateo pitch in person before. ?He was very poised out there. He looked like he pitched here before.?
Mateo was a mystery to the Diamondbacks too, but they started figuring him out in fourth and fifth innings, prompting Baker to remove him after 88 pitches.
?He?s got a sneaky, live fastball,? Arizona second baseman Orlando Hudson said. ?He?s got good stuff.?
Murton?s two-run double in the first off Enrique Gonzalez (3-3) gave the Cubs a 3-0 lead. The ball hit the grass in front of a sliding Carlos Quentin, who lost it in the sun.
?It?s an awesome stadium, it has quirks,? Quentin said. ?I found out today that day games are pretty tough in the sun.?
Angel Pagan and Henry Blanco also drove in runs. Pagan?s infield single scored Ryan Theriot from third to set up Murton?s hit. Blanco?s sacrifice bunt in the seventh scored Phil Nevin from third to make it 7-3.
Gonzalez gave up six runs in five innings.
Drew homered, tripled and drove in a season-high four runs to lead the Diamondbacks over the Cubs in the first game. He added an RBI single in the second game.
The highly touted prospect made his big league debut July 15. The younger brother of Dodgers outfielder J.D. Drew, he hit his first homer in the majors during Monday?s 15-4 romp at Wrigley Field.
?He?s going to be quite a nice little player,? Melvin said.
Arizona tied San Diego for the NL West lead with the victory, but fell back to a 1-2 game deficit after San Diego defeated Houston 5-2.
Luis Gonzalez homered during a five-run first inning, providing an early cushion for Juan Cruz (4-6).
Cruz gave up one run and five hits in five innings for his first victory since winning at Atlanta on June 1. He had been 0-3 with a 6.38 ERA in five starts after being activated from the disabled list July 3, having been out because of a sore right shoulder.
?He threw the ball well,? Melvin said. ?He?s a ?plus? velocity guy that?s come up with a little cutter now that?s working for him.?
Gonzalez hit a two-run homer, his 11th, off Carlos Marmol (4-5) to extend his hitting streak to a season-high 13 games. He did not collect a hit in the second game.
Notes: Before Thursday Murton had just 10 doubles. … The Diamondbacks placed Andy Green on the 15-day DL in between the games with left shoulder inflammation. He struck out in the sixth as a pinch-hitter. The team activated reliever Mike Koplove from Triple-A Tucson. … Cubs reliever Glendon Rusch went on the 15-day DL with an injured left elbow. RHP David Aardsma was recalled from Triple-A Iowa. Aardsma relieved Marmol and struck out two in a scoreless inning. … Tampa Bay?s Tomas Perez is the only other player this season to hit four doubles, doing it at Yankee Stadium on July 29.