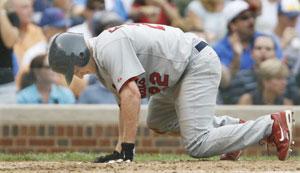 ST. LOUIS - Cardinals shortstop David Eckstein, on the 15-day disabled list with a strained left side muscle, isn't sure 15 days will be enough to recover.
"It's something that's just going to take a little time," he said Friday. "There's not really a method to make this thing be quick."
Eckstein was injured in a home-plate collision with Cubs catcher Michael Barrett on Aug. 18, and said team doctors told him the muscle had detached from the bone. He has not swung a bat since the injury.
Aaron Miles has been getting most of the playing time at shortstop and at leadoff, going 6-for-19 since the injury, and started on Friday against the Cubs. The Cardinals also signed veteran infielder Jose Vizcaino on Wednesday.
The Cardinals were swept this week in New York by the Mets, dropping them into a virtual tie with Cincinnati for the NL Central lead.
Eckstein, batting .289 with one home run and 21 RBIs in 115 games, was once among the league leaders in multihit games but has slumped since the All-Star break. His numbers began to slide after he sustained what the team described as a mild concussion in June while breaking up a double play.
Eckstein was batting .322 when he was injured June 15 at Pittsburgh.
"I try to be as focused as I can, and my performance definitely did not say that," Eckstein said. "But I was not going to use that or ever say that.
"I wasn't seeing the ball the way I'd like to see the ball, whatever that was."
Eckstein said movements from side to side have not bothered him since his collision with Barrett, but feels the injury most when he crouches. The injury to the left side is worse for a right-handed batter and thrower like Eckstein.
"It is what it is," manager Tony La Russa said. "I know he's going to do everything he can to get back as soon as he can."
Eckstein said he knew something was wrong when he aggravated the injury twice, once walking up the dugout steps to take the field, and again when he tried to make one throw to first during warmups.
"I knew something was wrong," Eckstein said. "It's a freak accident. It's part of the game, I guess."
Eckstein said he'd get back as soon as possible to help his struggling team.
"I will push the envelope, I can tell you that," Eckstein said. "I will be very antsy and I will do whatever it takes to get back."