Long before this high-profile drive to the Super Bowl as head coach of the San Francisco 49ers, there was a drive in rural Atlanta, Ill., for Kyle Shanahan. In his early teens (maybe), an adventurous and inquisitive Shanahan said, "I've never driven. I want to drive."
Aunt Becky obliged. She and Shanahan climbed into a truck and headed out on a country road — "the blacktop" we natives call it. Once they arrived in the grass waterway of a field on the Brandt family farm, she let Shanahan behind the wheel.
"He took off down the waterway and went as fast as he could. He stopped about a minute later and said, 'OK, now I want to go backwards,'" Becky Brandt said.
When Hank and Becky Brandt think of their nephew, and Andy Brandt of his first cousin, that "all in" spirit comes to mind.
Hank Brandt recalls a trip to a batting cage in Denver when Shanahan's father, Mike, was head coach of the Denver Broncos.
Kyle was "big into baseball" at the time, and on this day his visit to the batting cage became a family outing.
"If the machine could throw it 102 (mph), that's what he wanted it to throw," Hank Brandt said. "He wasn't going to hit it, but that's just how he was. He's all in. He's always been that way."
The kid with the high motor and unquenchable thirst for knowledge is, at 40, taking his team to the Super Bowl. He'll lead the 49ers against the Kansas City Chiefs on Feb. 2 in Miami with his mother, the former Peggy Brandt, Atlanta High School class of 1972, and father, a two-time Super Bowl winning head coach, in a suite at Hard Rock Stadium.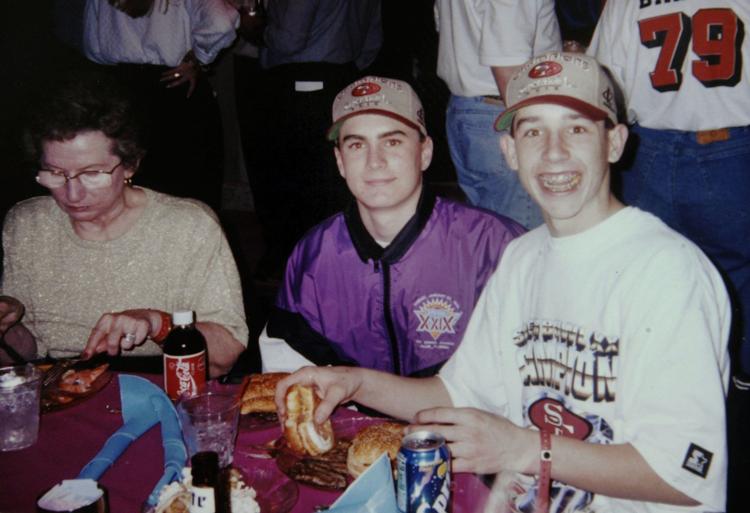 Back in Atlanta, population 1,629, the Brandts will be watching on television, and not just Hank, Becky, 38-year-old Andy and his wife and four children. Also in front of a TV, with a 49ers blanket draped over her, will be 96-year-old Emma Lou Brandt, Shanahan's grandmother.
Hank and Becky typically watch with her or set up her TV to automatically flip on to the channel carrying the 49ers game.
"The (family) connection makes it fun, obviously," Hank Brandt said. "It is exciting. Mike obviously cracked the door, as all dads do if the son is following suit, or as much as they can. But Kyle paid his dues. He just didn't become an overnight success.
"He's been in the NFL probably 18, 19 years. We know where he's been and what he's done. He's doing well. So yeah, I'm proud of him."
The connection began when Peggy Brandt met Mike Shanahan while attending Eastern Illinois University.
It has led to a life driven by football for the now-Peggy Shanahan, whose high school did not have a football team.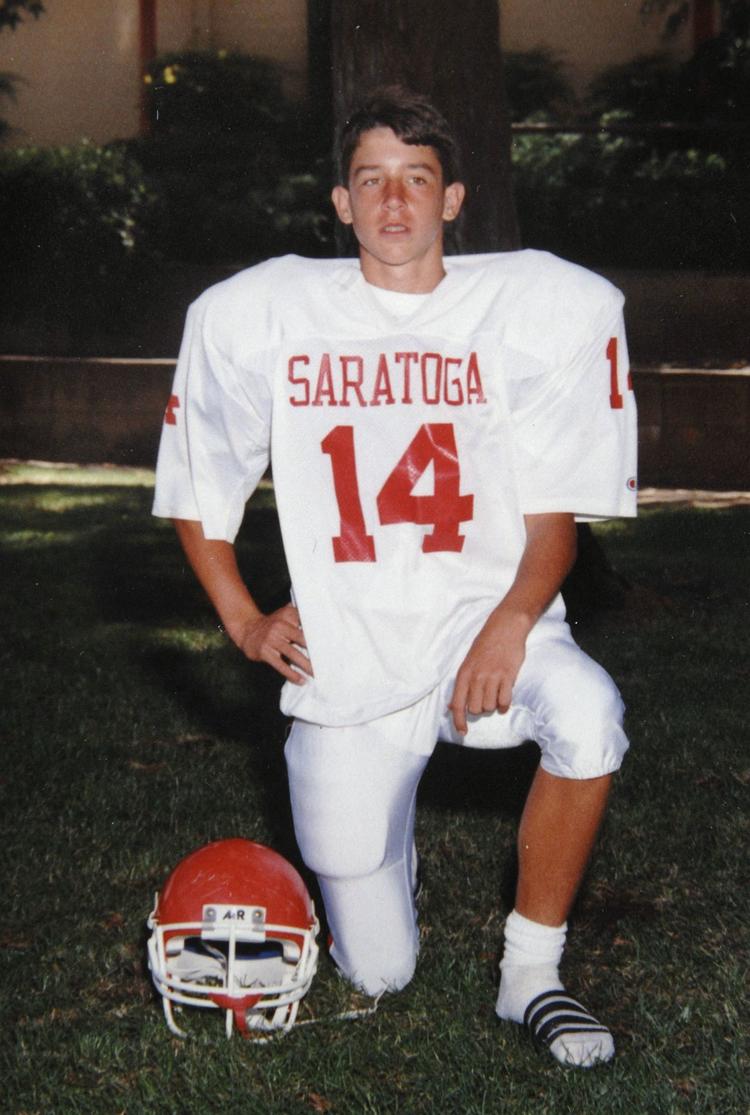 So does she know the game?
"She never has," Hank Brandt said. "But she really, really thinks she does."
He laughed. What fun is being an older brother if you can't needle your sister?
No one questions Kyle Shanahan's knowledge of the sport. Regarded as an innovative master of Xs and Os, his family and extended family will tell you that is who he is.
"He's always been … and I think his mom said this in the interview (recently) on NBC … a kid who never was afraid to question and ask questions and then argue and you'd need to explain it to him," Becky Brandt said.
A former wide receiver at the University of Texas, he also is competitive. Andy Brandt recalls being in a sit-ups/push-ups competition on his driveway with a teenage Kyle, who is two years older, and Mike Shanahan, who is, well, more than two years older.
Andy sought to impress both, but …
"I'm killing myself trying to do push-ups," he said. "I don't think I'd done more than three in my life at that point. I think Mike thumped us both."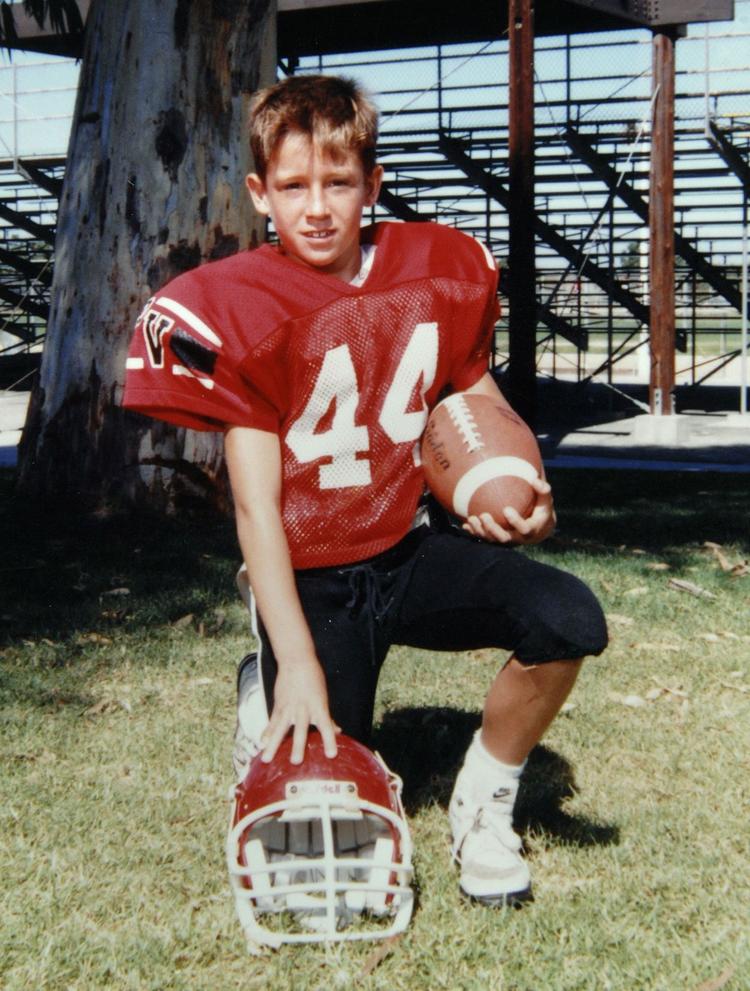 The competition now is far more high-stakes for the younger Shanahan, who along with his sister, Krystal, is close in age to Andy Brandt and his sister, Carrie.
Andy Brandt admits tuning into 49ers games and thinking, 'I can't believe he's coaching an NFL team."
"I'm relating back to some of the things I know," he said.
One is the time the cousins — Kyle, Krystal, Carrie and Andy — went from Denver to a ski resort in Colorado. The Brandts were newbies, having almost no skiing experience.
"We get out on the ski lift and get off at the top, the Black Diamond," Andy Brandt said. "Krystal and Kyle are like, 'Hey, we'll see you.' Carrie and I were like, 'I don't know how we're going to get down there.' Carrie went down on her bottom on her skis most of the way. I found a bunny trail or something.
"Kyle was like, 'Where you guys been?' I'm like, 'Kyle, are you kidding me?' That's Kyle Shanahan."
So is this: he's a third-year head coach whose first two seasons were 6-10 and 4-12. Despite that, there was no player mutiny amid the losing.
The turnaround this year resulted in a 13-3 record, NFC West Division title, two playoff wins and, now, the Super Bowl.
"You see videos of him in the locker room giving speeches and I think he must relate to the players pretty well," Andy Brandt said. "I don't know if that's the age or just him being around players his entire life.
"He has guys believing in what he is trying to coach them up to do."
He knows how to drive them, you might say.
Forward, backward and every which way that matters.
Contact Randy Kindred at (309) 820-3402. Follow him on Twitter: @pg_kindred
Be the first to know
Get local news delivered to your inbox!