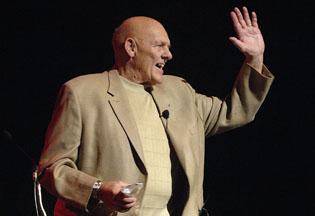 NORMAL - College Football Hall of Fame inductee Frosty Westering is said to be retired from coaching.
The 70-something Westering still has a lot of coach in him. That was clear Sunday night when Westering addressed Illinois State scholar-athletes during the seventh annual State Farm Academic Excellence Banquet at Redbird Arena.
A three-time national Coach of the Year at NAIA Division II and NCAA Division III Pacific Lutheran University, where he guided the Lutes to four national championships, Westering may have left the Xs and Os of his sport behind. Yet, he's still coaching the "games" which make up his philosophy on life.
"I'm going to coach you on four attitude games," he told an audience which included 242 ISU student-athletes who made the AFNI Athletic Honor Roll in the 2005-2006 school year. "The ability to learn to play these games is very important. These make a difference in how you feel and how you act."
Westering "coached up" the crowd on the Comparison Game, Confidence Game, Challenge Game and Caring Game, components of his "Make the Big Time Where You Are" philosophy.
Westering wrote a book bearing that title, and repeated its theme Sunday night: "Most people think of the big time as a place. It really isn't. It's the state of your heart, and once your heart is right, you can make it (the big time) anywhere. It becomes your attitude … an attitude that we are willing to try new things and we are willing to make changes."
Winner of 305 games, the ninth most in college football history, Westering said the Comparison Game "destroys a lot of people because they don't understand what it's all about."
"It's the ability to learn that you don't compare yourself to others, you compare yourself to your best self … and you don't even know how good that is," he said.
The Confidence Game refers to "giving people confidence by affirming and encouraging." He sees the Challenge Game as the ability to "look at challenges in an exciting way, because when we take challenges, it changes the game." The Caring Game, he said, is "when we make time for our families and our kids and people on the outside," adding, "The cliché says 'Have a good day.' You don't have a good day. You have to choose to make today a good day."
Westering, who has a doctorate in education, considers his approach to life "positive" and "invigorating." It was summed up best in a poem he cited from an anonymous author, which reads in part: "If you think you can, you can. If you think you can't, you don't. If you think you can't, but really can, it's still almost a cinch you won't. It's all in your state of mind. Think you can and you will, it's all in your state of mind."
The top awards of the night went to Redbird senior volleyball player Jessie Janik and ISU senior golfer Ryan Brown. Janik received the Linda Herman Female Scholar-Athlete of the Year Award, while Brown earned the Doug Collins Male Scholar-Athlete of the Year honor.
Janik is a co-captain on the volleyball team and has made the AFNI Athletics Honor Roll seven straight semesters. She will graduate in May with a double major in food, nutrition and dietetics and public relations. Brown, a Bone Scholar, has made the honor roll every semester at ISU and is working toward a master's degree in business administration.
Luke Drone, junior quarterback on the ISU football team, received the Impact Award, which honors leadership skills, commitment to excellence in academics and service to the community.
Men's tennis player Yohann Nograbat earned the Phoenix Award, given to an individual who has overcome academic challenges and made consistent academic progress.
The Good Neighbor Award, which rewards extraordinary commitment to excellence in academics, service to others and personal conduct, went to softball player Christy Colgan.
---
High marks
Recipients of special awards Sunday night during the State Farm Academic Excellence
Banquet at Illinois State's Redbird Arena:
Doug Collins Male Scholar- Athlete of the Year - Ryan Brown (golf)
Linda Herman Female Scholar-Athlete of the Year - Jessie Janik (volleyball)