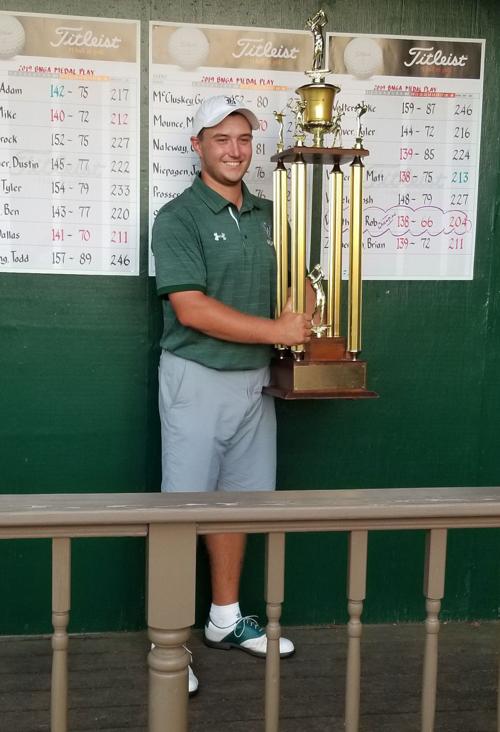 BLOOMINGTON — Rob Wuethrich knew from his last time playing Bloomington Country Club what he needed to do during Sunday's final round of the Bloomington-Normal Medal Play.
"The biggest thing was feeding off the energy of getting second in the State Am here (last summer) and having that playing-under-pressure-coming-down-the-stretch (mentality) under my belt," he said. "It helped my game plan knowing what worked and didn't work."
What really worked for the 20-year old Illinois Wesleyan junior-to-be on Sunday was four birdies in the last seven holes. That allowed Wuethrich to get some separation as he fired a 5-under-par 66 for a 204 total and a six-stroke victory over 2012 champion Alan Bardwell.
Brian Zimmerman (72) and Dallas Koth (70) tied for third at 211, while 2017 winner Mike Cushing (73) and Mike Henry (72) shared fifth at 212. Jeff Wells, who shot 64 in Saturday's first round, finished well back after a final-round 85 left him at 224.
Wuethrich's final round was the second lowest since the Medal Play went to a 54-hole format in 1988. Matt Miller shot 65 at BCC in 2007. Wuethrich also posted the lowest winning score since 2014 when Todd Mitchell fired a record 199.
"It was really fun," said Wuethrich, whose 4-foot birdie at No. 18 allowed him to shoot a competitive career low round. "I was trying to enjoy the moment and not get ahead of myself and force myself. I really didn't care where other people were. Down the stretch I was really just trying to play my game and stay focused." 
Bardwell took the lead after Sunday morning's second round at Weibring Golf Club. He birdied No. 18 to shoot a 1-under 70 and was at 137 heading to BCC, a stroke ahead of Wuethrich and Matt Wettersten. Seven golfers were within four strokes of the lead.
Wuethrich fired 1-under 35 on BCC's front while Bardwell was even-par as they headed to the back nine tied. Zimmerman was only a stroke back and Koth was two behind, while Cushing and Henry were within three. The chance for a sprint to the finish seemed promising.
It never happened thanks to Wuethrich.
Wuethrich sank an 8-foot birdie putt at No. 12 to take the lead. About that time, Bardwell's balky back really began acting up. He hit his tee shot in the water on the 13th, leading to a double bogey.
Koth made a double bogey on No. 11 to halt his momentum, while bogeys at Nos. 10 and 13 knocked back Zimmerman. When Wuethrich birdied the par-5 14th and stuck his approach within a foot at No. 15 for a tap-in birdie, the tournament was basically over.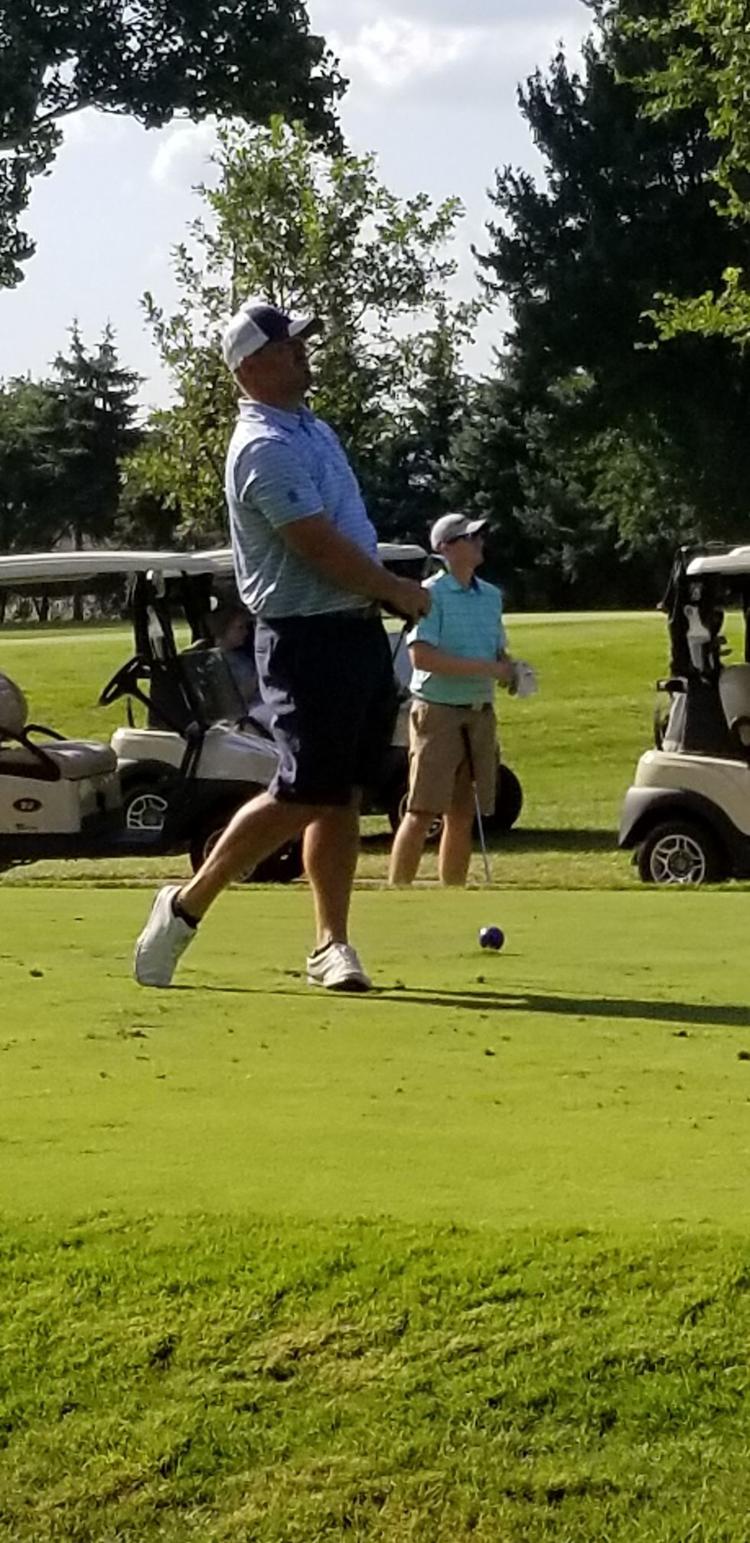 "I'm just locked up and can't swing," said Bardwell, who had to withdraw during last year's final round because of his back.
Bardwell and Tyler Weaver beat Wuethrich and Connor O'Neil last Sunday in the Two-Man Best Position final. Wuethrich said that might have been the best thing that happened to him and helped him focus.
"Good for him. He's a good player," said Bardwell. "I played him in the Two-Man and played him here. You can tell he's been grinding away and trying to work on his game and it's paying off for him."
Zimmerman kept sticking his approach shots inside 10 feet on the front nine. But his lone birdie came on a chip-in at No. 7 along with eight pars. When Zimmerman missed short par putts early on the back nine, his opportunity slipped away.
"I just could not putt to save my life," he said. "That's the way it went at Weibring this morning when I hit 15 greens. I just could not make a putt. I'm going to work on that over the winter."
Koth, who will be a sophomore on Evansville's golf team, was two groups ahead of Wuethrich, Bardwell and Zimmerman. Yet he didn't mind starting four shots off the lead after shooting 72 at Weibring Golf Club.
"I feel most people shoot a couple over out here (at BCC)," said Koth. "If the leaders are at 5 (under) and I'm at 1, if I shoot 3-under then you're right in it. Obviously, I would have had to shoot really low."
Koth made his move by shooting 2-under on the front before what he called "a debacle" on No. 11.
"I made double (bogey) from 80 yards out in the middle of the fairway," he said. "Other than that I played really well."
Wuethrich has played really well all summer and hopes to continue that trend at the U.S. Amateur, which begins next Sunday at Pinehurst, N.C. He has gotten some advice from Mitchell, who has played in eight U.S. Amateurs.
"He said it's like any other  tournament. Just go in and play your game and go with what got you there," said Wuethrich. "I'm going in with some confidence."
Contact Jim Benson at (309) 820-3404. Follow him on Twitter: @Pg_Benson
Be the first to know
Get local news delivered to your inbox!