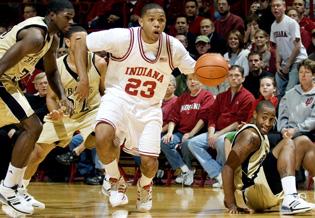 HOFFMAN ESTATES - He leaves jaws dropping and opposing coaches searching for superlatives. And that's after three collegiate games.
The Eric Gordon Show comes to the Sears Centre today and Saturday. Illinois State tries to slow down - or, at least, contain - the Indiana freshman superstar at 7:30 tonight in the Chicago Invitational Challenge.
The 6-foot-4 Gordon has averaged 28.0 points in eighth-ranked Indiana's three blowout victories. Give Gordon space, and he'll swish a 25-footer. Try to put a body on Gordon, and be prepared to watch him zoom by and throw down a tomahawk dunk.
After Gordon hung a 30-spot on his team Tuesday, North Carolina-Wilmington coach Bennie Moss sounded ready to join the ever-growing fan club.
"He's better than what I saw on tape, and he's as good as anyone I've ever seen on tape," said Moss as the Hoosiers ripped the Seahawks, 95-71.
No wonder University of Illinois fans went into a deep funk last fall when the Indianapolis native rescinded his verbal commitment to the Illini and decided to stay in his home state.
ISU sophomore guard Osiris Eldridge has been on the same court with Gordon before. They hooked up two summers ago at the Adidas All-American Camp in Georgia.
Maybe Eldridge knows something other opponents didn't. At least he doesn't sound fearful.
"He's a very complete player. It's staying disciplined to your defensive principles and trying to keep him in front of you and trying the best you can to hold him down. That's what I'm going to do," said Eldridge, who is averaging 21.7 points himself.
"I'm not afraid of his name," Eldridge said. "I'm just going to play my game and do my best to keep him on his average."
Tim Jankovich won't let Eldridge chase Gordon alone. The ISU coach plans to rotate defenders on Gordon, so Dom Johnson and Emmanuel Holloway figure to get their chance. Gordon is shooting 61 percent from the field, including 58.3 percent outside the arc (14 of 24).
"The biggest thing is his range. He has crazy range," Jankovich said. "There's sort of a comfort zone a defender gets in where you kind of feel where a guy can pull a shot. When guys pull two steps beyond where you're normally used to, it can be kind of shocking."
"Not only can he catch and shoot as well as anybody, he's pretty crafty off the dribble, and he's got a great little change of pace," Jankovich said. "He gets you to relax, and then he has a first step where he can go from 0 miles per hour to 60 as fast as a lot of cars. That's why he's blowing by people. He's going to be a full day's work for everybody."
The Indiana folks are trying to temper the enthusiasm and hype about Gordon.
By the end of this weekend, those in Chicago might be comparing Gordon to another No. 23 who is near and dear to their hearts.
For now, like the rest of his freshman teammates, Gordon is limited to talking to the media only after games. An Indiana spokesman also asked that any questions to other players not focus solely on Gordon.
Gordon isn't the only freshman who has burst on the national stage this early in the season. Derrick Rose (Memphis), Michael Beasley (Kansas State), Kevin Love (UCLA) and O.J. Mayo (Southern Cal) already have NBA teams salivating.
Indiana coach Kelvin Sampson isn't surprised by the instant impact of these 18- and 19-year-olds. The intense glare of summer AAU games, all-star camps and nationally televised high school games makes them hardened veterans before they set foot on a college campus.
"They're playing under a microscope, so when they come to college, there's more expectations from themselves. They've kind of raised the bar and have a higher standard of what to expect," Sampson said.
"When they're (high school) sophomores, they're playing against junior and seniors, so when they're freshmen those same guys they were playing against are now juniors and seniors in college. They're comfortable and not in awe because they've played against these guys in big games for high stakes."