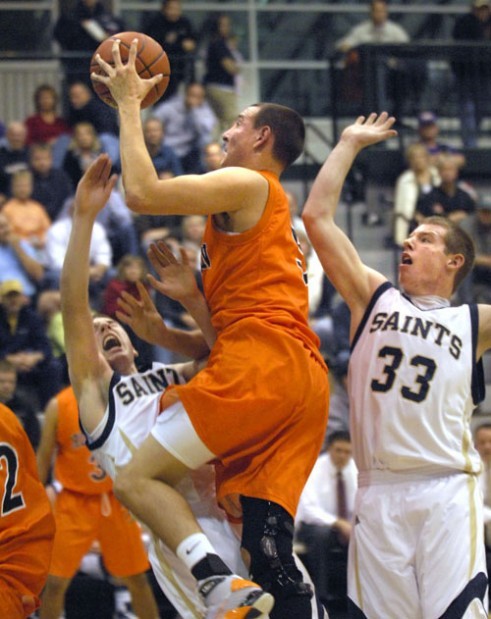 BLOOMINGTON — First, Normal Community High School hit Central Catholic with 6-foot-6 Nathan Haynes and 6-8 Kyle Dierkes. The shorter Saints were hanging in, trailing 26-23 at the half Monday night.
When NCHS added the long-range shooting of senior guard Kevin Bischoff in the third quarter, Central was scrambling and the Ironmen were on their way to a 60-49 victory on the opening night of the Intercity Basketball Tournament at Shirk Center.
"It was a good inside-outside night for us," NCHS coach Dave Witzig said. "With our height in the paint we were hoping to get our big guys scoring. We need guys to knock down some shots (outside) and Kevin did that."
Haynes and Bischoff each scored 17 points and Dierkes, who missed all of last season with a knee injury, added 12.
After making 12 of 33 from the field in the first half, NCHS sank 7 of 9 in the third quarter and 15 of 20 in the second half.
A basket by Dierkes and two by Haynes got the Ironmen going in the third quarter. Bischoff then hit two straight 3s to help open a 38-31 lead.
He added another later in the quarter and NCHS took a 44-34 cushion into the fourth quarter. Central could not get closer than eight after that.
"We definitely are looking to share the ball all over the court," said Haynes, whose 10 rebounds led NCHS to a 38-22 advantage on the boards.
"It's pretty much all day for Kevin when it's a kick out three. He gets his feet set and drives up and knocks it down just about every time."
Bischoff was 3 of 5 from beyond the arc. Dierkes was 6 of 10 from the field and had seven rebounds.
"You can see what we missed last year with Kyle hurt the whole year," Witzig said. "He had a great game for his first game back."
Central shot 33 percent from the field (16 of 48) and was led by senior Adam McIntosh's 16 points. Ryan Schmidt added 11.
"They really kind of put their will to us a little bit (in the second half)," Saints' coach Jason Welch said. "They got quality shots and we didn't.
"It's a credit to them. Their defense was pretty good. We didn't rebound. And we shot the ball awfully poorly. If you're going to beat a team like that, you better be able to shoot it a little bit and get some second shots and rebound."
The tournament resumes Wednesday night with Central facing Bloomington at 6 and Normal West playing University High at 7:30.