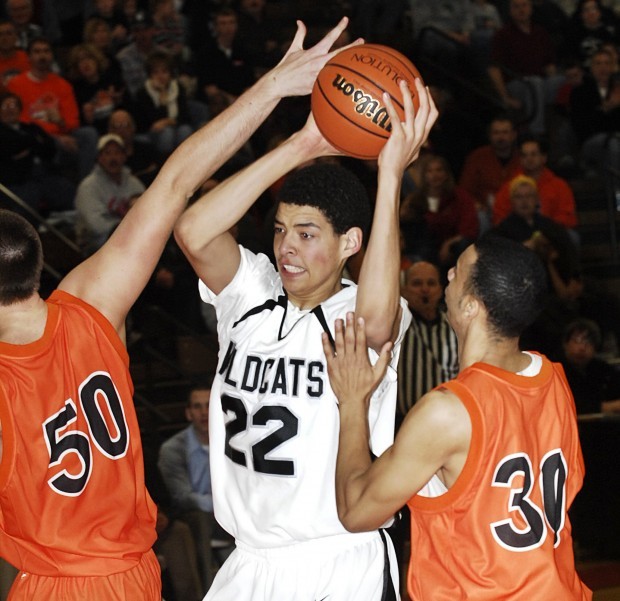 Kiel Turpin grew so much so fast, even his knees were caught off guard.
Turpin zoomed from 6-foot-5 to 6-11 between his junior and senior basketball seasons at Normal West High School. His knees struggled to keep pace.
"I had problems with my tendons. I had to visit the doctor a couple of times about it," Turpin said. "But it's all good now."
The knees have adjusted to Turpin's new frame. So has the rest of his body.
Running the court is no longer an adventure. Nor is catching the ball and converting it into points. A jump shot wrecked by his growth spurt has been retooled.
The long and short of it: basketball is easier for Turpin than it was a year ago, six months ago. That's making it hard on Lincoln College opponents.
Turpin moved into the starting lineup 12 games into his freshman season and has become a key contributor on a 26-6, national tournament-bound team.
He averaged 11.3 points, 7.6 rebounds and 2.3 blocks in Midwest Athletic Conference play, earning third-team all-conference honors. Not bad for a guy who scored 4.9 points per game last year at West.
"I had to change everything about my game," Turpin said of his sudden growth. "I came in here thinking I was going to redshirt. Coach (Kirk Whiteman) told me if I didn't, I'd probably see the floor a little bit at a time.
"It's mostly a confidence thing. Just being able to run down the court and be on the court is a surprise for me. After a while I said in my head, 'Hey, I can play at this level.' "
There is relief in that, particularly if your last name is synonymous with big-time basketball.
Turpin's father, 6-11 Mel Turpin, starred at the University of Kentucky and was the sixth overall pick in the 1984 NBA Draft.
The younger Turpin is not close with his father, saying, "I really don't have much contact with him anymore."
Still, the name is there.
"I've had people recognize my last name and go, 'Oh, you're Mel Turpin's boy,' " Turpin said. "But it's not so much anymore. I'm not really as affected by it.
"It's going to happen. I just kind of live with it."
Like his father, weight is an issue for Turpin, but in a drastically different way.
Mel Turpin's NBA career ended after five years in part because of weight gain. He was saddled with such nicknames as "Dinner Bell Mel" and "The Mealman."
Kiel Turpin is desperately trying to add pounds. He started the season at 215 but, despite lifting weights daily, is down to 200 because of the grind of the season.
"They say I don't eat. But I eat!" Turpin said, smiling. "I'm not missing any meals."
He'll have to eat a lot to get to 250, his goal for next season. His coach would settle for 225.
Saying Turpin has "far exceeded my expectations," Whiteman added, "He has a bright future. It boils down to him getting some weight on and holding the weight."
For now, the slender Turpin will try to help win the NJCAA Division II national title beginning Tuesday at Danville.
Next year, he'll be back at Lincoln, and then?
"I see myself going to a major Division I, but I have a lot of work to do," he said. "I have to get stronger and improve my game a lot."
Already, he is beyond being 'Mel Turpin's boy,' saying, "I feel like I've made my own name and I'm not living in his shadow anymore."