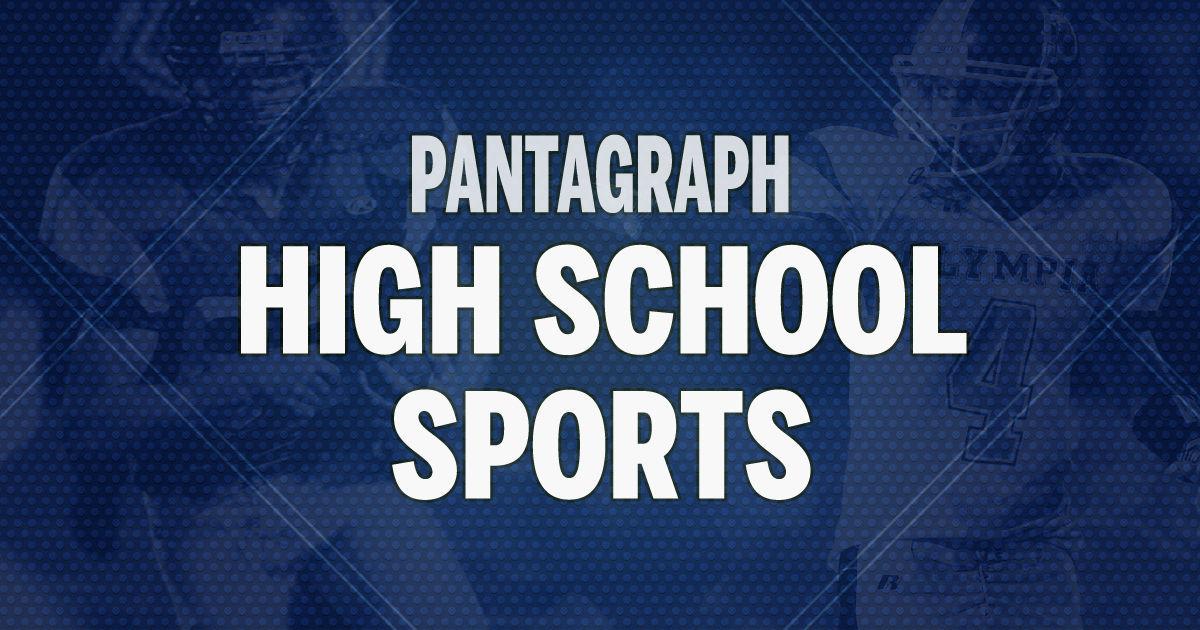 Matt Winkler won his 600th career game as Fieldcrest High School's boys basketball coach as the Knights cruised past Tremont, 69-36, on Saturday in Heart of Illinois Conference game Saturday at Tremont.
Andrew May led a balanced scoring attack for Fieldcrest (6-1) with 14 points, while Henry Lorton scored 11 and Jaxon Cusac-McKay and Cory Land had 10 each. Tremont was paced by JT Kaiser and Zeke Litwiller with 10 points apiece.
Dee-Mack 60, Central Catholic 52: Johnathan Blumeyer poured in 25 points as Deer Creek-Mackinaw took the nonconference victory at Cvengros Gymnasium.
Lane Thomann and Justin Reedy chipped in 13 points each for the Chiefs, who led 29-23. JT Welch paced Central Catholic (3-6) with 22 points and Sam Tallen added 12.
After the game, Dee-Mack went to Fisher and handed the Bunnies a 70-48 loss in an HOIC game. Landen Stalter and Jake Cochran had 18 points each for Fisher. 
Danville 65, NCHS 49: Zach Cleveland had a double-double with 29 points and 11 rebounds for Normal Community in a Big 12 Conference loss at Danville.
Tevin Smith matched Cleveland's 29 points to lead Danville. NCHS (4-5, 2-4) also received eight rebounds, five points and five assists from Trey Redd.
Danville sank 9 of 20 outside the arc while NCHS was 5 of 26.
Centennial 56, West 40: Khailico Terry's 22 points carried Champaign Centennial past Normal West in a Big 12 game at Champaign.
Corey Walker and Colton Cassady scored 12 points each for the Wildcats (1-6, 1-5).
"We continue to struggle with turning the ball over which is leading to easy baskets for our opponents," said West coach Ed Hafermann. "Our half-court defense is solid when we get it set up. We need to find a way to take care of the ball and have quality possessions on the offensive end. I believe our guys will figure it out."
Peoria High 51, Bloomington 41: Peoria High, behind Nathan Moore's 16 points, pulled away in the second half to down Bloomington in a Big 12 game at the Robert Frank Sports Complex.
Adam Beasley paced the Purple Raiders (0-6), who trailed 28-26 at halftime, with 12 points. TJ Barger added 10 points.
Prairie Central 74, Plano 59: Trey Bazzell's 25 points, 12 rebounds and seven assists carried Prairie Central to its third straight road win in three days at Plano.
Rylie Vaughan added a career-high 21 points while Andy Krenz just missed a double-double with nine points and 10 rebounds for the Hawks. Cooper Palmore pulled down 11 rebounds.
Eureka 62, Tri-Valley 52: Trevor Heffren's 24 points and seven steals helped Eureka capture an HOIC win at Downs.
Nathaniel Leman added 14 points while Matt Martin had eight assists for the Hornets. Leading Tri-Valley in scoring were Sam Anderson (15), Zac Creamean (14) and TJ Norman (11).
LeRoy 39, EPG 35: Nate Perry had 14 points and Mason Buckles had 10 points to pace unbeaten LeRoy (8-0, 7-0) in an HOIC win at El Paso.
Jake Funk had 11 points and 11 rebounds for EPG (4-4, 4-3). Luke Ihlenfeldt also had 11 points for the Titans.
Heyworth 46, GCMS 45, 3 OT: Tazden Eller scored 27 points as Heyworth survived a three-overtime thriller against GCMS in an HOIC game at Gibson City.
Ethan Garard (13 points) and Braden Roesch (10) paced the Falcons. 
Ridgeview 60, Olympia 45: Reece Ramirez led the way with 26 points in Ridgeview's nonconference win at Colfax. Sean Nunamaker added 11 points and Zach Cavinder grabbed 12 rebounds for the Mustangs, while Justin Siebert paced Olympia with 15 points.
Roanoke-Benson 63, Woodland 20: Luke Braman totaled 30 points, 10 rebounds and four blocks to propel the Rockets to their ninth win in 10 games and to an 8-0 Tri-County record.
Luke Getz added nine for Roanoke-Benson. Phoenix Cooper topped Woodland with 11. 
Flanagan-Cornell 60, Lexington 58: JD Ruddy's 28 points and 11 from William Weber sparked Flanagan-Cornell to a narrow HOIC win at Lexington.
Kaden Tolan had 15 points and Ben Peacock 14 for the Minutemen.
Lincoln 73, Sacred Heart-Griffin 49: Dylan Singleton was 10 of 15 from the field and 16 of 17 at the free throw line on his way to 38 points in Lincoln's win at Springfield. Singleton also had five assists and three steals.
GIRLS
U High 48, Pontiac 21: Naomi Elliott contributed 15 points and Alexis Noonan had 10 as University High cruised to a nonconference win at Normal.
Addison Masching paced Pontiac with 10 points.
Peoria High 71, Bloomington 48: Marissa Hilt contributed 17 points and 14 rebounds for Bloomington in a Big 12 Conference loss at Peoria.
Mady McSwain added 13 points for the Purple Raiders (2-2).
"Our girls never backed down even when things got tough," said BHS coach Austin Myers. "We have a great group of kids and will continue to work."
Danville 83, NCHS 53: With its varsity on pause because of a close contact with COVID-19, Normal Community's junior varsity played on the varsity in a Big 12 Conference loss at NCHS.
Olivia Corson led NCHS with 18 points, while Ali Ince added 16. Mercer recruit Erin Houpt paced Danville with 35 points.
"I was very proud of how our kids battled. To be in their first varsity game against a quality opponent is a tremendous challenge," said NCHS coach Dave Feeney. "The speed of the game and Danville's physicality were great things for our youngsters to experience."
Normal West 58, Champaign Centennial 7: West (2-1) led 18-0 after one quarter and cruised to a Big 12 triumph at Normal.
Megan Williams topped the Wildcats with 11 points and Ashley Wilcox added 10 points. Emily Kobel chipped in six rebounds, four assists and four steals.
Tremont 58, Fieldcrest 50: Alli Fuller scored 17 points to help host Tremont down Fieldcrest in a battle of Heart of Illinois Conference unbeatens.
Erin Pulliam and Trinity Israel added 11 and 10 points, respectively, for the Turks (7-0, 7-0 HOIC). Sophomore Ashlyn May paced Fieldcrest (7-1, 6-1)  with 15 points, six steals, and five rebounds while freshman Kaitlin White had 11 points and seven rebounds.
Eureka 37, Tri-Valley 22: Eureka used 12 points from Elle Zimmerman and 10 from Ellie Cahill to take an HOIC victory at Downs.
Lexi Ferrell's 10 points paced Tri-Valley.
LeRoy 44, EPG 41: Callie Warlow's three-point play with 24 seconds left in overtime lifted LeRoy in an HOIC game at El Paso.
Callie Warlow had 18 points and 13 rebounds for LeRoy (4-3, 4-3) and Tiffany Bargmann added 17 points and nine rebounds. Michaela Kelly had 14 points and eight rebounds for EPG (3-4, 3-4) and Jordyn Cannon scored 12 points.
Fisher 48, Dee-Mack 46: Lacey Cotter and Kallie Evans scored 13 and 12 points, respectively, as host Fisher slipped past Deer Creek-Mackinaw for an HOIC victory. Addison Swadinsky paced the Chiefs with 19 points.
Roanoke-Benson 60, Marquette 54: Kaylea Randall contributed 14 points and 13 rebounds as Roanoke-Benson (5-1) turned back Ottawa Marquette in a Tri-County Conference game at Roanoke. Maddie Monge (12), Kylar Kennell (11) and Lexi Wedon (10) also scored in double figures for the Rockets.
SHG 54, Lincoln 44: Kloe Froebe scored 26 points for Lincoln during a nonconference loss to Springfield Sacred Heart-Griffin at Lincoln. Reese McCuan added 10 for the Railsplitters.
Heyworth 45, GCMS 10: Paige Ruppert scored 21 points and Raeghan Morefield had 14 as Heyworth cruised to an HOIC win.
Putnam County 57, Dwight 35: Kayla Kodat scored 18 points for Dwight in a nonconference loss at Granville. Nora Anderson contributed 11 points and seven rebounds for the Trojans (4-4).