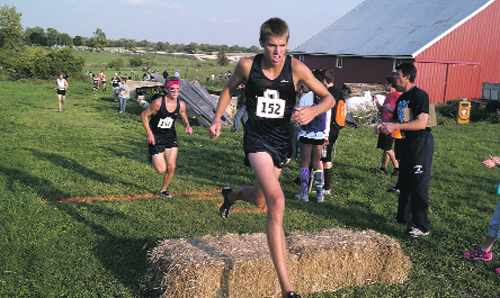 EL PASO — The seventh annual El Paso-Gridley Invitational cross country meet continued its self-fulfilling prophecy on Tuesday.
Summing up that prophecy best was Olympia High School fourth-placer Ryan Van Dyke, who covered the hilly three-mile course and its four crossings of Panther Creek in 17 minutes, 13 seconds.
"Everybody comes here expecting to have a good time so they all make it that way," said Van Dyke, who wasn't referring to minutes and seconds when he mentioned time.
The good time came from the meet's Mardi Gras-like atmosphere, which gave new meaning to the term barn dance at Furrow Farm when the song Gangnam Style came over the loud speakers prior to the awards ceremony.
"The fun course kind of adds to it," said Van Dyke, whose Class 1A team took second among 15 full squads with 82 points.
Class 2A Morris won with 65 while Heyworth, ranked No. 19 in 1A, scored 91 in third followed by University High's junior varsity in fourth (107).
In the girls race, two-time defending state champion Decatur St. Teresa, which is ranked No. 1 in 1A, defended its title with 30 points.
No. 11 Tri-Valley, led by Jess Clarke in second (19:15) and Athena Kulb in fifth (19:45), grabbed second with 72 while U High's fresh-soph placed third (95) ahead of Eureka (144) among 13 full teams.
"Finishing second to St. Teresa is like winning," said Tri-Valley coach Todd Schneider. "Nobody had a fantastic race (for us), but we all had a good race."
Clarke, seventh a year ago in 20:12, covered the first mile on the serpentine course in 6:08.
"It's more the effort that counts than the time," Clarke said. "I left it all out there."
U High freshman Shannan Supan was in no danger of getting lost out there because she ran as an EPG eighth grader on the same course. She finished fourth (19:24) to pace all ninth graders.
Knowing the course "helped a bunch actually," Supan said. "I really like running these types of races because it gives me a challenge."
St. Teresa swept the girls and boys individual crowns thanks to juniors Rachel Devereux (19:00) and Madison Velchek (16:36).
Heyworth junior Cade Martens was second to Velchek most of the race until Morris sophomore Jacob Wantland sprinted past in the final 100 yards to edge Martens, 16:57 to 17:00. Last year, Wantland was also second (17:12) and Martens third (17:19).
"I think a couple of the hills wore me down and I eased up a little bit and settled for second," Martens said.
The runner-up Olympia boys got a strong 1-2 punch from Van Dyke and fifth-place sophomore Connor Stine (17:22).