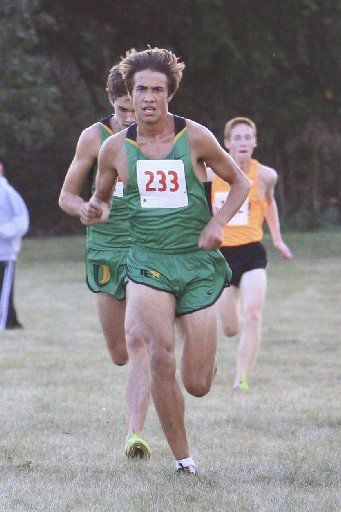 Bloomington
Coach: John Szabo, 33nd year
2013: 4th in Intercity, 5th in Big 12, 5th in 2A regional, 13th in sectional
Returnees from top seven: So. - Sam Warner, Jack Doud, Alex Soderlund, Connell Gapinski.
Another to watch: Fr. - Austin Bicknell.
FYI: This 17-man squad will be the youngest BHS has had in years, but Coach John Szabo hopes they still crack the top half of the Big 12 and land a 35th consecutive Class 2A sectional berth. Jack Doud, who ran 10:36.55 in the 3,200 last spring, and Sam Warner figure to be the leaders. "I think those two will be good training partners together," added Szabo. Alex Soderlund and Connell Gapinski will be in the top five along with Austin Bicknell. "After that we've got a whole bunch of them right together," Szabo said. 
Central Catholic
Coach: Bill Rhodes, 3rd year
2013: 5th in Intercity, 5th in Corn Belt, 4th in 1A regional, 10th in sectional.
Returnees from top seven: Sr. - Daniel Dionesotes, Nick Bleichner, Andres Torres; Jr. - Bobby Schopp, Will Trauner; So. - Adam Schlenker.
Others to watch: Sr. - Eric Whalen; Fr. - Will Dionesotes.
FYI: Coach Bill Rhodes believes Daniel Dionesotes, Bobby Schopp and Adam Schlenker can qualify for state individually. Whether the team also can will depend on the improvement of others. Schlenker sped 10:36.55 in the 3,200 last spring. Will Trauner and Will Dionesotes are top candidates for the No. 4 and 5 spots. "We've got some promising younger ones," Rhodes said. "As long as they give it their best shot, we'll be pretty happy." He hopes the top three can crack 16:20. Their consistent training this summer should help. "We're in the picture (for a state berth) and that's fun," Rhodes said. "Some teams have no chance."
Cornerstone Christian
Coach: Dustin Webb, 1st year
2013: did not field a full team.
Returnees: Sr. - Taylor Kidd, Andrew Fulling; So. - Kreigh Novey.
FYI: An obstacle course runner and coach, Dustin Webb brings an unorthodox training style to the Cyclones, who were coached last year by Travis Miller. During a team-building trip to a four-mile obstacle course race at Seneca, the Cyclones "absolutely loved it," according to Webb. "They loved challenging themselves to see what they could do. I preach strong core, flexibility and strong base running." Sophomore Kreigh Novey is the top runner. Webb hopes to find two more runners so the Cyclones can figure in team scoring. He also hopes girls will join the program.  
Normal Community
Coach: Tom Patten, 30th year
2013: 2nd in Intercity, 1st in Big 12, 1st in 3A regional, 4th in sectional, 26th in state.
Returnees from top seven: Sr. - Austin Peters, Jared Peters; Jr. - Mitch Turner; So. - Carson McCormick.
Others to watch: Sr. - Ben Lawrence; Jr. - Lucas Lasher, Zach Kosinski.
FYI: A return state trip awaits this 35-man team if its No. 5 runner can close the gap on the top four. Jared Peters ran a three-mile personal best of 15:35 at Peoria's Detweiller Park this summer. He clocked 9:45.76 in the 3,200 and 4:32.67 in the 1,600 last spring while his twin, Austin, motored 10:19.84 and 4:28.99. "They are coming into the season running faster than they were at the end of the season last year," said Coach Tom Patten. "They are looking to push the 15-minute mark this year." Patten anticipates an exiting Intercity battle between the Ironmen, Normal West and U High.  
Normal West
Coach: Steve Destri, 7th year
2013: 3rd in Intercity, 3rd in Big 12, 6th in 2A regional, 6th in sectional
Returnees from top seven: Jr. - Matt DeGroot, Alex Hillegass, Nick O'Neil; So. - Glenn Kinley.
Others to watch: Jr. - Jonah Gerber; Fr. - Tyler Dunn, Colin McQueen. 
FYI: With the return of 10 of its top 12, this 28-man squad is gunning for a Class 2A state berth, something it missed last year by eight points. Alex Hillegass and Matt DeGroot were co-MVPs after running three miles in 15:38 and 15:41, respectively. DeGroot ran 9:58.20 in the 3,200 last spring while Hillegass sped 800 in 1:58.65. Tyler Dunn and Colin McQueen led Parkside to a junior high state cross country title. Dunn ran third in the junior high state 800 (2:06.15) and 1,600 (4:41.81). "Tyler Dunn is coming to us as the best freshman ever coming from Parkside," said Coach Steve Destri, who expects to have a five-man finishing split under 1:00 as Hillegass and DeGroot close in on 15:00.
University High
Coach: Lester Hampton, 27th year
2013: 1st in Intercity, 2nd in Corn Belt, 1st in 2A regional, 2nd in sectional, 14th in state.
Returnees from top seven: Sr. - Alexander Bruno, Eli Hill, Andrew Walch; Jr. - Aidan Vaughn, Cameron Herbert.
Others to watch: So. - Jack Franklin, Grayson Will, Zach Gocher; Fr. - Jared Schuckman, Tanner Gillam.
FYI: This 37-man program has won four straight Intercity titles. The goal will be to close the gap between its Nos. 3-4-5 runners and stars Alexander Bruno and Eli Hill. The reigning Corn Belt Conference and regional champion, Bruno placed 44th in the state cross country meet and sped 1:57.07 in the 800 last spring. Hill was ninth in the state 3,200 in which his best was 9:41.03. "I feel they have the experience now to be two of the top runners in the state," said Coach Lester Hampton, who rates NCHS the Intercity favorite and Mahomet-Seymour the team to beat in the Corn Belt. Freshmen Jared Schuckman and Tanner Gillam were on Parkside's junior high state title team.