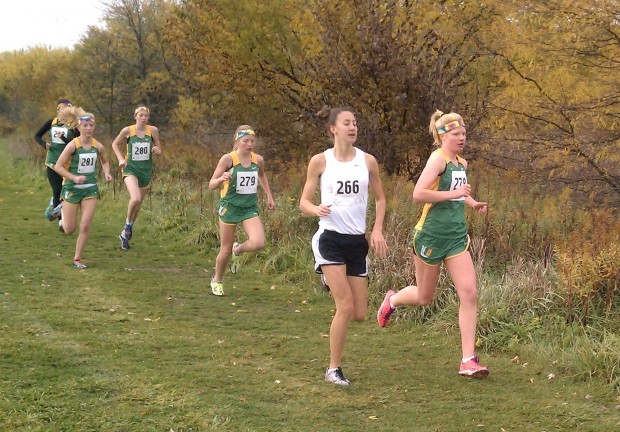 NORMAL — It wasn't hard to advance from the Normal Community West Class 2A Cross Country Regional at Maxwell Park on Saturday, but the winners made sure anyone hoping to supplant them would have to truly suffer.
All seven teams and 53 entrants in the girls race advanced to next Saturday's East Peoria Sectional at Illinois Central College along with 54 of the 59 boys' entrants.
The No. 2-state ranked University High girls and No. 6 Pioneer boys swept the team titles with 25 points apiece.
West winner Emily Brelsfoard skimmed over 3 muddy miles in a season best of 17 minutes, 29 seconds while the top boy was U High's Brendan Hoskins in a career best of 15:00.
Brelsfoard regained the title she won here as a sophomore in 17:19 by dropping U High's Sydney Billingsley midway.  Brelsfoard's mile splits were 5:47, 5:46 and 5:56.
"We both pushed the third half mile pretty hard," said Brelsfoard, who had a 14-second gap on the Corn Belt Conference champ by the end.
"She pretty much put it into cruise control that last mile," said West coach Steve Destri of Brelsfoard. "She's been improving every week. I think she's primed for a big finish the next two weeks."
The first freshman in third was Shannan Supan (17:45) of U High, which also counted Ashley LaFayette (5th, 18:12), Alexandra Walch (6th, 18:32) and Christy Hulett (9th, 18:51).
No. 13 West took second (80) despite Bailey Fillipponi-Holstein being ill and Mackenzie Gallagher resting sore legs. Other top Wildcats were Sara Piller (8th, 18:41) and Andrea Gordon (10th, 18:52).
Bloomington, led by sophomore Breanna Fairley (11th, 19:08), qualified seventh (145). Pontiac advanced its four entrants led by Lacey Kaminski (19th, 19:24).
U High's Hoskins notched an 11-second margin of victory over Pontiac's Josh McCoy (15:11). After a 4:58 opening mile, Hoskins reached 2 miles in a career best of 9:55.
"I had a lot of fun with it," Hoskins said. "As soon as I saw people going at the mile, I tried to go with them and then I just surged past them."
Not long after finishing, Hoskins, a clarinet player, sped off to join U High's marching band in competition.
"He's running with a ton of confidence right now," Hampton said. "He's convinced himself he's a front runner and he's going out there and doing it. If you are going to run with him, you've got to be ready to attack it."
The rest of U High's attack saw J.D. LaFayette in third (15:22), resurgent Wesley Ward in fourth (15:26), Intercity champion Adam Bruno in fifth (15:28) and Joseph Clay in 12th (15:51).  They topped runner-up Metamora by 65 points.
"I thought the guys, for the work week we've had, wow, I was very pleased with the effort," Hampton said.
No. 17 Pontiac advanced third (94) with help from Zac Justus (eighth, 15:31) and Shawn Milhauser (10th, 15:47). BHS, led by Keith Meyer (sixth, 15:29) and Sam Doud (seventh, 15:30), qualified for the 33rd straight year in fourth (101) while West ran fifth (137).
The top freshman was Matt DeGroot, who became the third ninth grader in West history to break 16:00 by running 15:53 in 14th.
Get in the game with our Prep Sports Newsletter
Sent weekly directly to your inbox!