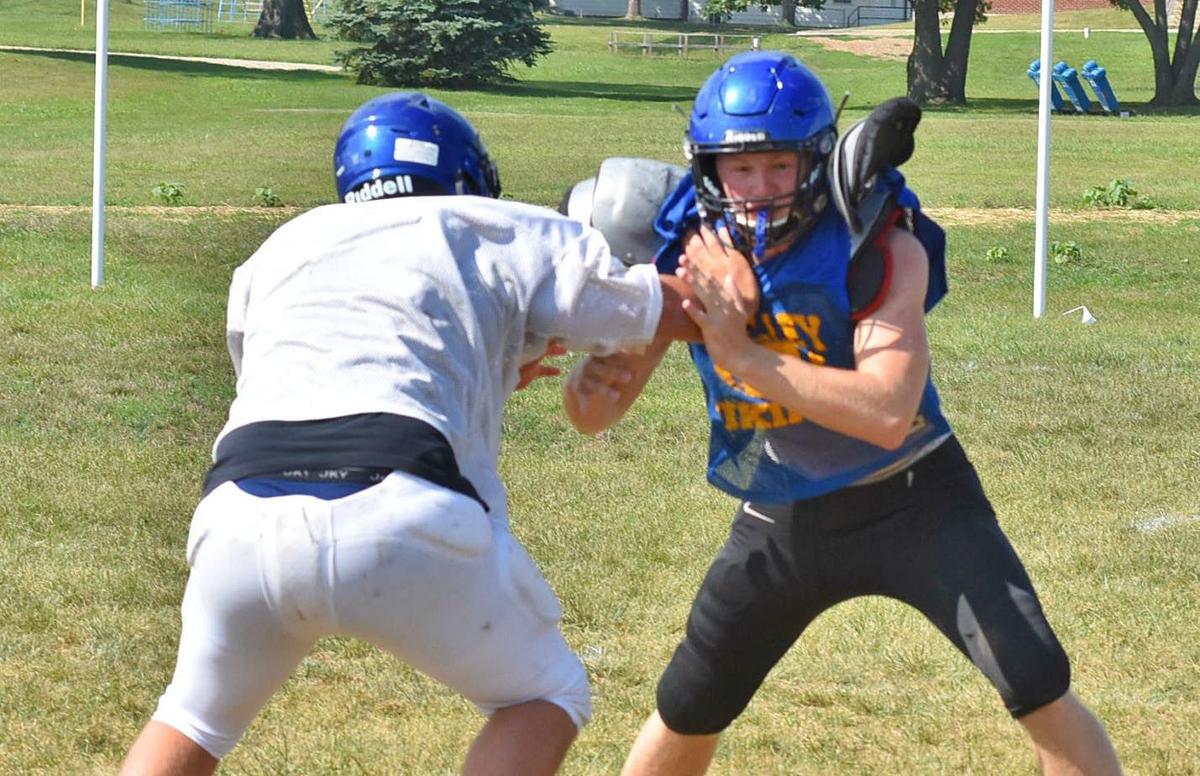 DOWNS — Would you drive 11 hours straight to be eligible to play in one of Friday's season-opening high school football games?
To be eligible for the opener, he and players statewide had to participate in at least 12 practices since Aug. 6.
For most, that was no problem. But Martin, a Tri-Valley lineman, didn't leave Army infantry basic training at Fort Benning in Georgia until the morning of Aug. 10.
Coach Josh Roop told Martin if he made it back that Friday and practiced before midnight, he could play in this Friday's 7 p.m. opener at Decatur St. Teresa.
"It was me and the team captains and a couple of my buddies on the team," Martin said of that 10:30 p.m. practice.  
In Roop's 12 years as coach, Martin is the first Viking to go through basic training.
"He's been set on (a military career) for quite a while," said Roop, noting Martin will return to the Army after he graduates next May. 
Martin's basic training began on May 30 and proved to be excellent preparation for football. Days began with 4 a.m. workouts, followed by breakfast, four hours of Army training, a 30-minute lunch and more training.
"We'd go to sleep around 8," he said. "Then we'd repeat it the next day. We ran all day, every day. If you did anything wrong or your uniform wasn't correct, you were running or doing push-ups or sit-ups.
"Coming back and doing workouts for (football), it's a breeze." 
Martin also credits football for preparing him for basic training. Soldiers and football players all rely on teamwork.
"You've got to communicate," Martin said. "You've got to work together. Football really prepared me for that physically and mentally.
"Coach Roop does a really good job trying to prepare us, not just as football players, but also as men."
A returning starter at defensive end and offensive guard, the 6-foot-1, 210-pound Martin is a "high-motor, high-intensity kid," according to Roop.
"He's one of those kids who loves to come out and have fun playing football," Roop said. "The kids follow him because of that.
"It was pretty dead the first week of practice until he got back. Then things started to pick up. He is a very good teammate."
A sprinter and hurdler for the track team, Martin describes himself as a very loud, active, outdoorsy person.
"I try to amp everybody up," he said. "I'm a super high-energy guy, always walking around the hallways at school or at practice, yelling and screaming and getting people motivated."
When people learn of Martin's military service, they often thank him. 
"Being a teenager and hearing that, I don't always know what to say," he said. "If you say, 'You're welcome' then you just kind of sound like a jerk. My buddy in basic had the perfect response, 'Thank you for your support.' "
Martin comes from a military family. His father, Louis, served in the Army.
"That kind of motivated me and made me want to join," said the youngest of five siblings.
Martin appreciates that his mother, Kristen Bolton, is proud of him.
"She was a little edgy just because it's her baby boy going into the military," he said. "She was afraid that I might get hurt."
Her baby envisions a life of public service. After his six years with the Army ends, Martin may try to become a policeman and eventually a SWAT team member.
Clearly, Martin is a man with drive. His vehicle's odometer is just one measure of proof.
Contact Randy Sharer at (309) 820-3405. Follow him on Twitter: @PG_sharer
Get in the game with our Prep Sports Newsletter
Sent weekly directly to your inbox!