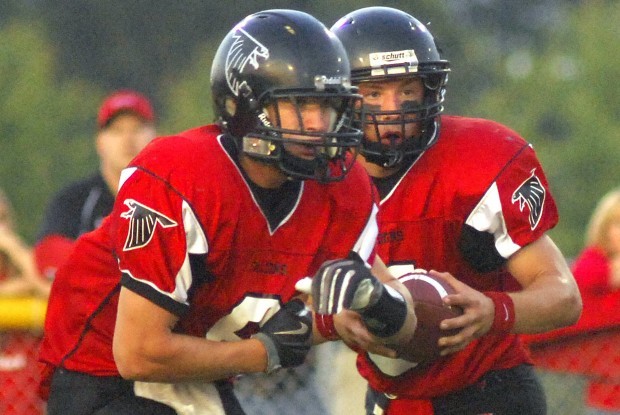 GIBSON CITY - One wears No. 5 and the other No. 6. Both are listed at 5-foot-10 and 190 pounds. They have been in the same backfield since starting youth football in fourth grade.
To call Gibson City-Melvin-Sibley High School's Stephan Birt and Michael Romshek a 1-2 punch suggests a clear separation in talent, impact.
The senior standouts are more like 1 and 1A, with the order interchangeable.
"On any given play, they could score," GCMS coach Mike Allen said. "They're very exciting to watch. They can electrify the crowd at any point. They will be sorely missed next year."
Allen will think about that later. He is embracing the experience and explosiveness Birt (No. 5) brings to quarterback and Romshek to tailback.
Both are third-year starters and are piling up numbers for GCMS (4-1 overall, 3-1 in the Heart of Illinois Conference).
Romshek has rushed for 510 yards, seven touchdowns and 8.8 yards per carry. He broke the school career rushing record two weeks ago and has surpassed 2,000 yards despite playing in GCMS' balanced, spread-the-ball-around double wing offense.
Romshek also is the Falcons' career leader in scoring, all-purpose yards and yards from scrimmage, and is nearing the receiving record. This year, he has caught eight passes for 192 yards and 3 TDs, and returned an interception and a punt for scores.
Birt has thrown for 461 yards and five touchdowns, run for 407 yards and scored eight TDs, one on a punt return. He also has intercepted six passes as a safety on defense.
Romshek starts at outside linebacker and calls defense his "favorite side of the ball." Still, he and Birt are best known for their connection on offense.
"It's just how well we know each other," Romshek said. "We've always been friends. I guess being friends off the field makes it easier on the field.
"I know what he's going to do at certain times and he knows what I'm going to do."
Birt, the school record-holder for wins by a starting quarterback, relishes running the option with Romshek, saying, "I like that combination."
"We definitely know where each other are going to be," Birt said. "When Michael runs the ball, if he cuts back I'm always going to be there for that extra block or something."
Both have benefited from a line that returned starters Cameron Thomas, Ross Perkins, Drew Chase and twins Austin and Mackenzie Seneca. JJ Gardner also has started up front along with tight ends Christian Rosenbeck and Elliott McClure.
"They've done a phenomenal job of opening holes for these guys," Allen said. "Both of them have set records this year, and the first thing they do is thank the line."
"We've been with our linemen since fourth grade, too," Birt said.
They are together for what they hope is a memorable season, despite a jarring 40-12 loss to Lexington in week two. Birt likely will play football and wrestle at Augustana College next year, while Romshek plans to play football at school to be determined.
For now, "They have a special bond with each other," Allen said.
"In football," Birt added.