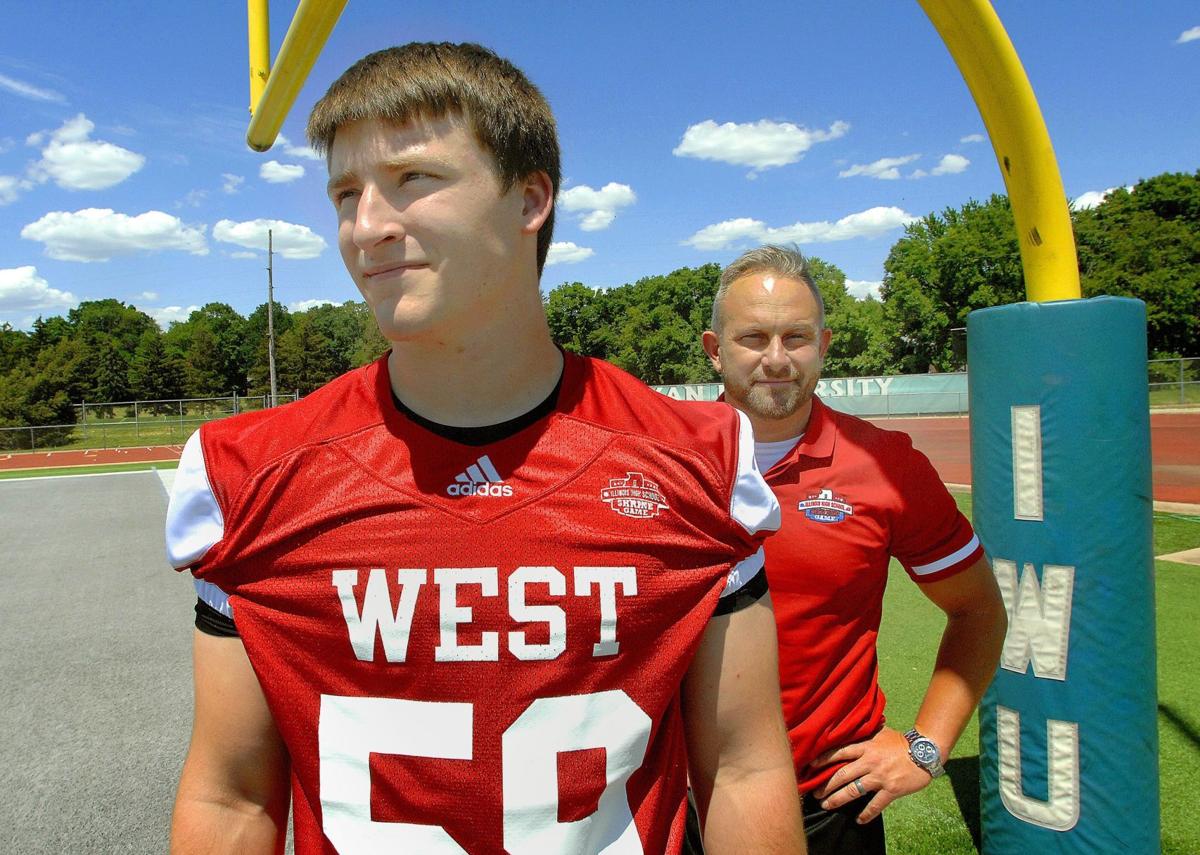 BLOOMINGTON — Alex Brittain couldn't ask for a better way to conclude his high school football career.
The outside linebacker from Eureka will wrap up opposing running backs and his career as a member of the East squad in Saturday's 11 a.m. Illinois Coaches Association Shrine All-Star Game at Illinois Wesleyan.
"It's been a long ride," said the 6-foot-3, 210-pound Brittain. "It's a good way to end it."  
Brittain's final season turned into a breakthrough campaign as the 9-2 Hornets produced their best record since 1986.
"This last year was really fun because of our success," Brittain said. "Being here is just the cherry on top."
The 45th annual Shrine Game will raise funds and spread awareness for the Shriners Hospitals for Children and Shriners International. Last year's contest raised nearly $33,000.
Brittain credits Eureka head coach Jason Bachman, an East assistant this week, for helping the Hornets improve from 6-21 his first three years to 21-10 the past three years. 
"He's a great coach and an even better person," Brittain said. "His character is phenomenal. He has very high morals. He wants us to have fun and be safe more than anything, and succeed while we're doing it."
Brittain's success earned him first team all-Heart of Illinois Conference honors at linebacker. The three-year starter also gained second-team recognition as a tight end after making 27 catches for 375 yards and four touchdowns.
"He was by far our leading receiver," Bachman said. "If we needed a first down, he did it. (On defense,) he swallows up running backs.
"We had a very young football team last year. Coming into the season, we were hoping to be 5-4 and make the playoffs. We ended up 8-1 (in the regular season) and that was largely attributed to him bringing our team together as a whole. He was kind of the glue that held us all together."
You have free articles remaining.
The thing Brittain appreciates about football is the way it gives players a second family.
"You build a family and then you build a bond with that family," he said. "It's trust. I love that about the game."
One of his favorite football memories is inspiring youngsters around Eureka.
"We used to be those kids looking up to the older guys," he said. 
When asked which he enjoys more, defense or offense, Brittain said, "It's a cat-and-mouse type thing. On defense, you're the predator. On offense, you're the prey. There is something about being the prey that is kind of fun."
Brittain, who also participated in basketball and track, considers Eureka a sports town.
"I think in recent years we've really been working for that and I think we've achieved it," he said. "With all the success of girls' sports and guys' sports, it's crazy."
Brittain will remain part of the community next fall on the Eureka College football team.
"Coach (Kurt) Barth, more than other coaches, would come and talk to me about school," said Brittain, who hopes to become a psychologist. "He would come talk to me about life instead of just football."
Regardless of Saturday's final score, Brittain will always be able to talk about a high school career that had an all-star ending.  
Other Pantagraph area players: Brittain is joined on the West squad by Normal West linebacker Garrett Rhode. Joining Bachman on the six-man West coaching staff is former Normal Community player and Eureka College coach Darrell Crouch of Washington.
The area's 10 East players include Normal Community's Daylen Boddie and Reeves Wester, El Paso-Gridley's Ryne Faulk, Fieldcrest's Derek May, Prairie Central's Jonah Miller, Fisher's Tanner Diorio, Pontiac's Eric Watson, Central Catholic's Patrick Namoff, Streator's Brandon Durdan and Hayden Workman of GCMS.
The East coaching staff includes assistant Brian Hassett of Streator. The East won last year's game, 26-20, to shrink the West's lead in the series to 27-16.
Contact Randy Sharer at (309) 820-3405. Follow him on Twitter: @PG_sharer