BLOOMINGTON — Kevin Braucht's phone was buzzing and ringing all day Saturday. Former classmates, teammates, coaches, etc., were calling the newly named Central Catholic High School head football coach.
"It's been a whirlwind of a day for sure," said Braucht, a 1996 Central grad and former Normal West offensive coordinator. "It's been great to hear from a lot of people I haven't heard from in a while. Hopefully they understand that I'm going to try to embrace the old traditions and get Saints football back to where it needs to be."
Braucht was a running back and linebacker for the Saints, starting at linebacker as a junior on the 1994 Class 3A state championship team. He was an assistant coach at Central, Heyworth, Tri-Valley and University High before spending 12 years at Normal West, the final 11 as offensive coordinator.
Braucht sat out this past season — "I played more golf than I had in a long time," he said — but was eager to return to coaching.
"I can't be more thrilled to get back in it and get back in it at Central no less," he said. "It's a place that is near and dear to my heart. The traditions that I was part of run through me pretty thick."
Braucht planned to attend Saturday night's home basketball game and has scheduled a team meeting for Monday. The Saints suffered from a lack of numbers last season, starting with 28 players and getting down to 22 because of injuries.
"I want anybody at that meeting who played last year, who's played at one time, who's thinking about playing, who wants to play … ," Braucht said. "I want to connect with them and let them know what I'm about and what my expectations are for the program.
"Then I'll start banging the hallways. I want to meet these kids and start building relationships. Football is a numbers game. You have to have guys."
You have free articles remaining.
Saints athletic director Hud Venerable said Braucht is "part of this school's rich athletic and academic tradition. He understands how to motivate student athletes and he will bring out the best in all of our kids."
Asked what Braucht brings to the job, Venerable replied, "Passion."
"Passion for Central Catholic. Passion for building relationships with people. Passion for teaching and coaching kids the game of football," Venerable added. "He's extremely smart. He's very demanding, very tough and very prepared for the position. He's really excited to build a program for the long haul. That's what we need."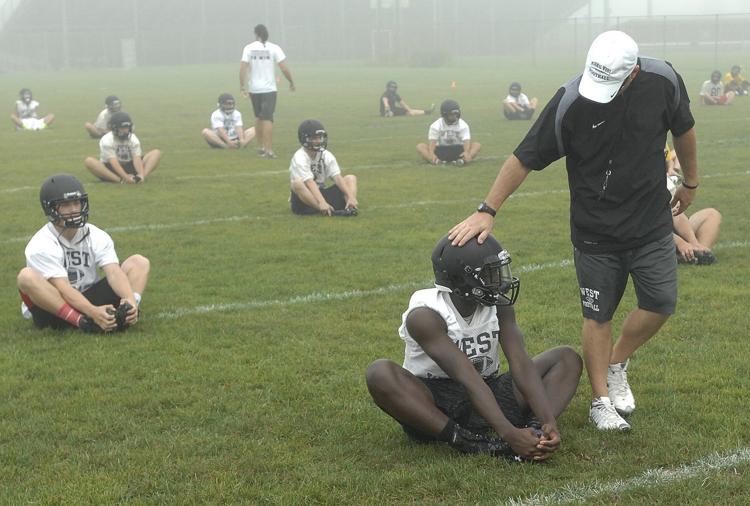 Normal West's offense was potent during Braucht's time as offensive coordinator. The Wildcats' up-tempo, no-huddle attack averaged 33 points or more for eight straight seasons from 2010 to 2017, including averages of 45.7 in 2015, 45.5 in 2011 and 41.8 in 2017.
"He's creative. He's innovative," Venerable said. "He knows how to deploy personnel and knows how to attack defenses. I coached against him when I was still at Normal (Community). He had just started his tenure at West and I really had a lot of respect for him."
Braucht said in a "perfect world" the Saints would run the no-huddle attack that served him so well at West, but added, "I want to make sure we run a system that is conducive to the athletes we have and the athletes we're going to get."
"If it's up-tempo, no-huddle, great. If not, we'll adapt," Braucht said. "I want to make sure we put our athletes in the best position to succeed based on what they can do and what we're going to see (from opponents) week to week."
Central principal Sean Foster said Braucht "knows what it means to be a Saint and we are confident in our program's future under his direction."
Braucht and his wife, Angie, have two daughters, Caroline and Sydney.