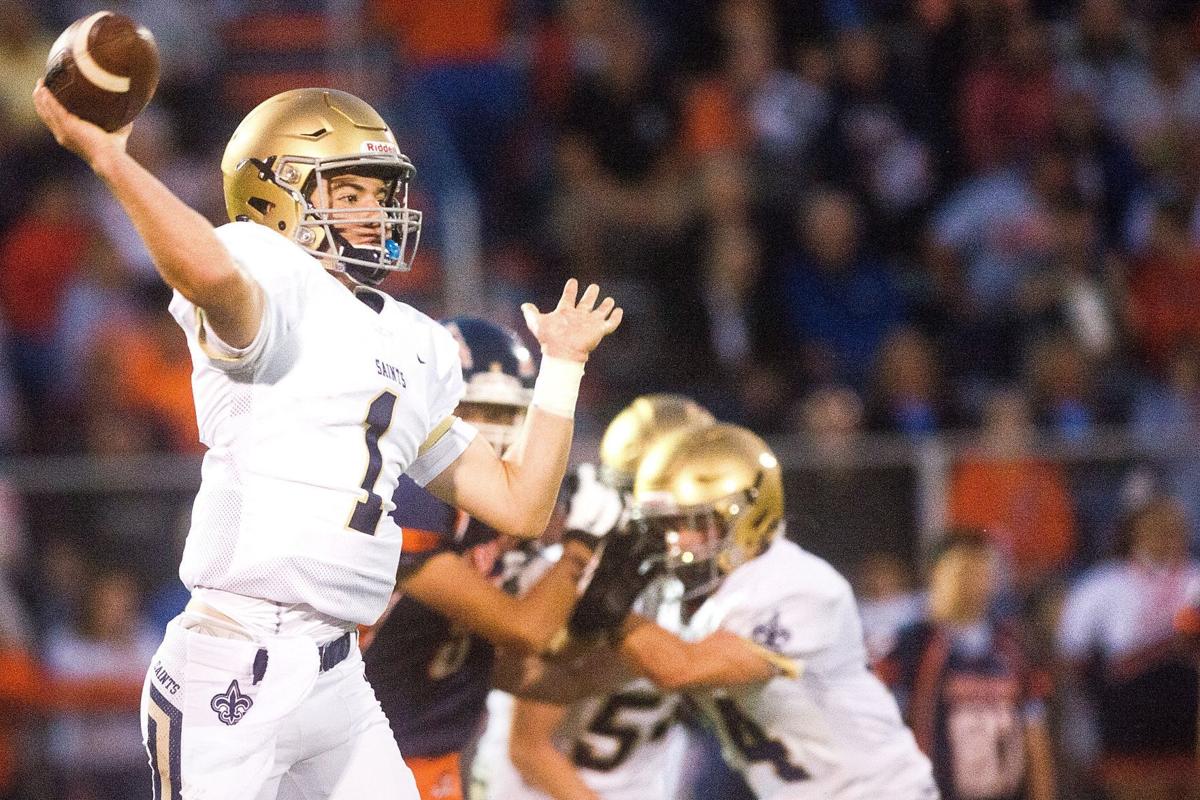 Olympia vs. Central Catholic
Place: Bill Hundman Memorial Field, Bloomington
Records: Olympia 2-1, 2-1 in Illini Prairie Conference; Central Catholic, 0-3, 0-3
FYI: Olympia boasts Area rushing leader Grant Kessinger. The 170-pound junior has amassed 549 yards and averages 9.8 per carry … The Spartans also have three other rushers over 100 yards in Ethan Keedy, Landon Alcorn and Ethan Davis … As Olympia's quarterback, Davis has attempted just 18 passes, completing 10 for 122 yards … Central Catholic is trying to snap a 13-game losing streak … Jake Slaughter has run for 242 yards, while quarterback Jonathon Naour has passed for 373 and completed 39 of 74 … Slaughter has 116 receiving yards and Hayden Pirtz 101.
Jacksonville vs. U High
Place: Hancock Stadium, Normal
Records: Jacksonville 1-2, 1-2 in Central State Eight Conference; University High 0-3, 0-3
FYI: University High attempts to rebound from a 30-7 loss to Decatur MacArthur last week. The Pioneers opened with losses to state-ranked Springfield Sacred Heart-Griffin (59-21) and Rochester (48-17) … Spencer Parker rushed for 88 yards in the MacArthur contest … Jacksonville also has lost to Rochester (71-31) and MacArthur (33-27) … Crimsons' quarterback Ryan Maul has thrown just 32 passes but has completed 21 for 458 yards and six TDs … Collin Brunstein has 341 receiving yards on 10 catches, while the top rusher is Tyger Vaniter with 221 yards … Jacksonville scored a 36-12 home win over the Pioneers last season.
You have free articles remaining.
NCHS vs. Lapeer, Mich.
Time: 6 p.m. (Central) Friday
Records: NCHS 3-0, Lapeer 2-1
FYI: Normal Community has to travel north of Detroit to the Flint, Mich., area to fill its week four spot … Lapeer was 11-1 last season … After an opening loss, Lightning quarterback Cam LaBelle has completed 18 of 23 passes for 235 yards and six touchdowns in two wins. Brayden McKenna has 13 catches for 122 yards in that span and Bronson Butler 13 for 96 yards … Sophomore Chase Mackey will again start at quarterback for the Ironmen. NCHS coach Jason Drengwitz said original starter Aidan Oliver could return from an injury next week … Jake Hileman paces the Ironmen ground game with 243 yards and five TDs. Dylan Tracy is the leading receiver with 11 for 110 yards.
GCMS vs. Fieldcrest
Records: Gibson City-Melvin-Sibley 3-0, 1-0 in Heart of Illinois Large School Division; Fieldcrest 3-0, 1-0
FYI: GCMS meets a state-ranked team for the second time in three weeks. The Falcons are the No. 1 team in Class 2A, while Fieldcrest is No. 8 in 2A … Kenton Castrejon has rushed for 502 yards, and Matt Lorton has passed for 288 for Fieldcrest … The run-heavy Falcons have gotten 528 yards on the ground from Aidan Laughery … GCMS has outscored its opponents, 101-25, thus far, while the Knights hold a margin of 114-14.
— Compiled by Randy Reinhardt