Not just anyone could arrive at the National Bank of Normal and stroll into the president's office. Paige Proctor could do it without breaking stride.
Located at what is now Solid Gold Jewelers in uptown Normal, the office belonged to Proctor's grandfather, Truman H. Keys.
"I can remember going in and sitting on his lap and he had one of those snow balls (globes) that you turn and shake and set it back down. I was just fascinated by that," Proctor said. "He did finally give it to me. And of course, I broke it as a kid."
Proctor is 82 now, though he looks younger. Recently, he received a piece of family history that bears his grandfather's name. And this time, he will not break it.
Proctor's plan is to restore the stone that long proclaimed Normal Community High School's football field as Truman H. Keys Field. The field was dedicated in 1945 and the Ironmen played there until moving in 2003 from their school on Kingsley Avenue (now Kingsley Junior High) to the current NCHS on Raab Road.
The stone, formerly housed in a pillar on the north end of the field, wound up behind a Unit 5 storage facility after the high school relocated.
No one knows for sure. Yet, when NCHS grads Jeff Collins and Mike Nelson learned of its location, and having known Proctor for many years, they thought of a perfect new home for the weather-beaten stone.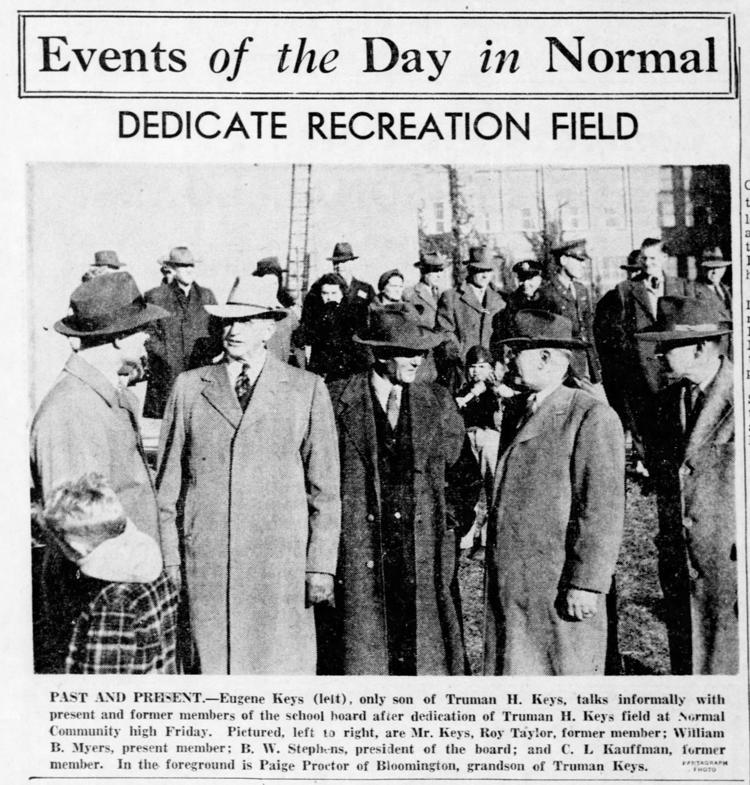 "Mike called and said he and Jeff wanted to bring it out and did I want it," Proctor said. "I said, 'Well, you bet!'"
In early February, Nelson and Collins loaded it up and delivered it to Proctor's home near Carlock. A retired insurance agency owner and operator, Proctor became emotional when the stone arrived.
"Having lived in this area all my life, I used to drive by that field all the time (along College Avenue) and look at the plaque," Proctor said. "I can remember clearly going by there so many times and just stopping in the street to look at it."
How did it come to be Truman H. Keys Field? Keys was a devoted member of the Unit 5 school board for many years. Shortly after his passing, the decision was made to put his name on the "recreation" field.
The field was dedicated in October 1945. Eugene Keys, Truman's son, was on hand to represent the family. Also there was 8-year-old Paige Proctor, whose mother was the former Trunetta Keys.
We know he was there because a photo from the dedication in the Oct. 28, 1945, Pantagraph shows the young Proctor near his uncle Eugene.
The stone, best Proctor can tell, reads, "This field is dedicated in the memory of Truman H. Keys." The "Truman H. Keys" remains relatively clear on the stone. The rest needs work after decades in the elements.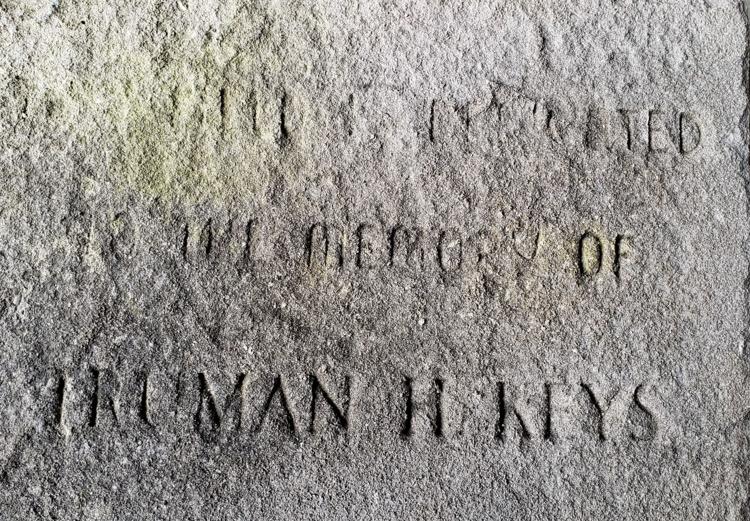 "What I intend to do is have it cleaned up and re-engraved so you can see all of the lettering," Proctor said.
He hopes to display it on his property after that. And the next time the Keys family has a reunion, which he said still happens occasionally, he will "get it in the car" and take it for all to see. Included are Truman Keys' five granddaughters … the daughters of the late Eugene Keys.
"One of them is going to end up with it," Proctor said, smiling.
For now, it is his … as is his unique name. He reports Paige is a Proctor family name that has skipped through generations since the 1780s. Seems a ship from England docked in South Carolina back then "and a Proctor came off," he said.
This Proctor never played on Truman H. Keys Field. He attended rival Bloomington High School, but after playing freshman football was recruited to the swim team. His football claim to fame was catching a two-point conversion pass in a freshman game.
"That was the total of my career," he said, laughing.
Proctor said he was contacted by a woman roughly 15 years ago asking if he would be interested in having the stone. He quickly said yes, but never heard back. To have it now is … well, "pretty neat," he said.
It no longer calls Truman H. Keys Field home. But it's at the home of Paige Keys Proctor.
Contact Randy Kindred at (309) 820-3402. Follow him on Twitter: @pg_kindred
Get in the game with our Prep Sports Newsletter
Sent weekly directly to your inbox!