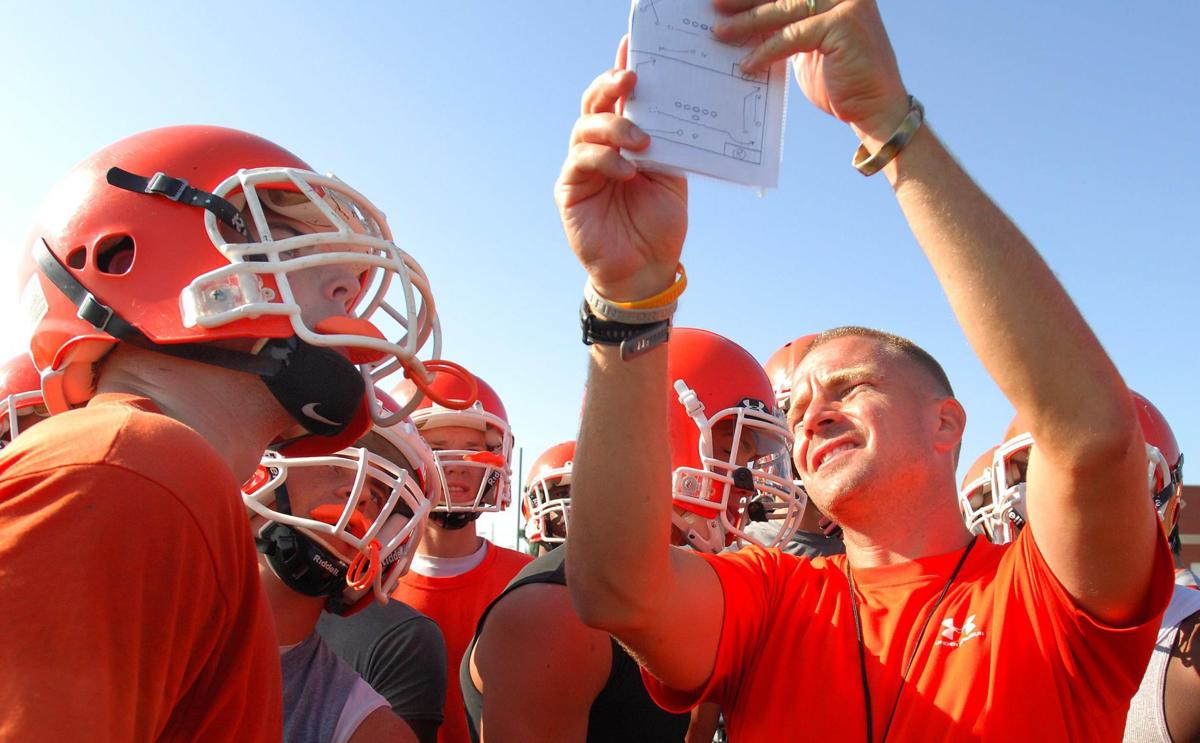 NORMAL — Normal Community High School has been without a head football coach since mid-December. You couldn't tell by the turnout for offseason weight training.
"We've had 90 kids in the weight room all winter," said Jason Drengwitz, an NCHS assistant the past 14 years and offensive coordinator the last 10. "That's the culture they've had built into them by the head coaches and the staffs in the past."
That culture has Drengwitz "really excited" about taking over as head coach. His hiring was announced Monday by the school pending Unit 5 Board of Education approval, which is expected at its Wednesday meeting.
Drengwitz, 42, takes over for his friend and colleague Wes Temples, who resigned after 10 years with an 83-25 record and five Big 12 Conference championships. Temples plans to pursue his master's degree and get into athletic administration.
"We've always had high expectations here," Drengwitz said. "We're going to hold those high expectations to win the Big 12 Conference and make the playoffs and hopefully have some deep playoff runs.
"We just want to enhance what we've already had and make it as good as we possibly can. We have great kids, great families and great coaches and administration who work really hard."
Drengwitz has been a business teacher and assistant football coach at NCHS for 14 years. Prior to that, he was an assistant coach at his alma mater, Pontiac, for five years while working full-time at State Farm Insurance.
During his 19 years of coaching, he has been part of a playoff team every year, including three trips to the state championship game.
Drengwitz graduated in 1997 from Illinois Wesleyan, where he played football for four years, and, after working at State Farm, returned to school at Illinois State and earned his teaching degree.
He was chosen to succeed Temples by a committee of administrators and other coaches who assisted with the selection process.
"Coaching is all about relationships and trust and communication," Drengwitz said. "Not only do I have that (with the players), but our entire coaching staff does a great job with those things.
"You're not walking into a situation where you don't know anything or anyone. It's somewhere that I'm very comfortable and very familiar with."
Drengwitz said he is hopeful the coaching staff will remain intact, saying, "We're a really tight-knit staff and we all get along real well. We all understand that we're in it for the big picture and the program and our players."
NCHS athletic director Mike Clark, who is retiring after this year, said Drengwitz "brings a wealth of knowledge and previous coaching experience to this new role."
"Beyond being a part of our tradition of success, Jason will continue the positive culture that has been established in our program that goes beyond just winning football games," Clark said.
Drengwitz expressed thanks to the NCHS administration, former NCHS coach Hud Venerable for giving him his start on the Ironmen staff and Temples for "the trust he placed in me during his tenure as head coach."
"I love teaching here, love my classes and love coaching for Normal," Drengwitz said. "This is the place I've wanted to be. My family and my boys want to be here.
Drengwitz and his wife, Becky, have three sons: eighth-grader Calen, sixth-grader Lucas and fourth-grader Micah.
Follow Randy Kindred on Twitter: @pg_kindred
Get in the game with our Prep Sports Newsletter
Sent weekly directly to your inbox!