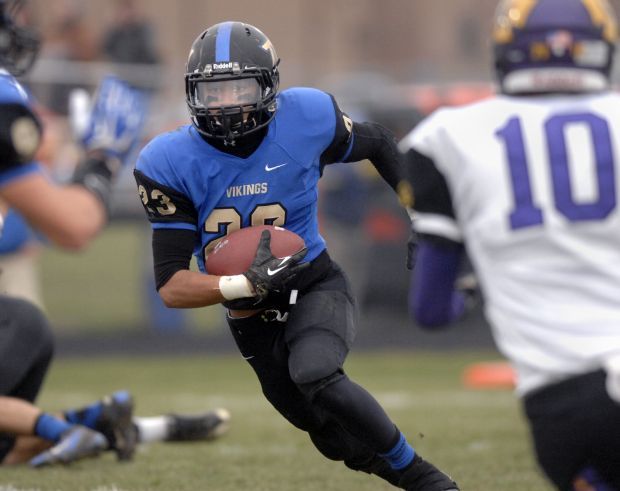 DOWNS — Braden Herrman fought to remain positive after a freakish knee injury cut short his junior football season.
Yet, facing surgery to repair a torn anterior cruciate ligament in his right knee, it was difficult to see brighter days ahead. No way did he envision this while in an operating room a year ago Wednesday.
"You always want to play for a state championship. But obviously, you can't expect that it's going to happen," said Herrman, a senior running back and defensive back. "I could never have imagined that a year from that day I'd be practicing still, and our team would be playing for a state championship."
It makes Tri-Valley High School's Class 1A final against Lena-Winslow on Friday extra special for Herrman, who takes a team-high 1,398 yards rushing and 22 touchdowns into the 10 a.m. game at DeKalb.
He has been a key man throughout a 13-0 season after being limited to six games last year by an injury suffered in a Thursday walkthrough. No one was near him as he made a move during a light workout prior to a Friday game.
"He was cutting on air and bang, it (the knee) went," Vikings' coach Josh Roop said.
"It was just a little juke, something I've done since I was like eight, but this time it went out," Herrman said.
What followed was rehab to strengthen the area, then surgery and more intense rehab. Herrman will tell you "it wasn't fun," that there were "a lot of hard days."
"But it was all worth it," he said. "The only thing that kept me going was football … thinking about next season and wanting to get out there."
That said, Herrman was not focused solely on football after his injury.
You have free articles remaining.
As scheduled, he took a pre-ACT test the next morning. The results were revealing in a number of ways.
"I was definitely down (about the injury), but I just felt like I needed to get out and try to do something," Herrman said. "I tried my hardest on that. When he (the teacher administering the test) said I got a 32, I was like, 'No way.' "
Herrman later scored a 27 on the actual ACT, but already had scored points with his coach.
As a four-year starter, Herrman and Roop have "had our ups and downs," Roop said. That Friday morning helped build what is now a tight bond.
"That showed me how much he had matured with his ability to be focused enough on other things and do that after such a disappointment," Roop said.
The same day, Herrman provided words of support to then-sophomore Brett Schenkel, who would be taking his place in the backfield.
Schenkel was feeling pressure having to replace his team's breakaway threat. Herrman sensed it.
"A lot of the talk around school and the town was, 'Oh, great. Now we're going to lose (because of the injury),' " Herrman said. "He was hearing a lot of that and I was hearing a lot of that.
"I just told him, 'They're going to doubt you right now, but you have to go out and show them what you can do. I know you're a good football player and it's all going to come through for you.' He stepped up and had some good games."
Roop considered it another sign of maturity, saying Herrman "showed his leadership and his focus."
"I've been real proud of him," Roop said. "I've been real proud of all the guys, but he's definitely one of the stories of what we've gone through the last two years to get here."