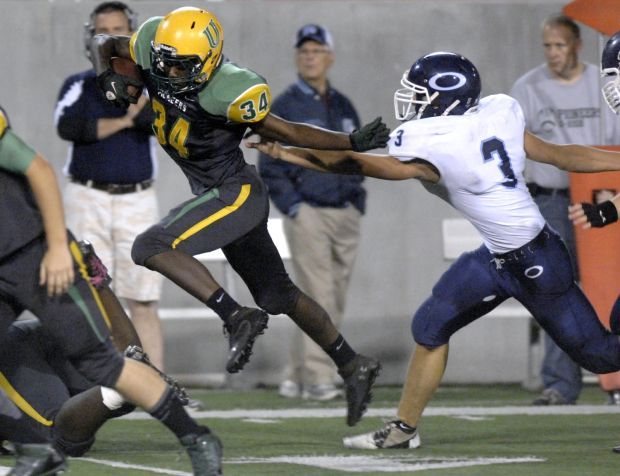 NORMAL — In piling up 375 yards of total offense in the first half, University High School's football team proved it has a number of weapons in its regular arsenal with a 49-14 victory over Corn Belt Conference foe Olympia on Friday night at Hancock Stadium.
The Pioneers have also apparently found a secret offensive weapon in defensive back Nick Phelan.
Inserted into the game at quarterback to start the fourth quarter, Phelan took his first snap from center and raced around right end on a 90-yard touchdown run. It was his only carry of the game and the second time this season that Phelan, the team's starting safety, has scored seconds after substituting at quarterback. He also had an 80-yard touchdown run in his only rushing attempt in the season opener at Morton.
"We were joking with him that his yards per carry are out of this world right now," said U High coach Dusty Burk.
The Pioneers' first-half offensive effort was other-worldly, as well.
U High (3-0, 2-0 Corn Belt), which is ranked No. 8 in the Class 5A state poll, scored on its first four possessions of the game to take a 26-0 lead after the first quarter. The Pioneers' opening drive took only 56 seconds with quarterback Arion Worthman dancing around left end on a 19-yard TD run.
It took the Pioneers only 36 seconds to score on their second possession. Then it took only one play, a 64-yard run by Worthman around right end, to score on the third.
The fourth touchdown was a relative clock-eater, lasting 1:56 before Niles Smith caught the first of the two touchdown passes he would collect in the game.
"We challenged our kids to start fast and play well, and really, to win the first quarter," Burk said. "I thought they were focused to start the game and I thought they did just what we asked them to do."
Worthman led the Pioneers' rushing attack with 114 yards. He was also superb through the air, completing 16-of-21 attempts for 251 yards and four touchdowns. Joseph Hughes was his favorite target, catching seven passes for 101 yards and one score. Worthman also connected with Joe Johnson on a 48-yard TD play.
All of Olympia's points came in the fourth quarter with both teams having heavily substituted.
Burk was disappointed that the shutout was lost.
"Very much so," he said. "But it's nice to have the opportunity to play some of the younger guys and even though we didn't get the shutout, they're going to learn from that experience and that's going to be invaluable down the road."
Olympia (0-3, 0-2) gained most of its 221 yards of total offense in the final period and scored on a 9-yard run by Jason Mann and a 47-yard pass from reserve quarterback Collin Miller to Zach Cleinmark.
Get in the game with our Prep Sports Newsletter
Sent weekly directly to your inbox!