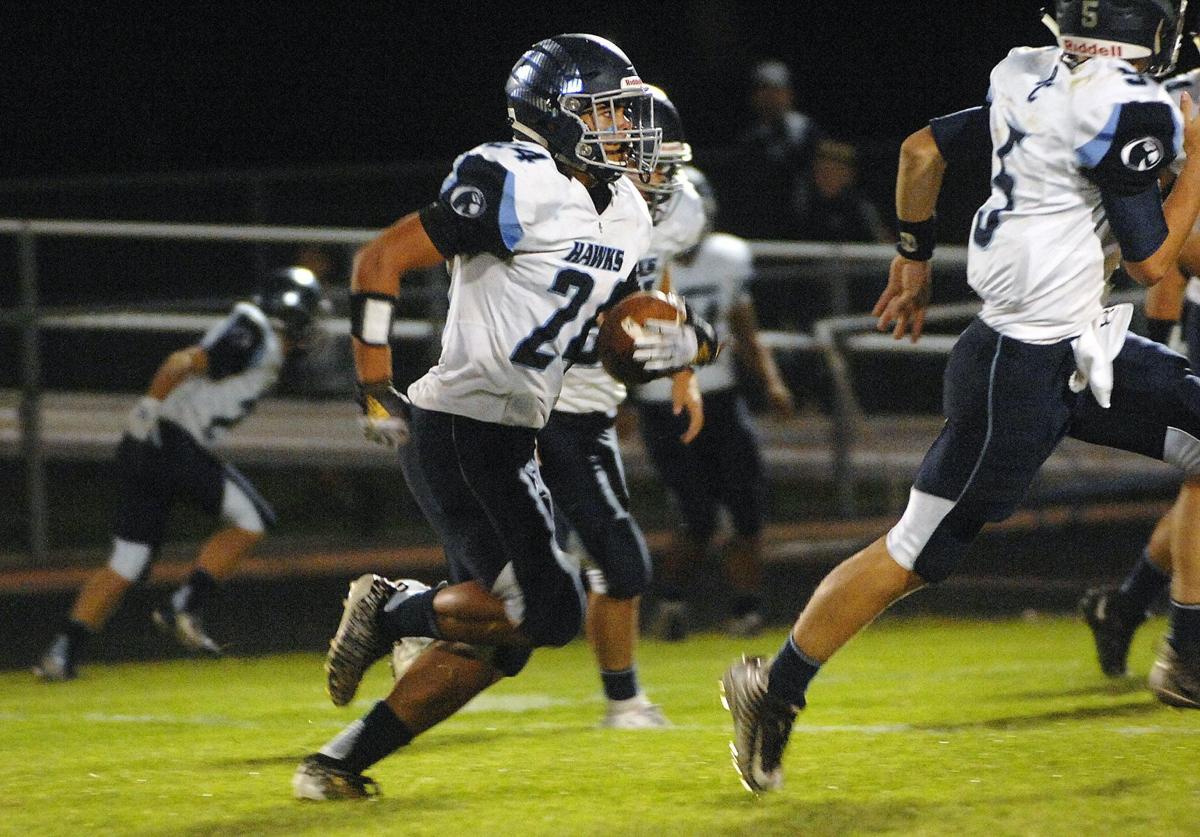 FAIRBURY — Prairie Central High School's option offense is, as it sounds, filled with options. Most of them involve running with the football, though occasionally a pass is allowed.
The Hawks have chewed up a lot of time and yards on their way to Saturday's second-round Class 4A playoff game against visiting Columbia. Yet, for it all to work, the players must "buy into the team aspect of it," said head coach Andrew Quain.
Selfishness is not an option.
The Hawks' willingness to share the spotlight is reflected in having four players between 498 and 943 rushing yards. Junior quarterback Kaden King has the 943 and senior halfback Corbin Moser the 498.
"That's the beauty of this offense," Moser said. "Anybody can get the ball. You just have to go 100 percent every time. You never know when you're going to get the ball. It can be a read and you get the ball or somebody else gets the ball."
Either way, Prairie Central gets an average of 7.3 yards per carry in a rushing attack that has generated 3,171 yards and 44 touchdowns.
"One week a player could have a big night and that means the next week a team spends the whole week trying to stop that player," Quain said. "Then somebody else is going to have a big night the next week.
"We try to have them buy into, 'Don't look at your stats after week one or week two.' We're trying to build a resume and a team culture of everybody is rowing in the right direction."
You have free articles remaining.
Junior left guard Josh Woodrey describes it as "we're all cogs in the machine," and the cogs come in all sizes. Moser is 5-7, 165 and Woodrey 6-3, 240.
Prairie Central went to the option under former head coach Kirk Brandenburg, leading to a 7-3 playoff season a year ago. Quain, a 13-year Hawks' assistant, stayed with it in his first year as head coach along with "something new," Woodrey said. "A dive series."
With King adding 399 yards passing in only 33 attempts (17 of 33), the 8-2 Hawks have piled up 3,636 yards of offense and 35.6 points per game. 
It starts with trust, Woodrey said.
"There always has to be trust between not only the linemen standing right next to you, but that the backs are going to do the right job behind you," he said. "We all just work as a system. We're all just trying to push and get that extra inch."
Junior tight end Cooper Palmore (6-4, 220) also has been a key blocker and a valuable receiving weapon, averaging 29 yards per catch on nine receptions for 261 yards.
At the controls is King, who Quain said has "a lot of weight on his shoulders" to make the correct read on every play. 
"The past few weeks the reads have gotten much easier and that's what's opening up all of our backs being able to get the yards and help our team out," King said. "That's why it's so balanced.
"It's nice. I know I can trust all the backs and I know that my line will block. Last week we had the ball for 30 minutes out of the game. It wears a team down when we have the ball for 30 minutes and we're running, running, running."
That will be the goal in Saturday's 2 p.m. game against No. 2 seed Columbia (10-0). The Hawks are seeded 10th, with their losses to Tolono Unity (22-0) in week 3 and IVC (27-7) in week 5.
"After our two losses, we just kind of figured it out," Corbin Moser said. "We got more focused in practice, started being able to trust each other more."
Contact Randy Kindred at (309) 820-3402. Follow him on Twitter: @pg_kindred