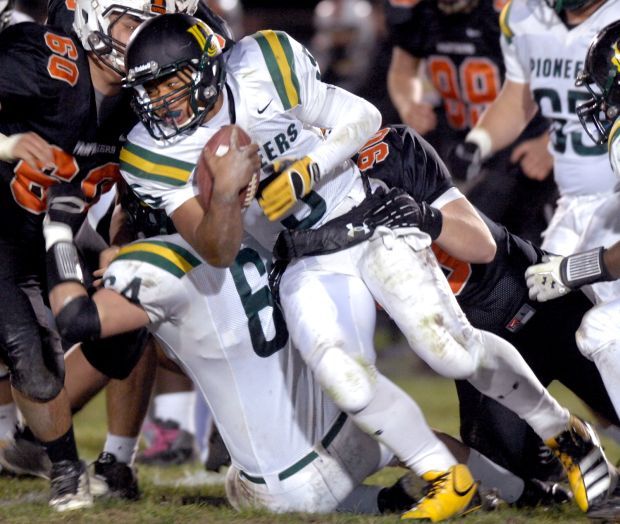 University High School's football team returns to where its season abruptly ended a year ago. That makes revenge a potential motivator in today's 2 p.m. Class 5A playoff quarterfinal at Washington.
No thanks, says junior receiver Austin Welter.
"It's more about how we need to get to that fourth round to achieve our main goal, and that's to win state," Welter said.
Sensing that mindset, U High coach Dusty Burk hasn't mentioned revenge this week.   
"I don't think I need to use those kinds of tactics because these kids want it so bad the way it is," Burk said.
Third-seeded U High, 11-0 and ranked sixth in the 5A state poll, fell 30-6 to the Panthers in a second-round game last year. Reversing that outcome could depend largely on slowing Washington tailback Casey Danley. The 6-foot, 185-pound senior has run for 1,734 yards and 23 touchdowns since taking over for injured Austin Strong in week 2.
Danley is averaging 11.2 yards per carry for head coach Darrell Crouch, a former Normal Community High School and Illinois State standout lineman.
"They've always had a good running back and this year is no exception," Burk said. "He's put up a ton of yards. He's really good after the first contact, so we have to do a good job of tackling."
Sophomore Randy Meneweather has added 539 yards and four touchdowns, while fullback Chris Friend has 451 yards and eight TDs for second-seeded and fifth-ranked Washington (11-0).
You have free articles remaining.
The running attack has been complemented by senior Colton Marshall's 52 of 110 passing for 742 yards and nine touchdowns. Senior Hayden Bodine has accounted for 332 of those yards and six touchdowns while averaging 20.8 yards per reception.
It all starts with the offensive line, Burk said.
"What always stands out when you see or hear about a Washington team is their play up front," Burk said. "Coach Crouch does an excellent job of preparing those linemen on how to be physical and technically sound."
U High was exposed to big offensive and defensive lines last week in a 35-27 victory at Jacksonville. The Pioneers overcame both, led by junior quarterback Arion Worthman.
Worthman ran for two touchdowns, threw for three and upped his season numbers to 1,931 yards passing, 31 passing TDs, 1,407 yards rushing and 27 TDs.
Eight of the TD passes have gone to Welter, who said of Washington, "They have a lot of the same players (as last year) … same offense, same defense. I think it will be a good matchup."
U High could be without senior defensive end/receiver Kane Wildermuth, who suffered a neck injury last week and was taken from the field by ambulance.
"He's doing OK. We're still being very cautious with him," Burk said. "He's in good spirits, he seems better and he's walking around. We're very happy that it wasn't as serious as it looked on the field."
Today's winner faces either Highland (11-0) or Springfield Sacred Heart-Griffin (11-0) in next week's semifinals.