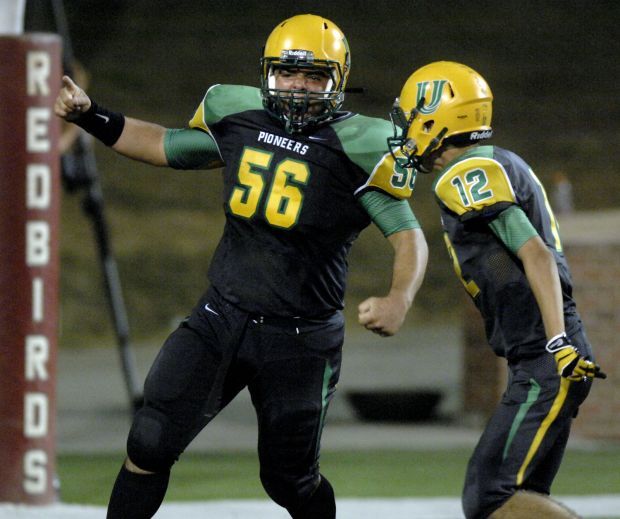 University High School junior Brady Murray likened Jacksonville running back Floyd Lomelino to "a bowling ball." At 5-foot-7 and 205 pounds, Lomelino fits the description.
Thus, the Pioneers' task in today's 1 p.m. Class 5A playoff game at Jacksonville is simple:
Handling the Crimsons' rushing attack and size up front figures to be a key for third-seeded and No. 6-state ranked U High (10-0) in the second-round contest.
"We look forward to the challenge," said Murray, a 5-11, 225-pounder whose 10 tackles for loss are tied for the team lead. "We have to rise up and accept it. The running back is pretty good. He's kind of like a bowling ball. He just goes head first."
Lomelino ran for 220 yards and two touchdowns on 23 carries in last week's 37-6 victory at Marion. Junior Justin Herron added 101 yards in 14 attempts for the 11th-seeded Crimsons (7-3).
Senior quarterback Bryce Schnitker's 206 yards passing and two touchdowns gave him 2,105 yards and 23 TDs for the season.
"I think they want to run to set up the pass rather than the other way around," U High coach Dusty Burk said. "They're big up front and they have a big tight end."
You have free articles remaining.
Burk called Lomelino (566 yards) and Herron (594) "good downhill runners."
"They're physical, hard-nosed kids who line up back there and bang, bang, bang," Burk said. "We have to be able to match that physicality."
Jacksonville's offensive line includes junior Division I prospect Gabe Megginson (6-5, 280). Tight end/defensive end Blake Hance (6-6, 270) has committed to Northwestern.
The Crimsons' losses are to Central State Eight Conference opponents Springfield Sacred Heart-Griffin (65-14), Chatham Glenwood (21-7) and Rochester (49-24).
Sacred Heart-Griffin is ranked No. 3 in 5A and Rochester is No. 1 in 4A.
"Last week (Decatur) MacArthur talked about how they played in the Big 12 and faced good competition. Now it's Central State Eight, another good conference," Burk said.
"But we feel pretty good about our kids and where we're at too."
 U High has been dynamic on offense, averaging 53.2 points per game. Junior quarterback Arion Worthman has thrown for 1,746 yards and 28 touchdowns with two interceptions. He also has run for 1,204 yards and 25 scores, including three in last week's 27-6 victory over MacArthur.
The defense came up with two key turnovers in the Pioneers' third straight first-round win. They have lost in the second round the past two seasons.
Murray considers today "just another business trip" for a team that won 63-6 two weeks ago at Cahokia in the regular-season finale.
"They're excited," Burk said of his players. "They've had a good week of practice. I like where they're at mentally right now. I think they're ready."